Senior Adam Reckamp wins $3,000 Jim Murray Memorial Scholarship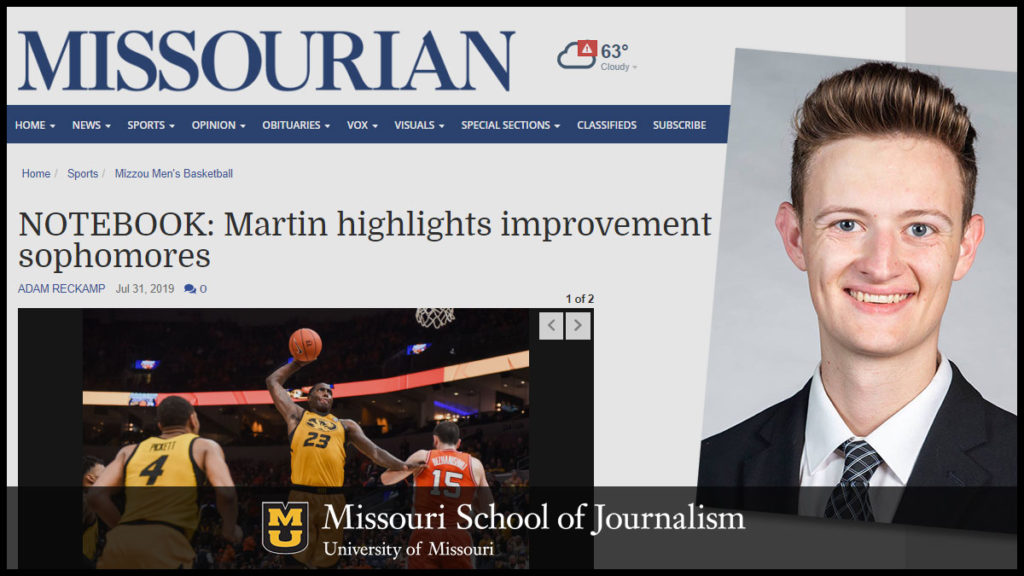 Missouri senior Adam Reckamp is one of five national winners of the Jim Murray Memorial Foundation scholarship in sports journalism.
The national scholarship recognizes students interested in a sports writing career.
Columbia, Mo. (Oct. 3, 2019) — Missouri School of Journalism senior Adam Reckamp is one of five national winners of the Jim Murray Memorial Foundation scholarship. He will receive a $3,000 award and a trip to Los Angeles, Calif., in October where he and the other winners will be recognized.
Reckamp is originally from Huntley, Ill., a northwest suburb of Chicago. He says reporting and editing at the Journalism School's community newspaper, The Columbia Missourian, has helped prepare him for a career in sports journalism.
"In my three semesters at The Missourian, I have gotten chances to do everything from reporting game and feature stories, taking video and photos, designing pages and editing copy. I have gotten to cover high school basketball, Missouri basketball and gymnastics while working here." Reckamp said. "All of these opportunities help me become a better journalist and produce valuable clips for my resume."
According to  Michael Knisley, assistant professor and sports editor at The Columbia Missourian, he is not at all surprised that the Murray Foundation chose Reckamp for this national scholarship.
"Everything I've asked him to do as a writer, a reporter and an editor has been produced at the highest quality possible," Knisely said.  "I've been looking, but I've yet to find an area of sports journalism that he can't handle, and handle remarkably well."
After graduation Reckamp hopes to get a job reporting on professional sports. He credits his "Missouri Method" training, the hands-on philosophy of learning-by-doing at the Journalism School, the key to his experience.
"While learning about theory, history and ethics of journalism is useful, nothing can compare to the knowledge gained actually doing journalism," Reckamp said. "The rich variety of opportunities to learn by doing that Missouri offers has been the best part of my college experience."
Reckamp joins a list of previous Missouri School of Journalism winners of the Murray Scholarship that includes Aaron Reiss (2015), Michael Shaw (2014), Andrew Wagaman (2013), Elizabeth Manring (2007), Kyle Nagel (2001) and Katie Tiernan (2000).
Jim Murray was a sportswriter for the Los Angeles Times for more than 30 years. In 1954 Murray became one the founders of Sports Illustrated. He then joined the Los Angeles Times in 1961, and went on to win a Pulitzer Prize for Commentary in 1990. Murray also garnered the National Sportswriter of the Year Award 14 times in his career. Murray's outstanding work landed him a spot in the writers' wing in Cooperstown Baseball Hall of Fame in 1988. He died in 1998, and his wife, Linda McCoy-Murray, established the Jim Murray Memorial Foundation in 1999.
Updated: November 10, 2020
Related Stories
Expand All
Collapse All
---