Mizzou Alumna Kris Budden, BJ '06, Talks Sports Journalism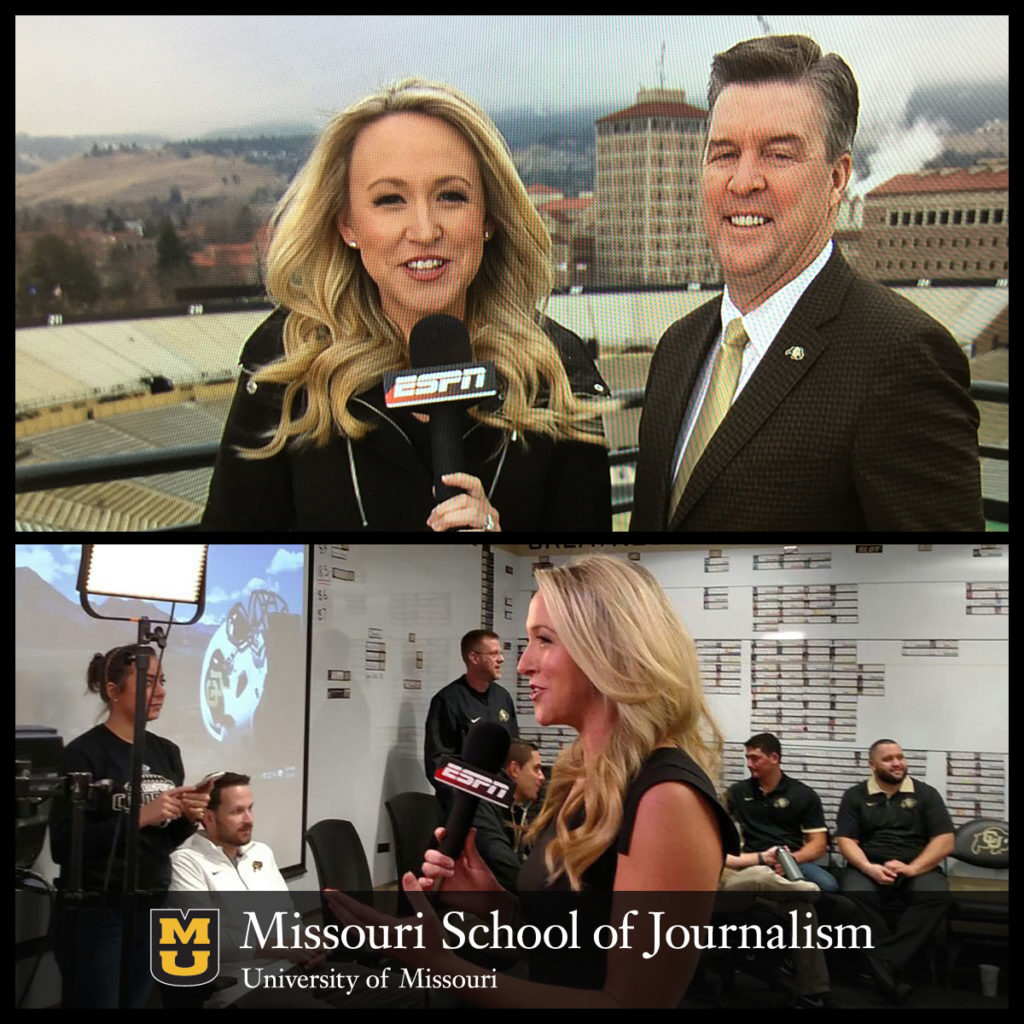 Columbia, Mo. (July 12, 2017) — Inside Sports recently interviewed Kris Budden, BJ '06, a sideline reporter at ESPN. She primarily covers college athletics. Before Budden joined ESPN, she spent time as a sideline and features reporter for Fox Sports where she covered the NFL, college football and the San Diego Padres. She also worked at WBIR, Knoxville's NBC affiliate.
Inside Sports: How did the Missouri School of Journalism prepare you for what you do now?
Kris Budden: It prepares you better for your first job than any internship. You have a resume tape the second that you leave college. Not everyone has the ability to do that. It also prepares you to know all facets of the industry – how to produce, how to shoot, how to edit, how to anchor, how to report. At your first job, you will have to do all of that stuff. Then I think, probably the biggest help, is because of the way the journalism program is built up, having to go through the news program then your capstone being an emphasis on sports, we all still had a news background. So much of sports nowadays is news, especially when I was in Tennessee. We had players arrested all the time. Or we had to make a Freedom of Information request. There was so much stuff that I learned actually more from my news days at Mizzou that I used in sports than I probably realized. There is a thing about Mizzou Mafia that we are better than everyone else, but I do think it prepares you so much more for your first job. But once everyone has been out in the real world for a couple years, then you are kind of all on a level playing field and you can't just rely on Mizzou. It is kind of a braggadocios thing that all the Syracuse, Northwestern and Mizzou folks have, but once you have been out a couple of years, it is all on you to bust your tail and do a good job. That Mizzou degree gets you in the door, but after that, it is on you to make something of it.
Inside Sports: What does it take to do your job as a reporter for ESPN?
Budden: It is a lot different than when I was in local news. In local news, you basically have one beat so it is really easy to stay on top of your beat. When I was covering the Tennessee Volunteers, yeah, I was covering a bunch of different sports and high schools, but in general, you were surrounded by it every day. With my job [at ESPN], I am covering different teams and different sports day-to-day. There is a lot more prep that goes into each game. If I was doing a Tennessee game vs. Alabama, that doesn't take a ton of prep because I did a Tennessee game a week before when I was in Knoxville. I could be covering the SEC, the Big 12, Pac 12…I got thrown into covering college baseball at the end of the season for the SEC Network. I know baseball, but I hadn't been watching SEC baseball all year. Then, it is really kind of a crash course of having to know the teams, especially when you are doing the SEC tournament because it is every team. I had to do a Cliff Notes version of each team throughout the season. For me, it is just a ton more prep that goes in week-to-week.
Inside Sports: What advice would you offer for aspiring sports journalists?
Budden: Work your tail off. To me, listen, there are a ton of other people who could do what I do, if not better. For me, it came down to the references I had. The people that knew the hard work I put in on a daily basis that I didn't get into this for any kind of fame or to date an athlete. Those references go a long way. I got to Fox because my agent helped me get my foot in the door. I got that agent at the Olympics in London. A sports director in New York happened to be watching my live shots and seeing my work. He came up to me, and said, "I think you're really good. You need my agent." From there on out, people in San Diego gave me my references to ESPN. That is what is going to set you apart, not your two-minute resume tape that is really hard to judge someone by. The other thing I would say is don't be afraid to knock on a few doors. I sent my resume tape in for the job in Knoxville and I never got a call back. I wanted the job so bad, so I drove six hours to Knoxville and walked into the station and knocked on the news director's door. I gave him my tape. He had never seen it because they get so many that sometimes they get overlooked. I was hired on the spot that day.
Inside Sports: What advice would you give to someone who is deciding to get an agent or looking for one?
Budden: Don't get one until you need one. If I had wanted to stay in local news, I wouldn't have needed an agent. Honestly, your Mizzou Mafia ties can get your foot in the door at so many places. It is not going to get you hired, but it will get the news director to look at your tape when there are 300 of them there. There are Mizzou people at every single station. I could have called a friend and asked them to walk my tape in. That is really all an agent does. They don't get you hired. They get your tape on the right people's desks. Getting into the regional and national networks for sports, I didn't have those contacts, so I needed an agent to help get my foot in the door. I also had no idea salary wise what I should be making. I knew in local news about what I should. I really felt like, when you work for big companies like Fox and ESPN, that it helps to have an advocate always talking to the bosses and working on your behalf. There are always pieces moving in those companies and people leaving certain jobs open. Unless you're really diligent finding out what opportunities there are. So I would say [don't get an agent] until you feel you are ready to make a move. I don't want people to think agents get you hired, though, because they don't. They open a door, and from there, it's you.
Inside Sports: What is one thing you wish you knew as a student that you know now?
Budden: There is not one path. I was the traditional; local news, then work my way up. Nowadays, that is not always the case. There is the digital world. I know a lot of people who have worked for schools or teams doing the digital side, and that is how they worked their way up through the ranks. I wish I had known that. I wish, when I first went to school, I had an understanding that I wasn't going to make any money for a really long time. I didn't find that out until halfway through my junior year. They said, "Oh yeah, you'll make like $17,000 at your first job." I was like, "What?" But I really do feel like for the most part, Mizzou prepares you for all of that. I was prepared to move all around the country, go from job to job. I just think nowadays, there are so many different routes you can take to get to where you want to go. It doesn't have to be starting in a local news market. There are a bunch of different paths that can get you there.
Inside Sports: What is your favorite sports journalism memory?
Budden: There are a couple of them. One of them was watching Pat Summitt getting her 1,000th win. I covered her for four or five years. To me, [these memories] are things other people might not even know about. I covered a USC-Arizona State game, and there was a backup quarterback who led Arizona State to this ridiculous comeback win. It was a "Hail Mary." For me, I remember that moment because I remember interviewing him and him crying on the field. I was in the Olympic park when Andy Murray was playing for the gold medal in London. To win the gold medal in London and to have all of London freaking out…that was a pretty cool moment.
Updated: October 23, 2020
Related Stories
Expand All
Collapse All
---