Students innovating with multiplatform sports coverage at Missouri School of Journalism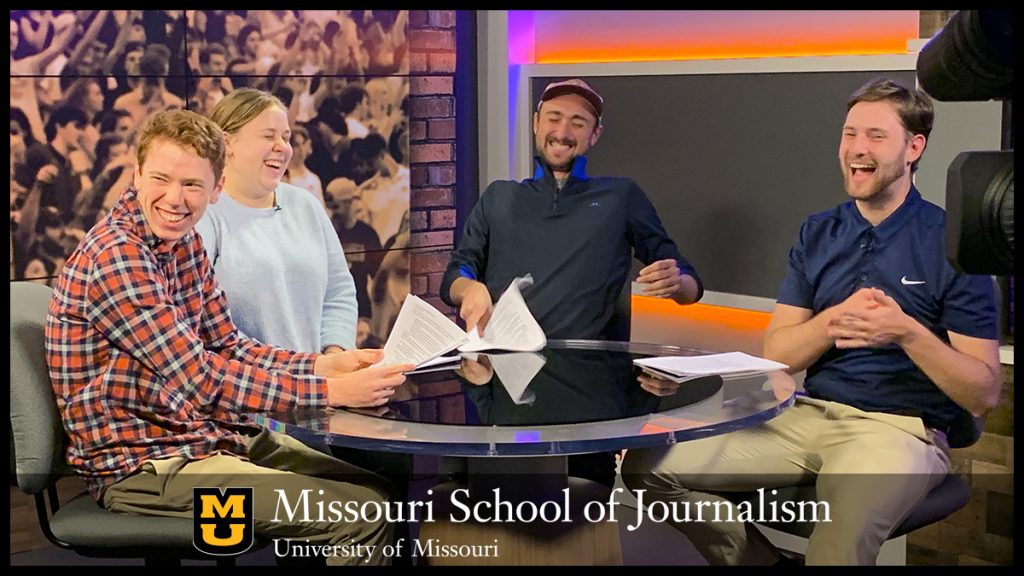 L-R: Wilson Moore, Emily Leiker, Calum McAndrew, Gerald Hopkins
Columbia, Mo. (Nov. 4, 2021) — At a time when the Missouri School of Journalism is leaning into collaborative, cross-platform education through a curriculum that emphasizes cross-training and a newly created shared newsroom space, senior Gerald Hopkins has taken this philosophy to heart.
Inspired by the School's "Missouri Method" of learning by doing, Hopkins has fashioned himself an independent study course that combines the talent of student writers with on-camera sports discussion for the Columbia Missourian, the School's digital-first community newsroom. The result is a twice-weekly show covering Mizzou football that merges elements of a podcast, a blog, and a TV talk show.
"I was taking a sports journalism class and I realized that while KOMU covers a lot of high school and college sports, reporters don't get to focus on one team and follow them through a season the way writers at the Missourian do," Hopkins said. "I thought, how do I do what those writers are doing, but make it visual?"
The answer, as it turned out, was to bring together the Missourian's trio of football beat writers to talk about Mizzou football on camera, with Hopkins serving as a host and moderator. The show began releasing episodes in September in conjunction with the start of the football season.
For Hopkins, who plans to work as a news producer after graduation, his role is about facilitating the panel's conversation and providing a platform for the panelists to present their work in a new way, rather than taking center stage himself.
"The goal has been to amplify their work, to give writers a chance to look into the camera and say what they've written or what they know," he said. "It's been interesting to learn how to do that. How do I make sure they look really good and show the audience that they know their stuff? How do I serve as a microphone for them?"
Panelists Emily Leiker, Calum McAndrew and Wilson Moore write feature stories on Mizzou football each week for the Missourian, then bring their insights into the Reynolds Journalism Institute's recording studio, where they record two episodes per week — first, a recap on the previous week's game, and then a preview of the upcoming game toward the end of the week. The show's fun-but-informative format allows the group to connect to the audience by showcasing their personalities.
"I think it's a great way to get to know Calum, Wilson and myself better as journalists and people," Leiker said. "It's really important for audiences to know and trust journalists, so I try to be as open, honest, and myself as possible while on the show."
The panelists are also fixtures at post-game press conferences, which recently led to McAndrew — born and raised in Scotland — going viral thanks to Mizzou football star Tyler Badie's attempt to imitate his accent. The accent first came up months earlier at a press conference with head coach Eliah Drinkwitz, when Drinkwitz asked where McAndrew was from.
"Kentucky," McAndrew quipped.
Hopkins, Leiker, McAndrew, and Moore are seeing the show through its inaugural season, but Hopkins is optimistic that the format will continue after he graduates, given the novelty of the concept and the creative freedom it allows.
"This is why independent study exists," Hopkins said. "It's a chance to take a shot in the dark and create something different. The show is going better and looking better than I ever expected, and I hope it sticks around after me."
Updated: November 4, 2021
Related Stories
Expand All
Collapse All
---