Catching Up with Missouri Students During Their Summer 2018 Sports Journalism Internships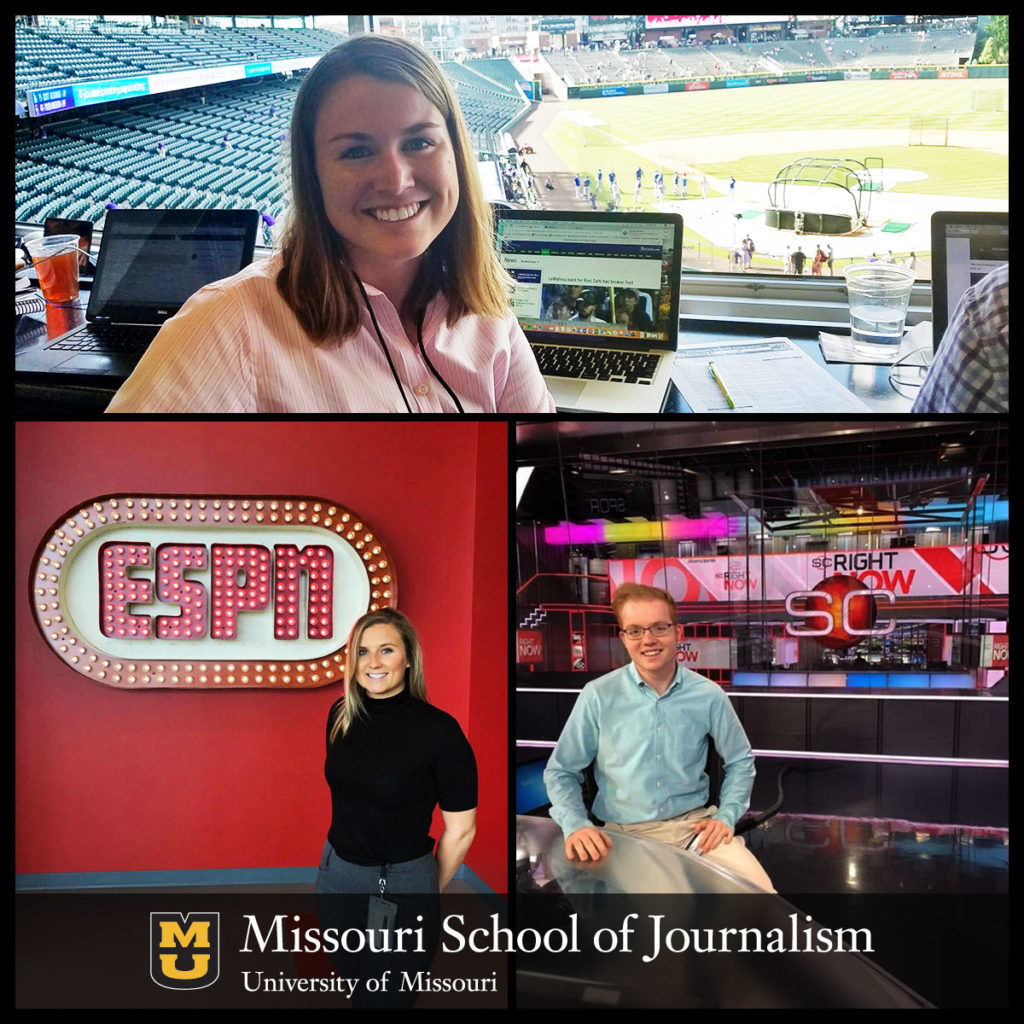 At top, Missouri senior Anne Rogers covers the Colorado Rockies for MLB.com. Bottom-left, Brooke Robinson, BJ '18, at ESPN. Bottom-right, senior Robert Veno at ESPN SportsCenter.
Columbia, Mo. (July 25, 2018) — We recently checked in on two Mizzou seniors and one brand-new alumna just to see how they were doing and to ask if their Missouri training had served them well thus far.
Brooke Robinson, BJ '18, ESPN
Where are you from?
I'm from Sarasota, Florida.
Why Mizzou?
I began looking into the top journalism schools around the country and Mizzou was a clear choice. It had the sports culture of SEC schools, the seasons of the north, and the distance I was looking for. With the launch of the SEC Network in 2014, Mizzou Broadcast Operations and Mizzou Athletics sealed the deal with the opportunities they could provide.
How are you using what you learned in the J-School?
The journalism school taught me how to produce a product that not only sells, but that also connects with an audience, something that can build the relationship between consumer and company. ESPN encourages their employees to think about our product and ways to better serve our sports fans. Every day, I am challenged to use communication skills developed in the J-School to create new and exciting ways to tell stories through media and sports.
How did the Missouri Method prepare you?
I spent four years working with Mizzou Broadcast Operations, broadcasting nearly every home sporting event live on the ESPN Family of Networks. My hands-on, real-world work was invaluable to my career, and how I ended up working for ESPN. Over the course of my four years, I had the opportunity to work with some of ESPN's top producers and directors, receive criticism and compliments, build connections, and expand my resume. I worked NCAA Regional volleyball and softball games, broadcast on ESPN and ESPN2. I had the opportunity to be part of the SEC Softball tournament, and was on the crew that made history by being the first-ever ESPN Linear broadcast produced from a University-based control room. I cannot thank the leaders within the Mizzou Broadcast Operations department enough. Chad Pothoff and Stan Silvey welcomed me into the program and immediately took a vested interest in my dreams and goals. I think that's such a vital thing to see within a University program, and that's something Mizzou does so so well.
How have other Tigers helped you at ESPN?
Nearly everywhere you go here in Bristol, Conn., there is a good chance you will run into a former Tiger. Traveling from Sarasota to Columbia, Mo., to Bristol, it can be hard to feel welcomed and at home. However, when you're surrounded by Mizzou grads, it makes it just a little more comfortable. Just a few days ago I chatted about Shakespeare's [Pizza] with my technical director and director in-between tapings of SportsCenter. That was cool. There's also another level of respect and responsibility within the family of Mizzou alumni. Every Tiger here has gone out of their way to reach out to me, ask if I needed anything, offering their advice and guidance. They respect your work, because they know where you come from and the demands of the Journalism program, and they feel a sense of responsibility to continue the Mizzou Legacy at ESPN.
Anne Rogers, Senior, MLB.com
Where are you from?
I am from Des Moines, Iowa.
Why Mizzou?
Mizzou has a reputation for being the best journalism school in the nation, and I wanted to give myself the best opportunity to succeed. Once I came on my visit during my senior year of high school, I knew I wouldn't get the opportunities that Mizzou gives its students anywhere else.
How are you using what you used in the J-School?
The J-School prepared me for my internship by giving me real-world experience with the Missouri Method. I knew what to expect when I walked into the Rockies press box for the first time and was ready to go from Day One. I already have the basic reporting skills – interviewing, writing on deadline, etc. – thanks to the Mizzou J-School, so this summer I'm really able to focus on what I need to do to become a better reporter and writer.
Robert Veno, Senior, ESPN
The ESPN internship with SportsCenter anchor John Anderson, BJ '87, is offered exclusively to Missouri students.
Where are you from?
Originally from Las Vegas, but I went to high school in Pennsylvania. My family lives in a small town called Kennett Square.
Why Mizzou?
I chose Mizzou because it was the only school I saw that offered students the opportunity to start working right away. I didn't want to go to college and wait until I was a junior to start getting hands-on experience. Mizzou gave me the chance to start doing Friday Night Fever at KOMU before I even took a class.
How are you using what you learned in the J-School this summer?
I am using more of what I would call the "universal" skills. Things like showing up early, giving it your all, asking questions, staying humble and understanding what you don't know, have all gone a long way towards giving me a much more successful internship.
How did the Missouri Method prepare you?
The Missouri Method is the number one reason I am where I am. Without question, this has been the most important part of my education at Mizzou. KOMU taught me how to use Avid, INews, social media, and audio, which are all necessary to sports media production, but the other things – like timeliness, reliability, and accountability – will help me no matter what I do in life.
How have other Tigers helped you at ESPN?
I want to thank Will Palaszczuk, Thom Griffin, John Anderson, Addison Walton and Matt Tarnawa for all their help in not only getting me to ESPN, but also improving my experience interning here. John, Thom and Addison have been incredible ever since I got here, advising me and answering any questions I've had. The Mizzou Mafia has done a ton for me to get to where I am and I am so thankful for them.
Updated: November 4, 2020
Related Stories
Expand All
Collapse All
---