Insights on Internships: 5 Questions with Urma Redmond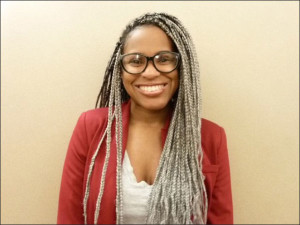 Columbia, Mo. (July 28, 2016) — Meet Urma Redmond, a senior from Dallas. Redmond is studying strategic communication with an emphasis on copy writing. She plans to graduate in May 2017. (Interview by Sophia Lauriello and Chad Brewster.)
Where are you interning, and what are you doing?
I'm a junior copywriter/all-around intern at Scout & Nimble, an online furniture company. Day-to-day, I do a lot of copy-heavy stuff. For example, I write the descriptions for the products, or I draft blogs and newsletters. I do whatever the bosses need me to do.
What's your favorite thing about this internship?
I loved learning how to do Tailwind, an app that schedules pins for Pinterest. It's a lot of fun looking for images and websites to pin and thinking about captions for them. Sometimes I do it on my free time, actually.
What is one course you've taken at the Missouri School of Journalism that prepared you for this internship?
Several have prepared me well, but out of all of them I would say Strategic Writing and Design. For that class we actually had to make ads, which taught us how to take a description and turn it into a one-liner. It's definitely taught me how to use my words wisely. My bosses are always saying that less copy is more.
Beyond technical skills, what else have you learned at the J-School?
Dr. Earnest Perry, my Cross-Cultural class professor, taught us that we need to question everything. One of his favorite phrases, and one I use now, is, "Who was at the table for that?" Meaning, who let that ad run or let that story run even if there were flaws. If you're at the table, then you need to be asking questions about what you're doing. It's definitely better to portray yourself as someone who wants to learn more and is curious rather than someone who thinks that they can figure it out on their own and just hopes that they're doing the right thing.
Any advice for current students?
Start looking for internships super early! Intern wherever you can, anywhere you think might have an impact on your future career plans. I'm not planning on going into magazine writing, and I still applied to magazine writing internships. When you go to your internship, ask lots of questions. Be curious. Basically, be the best learner you can be. Don't think you can ever stop learning.
Updated: September 29, 2020
Related Stories
Expand All
Collapse All
---