8 Missouri Journalism Students Win Dow Jones News Fund Editing Internships
The Program Includes a Paid Summer Internship and $1,000 Scholarship for Returning Students
Princeton, N.J. (May 16, 2016) — Eight Missouri School of Journalism students are among the 97 undergraduate and graduate students who have won a nationwide competition for prestigious Dow Jones News Fund editing and reporting internships for this summer.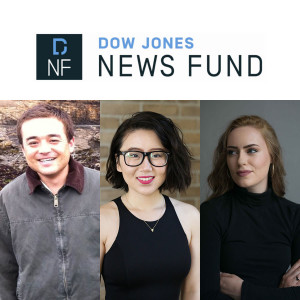 They will work as data and digital journalists, business reporters and news editors in paid internships at 49 of the nation's leading news organizations. The News Fund received more than 900 applications last fall.
The summer internship program begins with a one-week training program before students report to work for at least 10 weeks at salaries starting at $400 per week. Those returning to college will receive $1,000.
Investigative Reporters and Editors, headquartered at the School, will help train some of the journalists to obtain and analyze data, code and visualize information and other computer-assisted reporting methods. Associate Professor Mark Horvit, who will oversee this program, said he's excited that IRE and the Missouri School of Journalism will host Dow Jones' first group of data journalism interns. "This is an important new program and will help train more students to fill data positions at newsrooms, where the need is great," he said.
Separately, the Missouri School of Journalism's professional newsrooms also serve as a training site for the Center for Editing Excellence under the direction of Professor Emeritus Brian Brooks.
Among the national and regional news media partners are The New York Times, The Wall Street Journal, The Denver Post, Advertising Specialty Institute, Thomson Reuters, Philadelphia Inquirer, Philadelphia Daily News, MSN, the Kansas City Star, Barron's, The Salt Lake Tribune and The Dallas Morning News.
Rachel Jelinek and Audrey Rose McManus will attend the training program at the Center for Editing Excellence at the Missouri School of Journalism. Jelinek will complete her internship at St. Paul Pioneer Press, and McManus will work at the Kansas City Star.
Valerie Hellinghausen and Ida Sophie Winter will attend the training boot camp at Pennsylvania State University. Hellinghausen will work at Newsday, and Winter at The Buffalo News.
Four students were chosen to participate in the Business Reporting Program at New York University. Tracy Cook will spend the summer at The Denver Post; Siyu Lei will work at the National Endowment for Financial Education; Kouichi Shirayanagi is slated to work at the economics desk at Thomson Reuters in Washington, D.C.,; Yizhu Wang will travel to Brightwire.
"These winners continue to demonstrate their diligent attention and purpose in honing their professional skills and talents," said Maggie Walter, Missouri School of Journalism professor and faculty member of the Dow Jones Center for Excellence at MU. "I'm looking forward to tracking their successes as journalists and their contributions to preservation of democracy. Congratulations are due to each of them."
Updated: September 25, 2020
Related Stories
Expand All
Collapse All
---