Associate Professor Maggie Walter Receives Outstanding Journalism Alumna Award from Ball State University
The Copy Editing Guru Credits Curiosity as Key to Being a Journalist and Educator
By Rebecca Dell
Columbia, Mo. (April 22, 2014) — Her journalism career started back in third grade, when Maggie Walter still went by "Cookie" (from the Blondie comic strip) and earned a nickel a month writing the third-grade class report. Every month she'd write 3-4 paragraphs about new books coming into the library or a classmate breaking an arm or another winning the spelling bee.
And every month, she spent the nickel on the newspaper.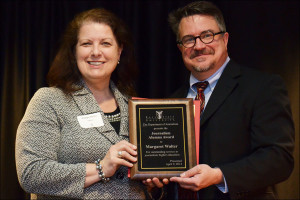 Today, Walter is an associate professor of print and digital news at the Missouri School of Journalism and the interactive news editor at the Columbia Missourian. There, she's known as a sort of copy editing guru, teaching students to use the AP Stylebook and to cherish and develop an intense sense of curiosity.
That ability to learn, along with a long career in newspapers, earned Walter the 2014 Outstanding Journalism Alumna Award from her alma mater, Ball State University. Walter received the award "for outstanding service to journalism higher education" at an all-day awards ceremony on April 9 from the Department of Journalism in Ball State's College of Communication, Information, and Media. Michael Holmes, chair, presented Walter with the award.
Walter Pursues Justice as a Journalist
Walter continued her journalism career in college at Ball State, BS '75, MA '81, where Dean Louis Ingelhart inspired her and a generation of students with his reputation for student press freedom. Ingelhart, PhD '53, found jobs for students struggling to make ends meet in college, making sure they could get an education. He served as a mentor for student journalists by standing back: He allowed them to publish whatever news they found, even if that was coverage of a nudist colony's beauty pageant. Little did Walter know that she would one day end up teaching at her mentor's alma mater.
Armed with her education, Walter went on to report at several Indiana newspapers. One was the Anderson (Ind.) Bulletin, with a population of around 56,000 today.
There, she read a coworker's coverage of a trial where a young man murdered an old woman. The man's sister pleaded for mercy because their mother had abused them and forced the sister to help kill another sibling. Walter sensed a deeper story and dug in, eventually learning that the mother was still around and abusing children under the guise of a daycare. Police took action after Walter talked to them, shutting down the daycare. Walter hounded officials until they took the woman to court, where she was convicted of the murder of her daughter.
Walter estimates she made 150 phone calls just to find her source for the story. But she says she was a bulldog once she got going: She wasn't going to give up just because the story was tough. It's a trait she may have inherited from her mentor.
"Lou [Inglehart] wouldn't have let me drop that story," she said.
Walter Returns to Teaching
Walter continued her relentless reporting on social justice issues from the other side of the desk, working as an editor at the Sunday Telegraph in Nashua, N.H. There, she oversaw an influential and award-winning piece about domestic abuse called "Hitting Home," which led to legislative change.
On a happier note, a package called "Discovering Nashua" brought community members together to brainstorm about ways of improving the town and providing activities for the burgeoning population. The Sunday Telegraph would periodically publish updates on the community's efforts.
After 17 years in New Hampshire and three more in Maine, Walter heard about a job opening at the Missouri School of Journalism. Teaching was a dream she had nursed since her undergraduate years, even though a practicum convinced her she didn't want to teach at the high school level. She taught college classes as a graduate student, but she didn't have enough experience to work as a professor right after getting her master's degree. So she worked in newspapers until 2003, when she decided it was time to return to the head of the classroom. She joined the Missouri Journalism faculty in 2003 and has translated her curiosity and relentlessness into her news editing instruction.
"She's an emissary for copy editing," said Tom Warhover, executive editor for innovation at the Columbia Missourian and associate professor at the School. "She's kind of taken the mantle from [MU Professor Emeritus] Brian Brooks and continued that tradition of passion for and advocacy for copy editing."
And she's passing that passion on to students.
"I said, 'You know, I think that's my gig,' " she says of her current job. "And it is, because I still work on newspapers. And I teach."
Updated: July 24, 2020
Related Stories
Expand All
Collapse All
---