School Is Honored with the 2010 ACES Glamann Award for Contributions to Editing
Contributing to this article:
Teresa Schmedding, BJ '89, MA '09
ACES Executive Committee
Columbia, Mo. (April 22, 2010) — The Missouri School of Journalism is the recipient of the 2010 ACES Glamann Award for contributions to editing.
The third annual Glamann Award, which recognizes a person or group that has helped raise copy editing's profile, was presented Friday, April 16, during the banquet at the 14th annual American Copy Editors Society conference in Philadelphia.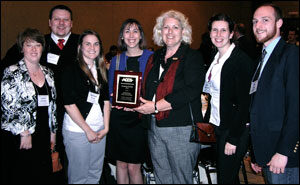 Maggie Walter, associate professor and night news editor as well as a co-adviser for the Missouri chapter, accepted the award on behalf of the Journalism School. Also attending the national conference were Laura Johnston, assistant professor and co-adviser, and four students: James Patrick Schmidt, Julia Haslanger, Rachel Heaton and Melissa Varner.
Bill Powell, BJ '09, was one of five students nationwide to win an award from the ACES Education Fund in recognition of his editing work. He will receive a $1,000 scholarship. Powell is interning at Esquire magazine and will be moving to the Atlanta Journal Constitution this summer for a second internship.
Former faculty member and Columbia Missourian editor Mary Lawrence started the ACES student chapter in 2006. Today the chapter has about 12 members. Schmidt serves as president.
The award is named in honor of Hank Glamann, who along with Pam Robinson, founded ACES in the mid-1990. This is the third year for the award. In 2009, the award was won by Merrill Perlman, BJ '74, former copy desk chief at The New York Times. In 2008, the first Glamann Award was given to the Dow Jones News Fund for its 50 years of supporting journalism and editing. The Missouri School of Journalism is one of the sites for the annual Dow Jones Editing Internship boot camp.
The Missouri School of Journalism, the world's first, has been dedicated to the craft of copy editing since its founding on Sept. 14, 1908.
The School's course book for 1908-1912 lists a course called "copy reading" taught by Charles G. Ross. Ross taught at Missouri and then went on to work at the St. Louis Post-Dispatch where he won a Pulitzer Prize for newspaper correspondence in 1934. Ross later served as the press secretary to President Harry S. Truman before dying of a heart attack at his desk in the White House.
That early course description in the academic catalogue said: "Copy-reading and correspondence: This is a study of special feature and special correspondence in newspaper work, the handling of the telegraph, copy-reading, and headlining. It includes laboratory practice in all these lines. Five times a week."
Since then, Missouri has made the teaching of copy editing an essential part of its journalism curriculum. Perlman is among some of the copy editing industry's top leaders who learned through the time-honored hands-on "Missouri Method." The School has 10 community-based newsrooms as well as two off-site in Jefferson City and Washington, D.C., at which students receive traditional, online and mobile experience for students.
Missouri also has supported copy editing by sending students and faculty members to ACES national and regional conferences, hosting an active ACES student chapter and providing academic support for the ACES 2009 national survey of copy editors, which was conducted by journalism graduate student Jennifer Russell.
Updated: May 8, 2020
Related Stories
Expand All
Collapse All
---