2 Missouri Students Win American Copy Editors Society Scholarships
Columbia Missourian Honored in Headline Contest
This article was updated April 7, 2015, with information about the second-place win in the headline contest.
By Caroline Murray
Columbia, Mo. (March 30, 2015) — Missouri School of Journalism senior Christa Corrigan and junior Tracy Cook have been named winners of American Copy Editors Society Education Fund scholarships, and the Columbia Missourian won second place in the student publication headline contest.
Entrants into staff headline contest were required to submit eight to 10 headlines, and the Missourian won for its entry of print headlines.
Corrigan and Cook were awarded two of the five scholarships available to undergraduate journalism students nationwide. Corrigan won the top award, the $2,500 Aubespin scholarship. Cook won a $1,000 scholarship.
"Tracy and Christa work hard every day to increase their understanding of copy editing and to broaden their grasp of the skills needed for copy editing that go beyond grammar and sentence structure," said Maggie Walter, associate professor and night news editor at the Columbia Missourian. "Many School of Journalism graduates in the past have won an ACES scholarship, and both Tracy and Christa are well deserving of the ACES editing awards."
Corrigan, who said she enjoys ensuring clarity in stories, became interested in copy editing during her shifts at the Columbia Missourian's interactive copy editing desk, part of the requirements of the news editing course.
"I actually am graduating with a news reporting emphasis in the print and digital track, but I started to gravitate toward editing because of the hands-on copy editing experience at the Missourian," Corrigan said. "Through my shifts, I learned there is much more to editing than I previously thought as a student reporter."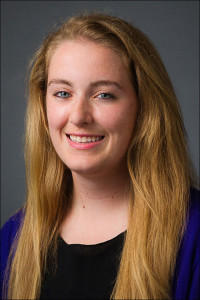 Cook, a self-described perfectionist, became interested in copy editing during her freshman year, when she worked for The Maneater. Her interest grew with her experience as a copy editor and news editor at the Columbia Missourian.
"I think people sometimes consider copy editing to be a systematic task; you catch mistakes, correct errors and write stellar headlines. But it's more than that," Cook said. "It's a thought process – one that develops through experience and conversations about content that comes through our desk."
Both Corrigan and Cook said faculty editors such as Walter, Gerri Berendzen and Elizabeth Brixey have played a crucial role in their education and professional development.
"The knowledge and insights they offer from having worked in newsrooms all over the country are invaluable," Corrigan said. "Plus, J-School faculty members offer lessons that are more than academic. They teach you practical stuff that is relevant for all sorts of life situations."
The scholarship winners also received financial aid to attend the ACES annual skill-building conference, where the winners of the headline contest were announced. Cook and Corrigan attended, along with Walter, Berendzen, Associate Professor Jennifer Rowe and graduate student Mike Cirricelli. Cook serves as the vice president of the School of Journalism's chapter of ACES, and Corrigan serves as treasurer.
The scholarship applicants, selected for their commitment to a career in copy editing and records of exemplary work and academic achievement, were judged by five professional editors from around the country.
The headline contest, which seeks to award good headline writing in newspapers, non-newspaper publications, websites and even Twitter, was judged by volunteers.
Updated: August 4, 2020
Related Stories
Expand All
Collapse All
---