Ace Copy Editor Wins National Scholarship
Columbia, Mo. (Jan. 31, 2007) — The American Copy Editors Society recently named Missouri School of Journalism senior Krysten Chambrot a winner in the organization's annual national scholarship competition.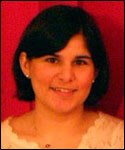 Chambrot, a newspaper journalism major from Miramar, Fla., is one of four students in the United States to receive a $1,000 scholarship from ACES this year. A panel of professional copy editors selected the winners based on three criteria: commitment to copy editing as a career; work experience in copy editing; and copy-editing ability, as demonstrated by examples in the application and recommendations.
"I was really thrilled to receive the scholarship," Chambrot said. "It's a great honor to be chosen as one of the recipients."
In summer 2006, Chambrot was a Dow Jones Newspaper Fund editing intern at The New York Times, and she currently coaches other students as an assistant news editor at the Columbia Missourian, a community newspaper that serves as a working laboratory for Missouri Journalism students. She also is active in Missouri's student chapter of ACES and the Student Society for News Design.
Mary Lawrence, research associate in newspaper journalism, national ACES liaison and adviser to Missouri's student ACES chapter, said the high caliber of all the applicants for the ACES scholarship makes Chambrot's win especially significant.
"For her to be selected is quite an honor, but she's an extraordinary student, a deserving student," Lawrence said. "We're so happy to see her work honored in this way by ACES."
Her respect for the written word, commitment to precision and accuracy and creativity in headline writing set Chambrot apart, said Michael Fuhlhage, assistant professor of newspaper journalism.
"She brings a lot of talent to what she does, but she doesn't just rely on talent," Fuhlhage said. "She works hard to improve at everything she does, and her mix of hard work, determination and skill reflect so much of what we're trying to foster in the School of Journalism and in our editing program."
ACES has presented its annual scholarships since 1999. In addition to the $1,000 scholarship, Chambrot will receive free registration for the organization's 2007 conference in Miami.
Updated: April 16, 2020
Related Stories
Expand All
Collapse All
---