Missouri Students Win 2 of 5 National Copy Editing Scholarships
Juniors Sarah Fine, Valerie Hellinghausen Receive $1,000 Scholarships, Travel Money to Attend American Copy Editors Society Conference
By Ashley Szatala
Columbia, Mo. (Feb. 3, 2016) — Two Missouri School of Journalism juniors have received $1,000 copy editing scholarships, plus financial stipends to cover expenses to travel to an American Copy Editors Society conference.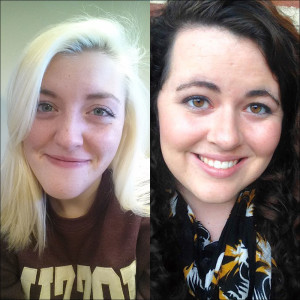 Sarah Fine, who emphasizes in news editing, and Valerie Hellinghausen, who focuses on print and digital news, were awarded the scholarships in January. Both have been copy editors for the Columbia Missourian.
"Mizzou has had a strong showing in recent years in the ACES scholarship contest," Missourian news editor Gerri Berendzen said. "That's great for students because it not only provides them with some money but also with the opportunity to attend the conference and further their editing opportunities."
The ACES Education Fund awards five copy editing scholarships annually, and Fine and Hellinghausen received two of the five. The 2016 ACES conferences will be held in Portland, Oregon, March 31-April 2.
"Having two of the five scholarship winners again be from MU shows the strength of the editing opportunities we have in the print and digital area," Berendzen said. Two Missouri students also received ACES scholarships in 2015.
At the conference, attendees will work on core editing skills, diversity and respectful language, and career development, among other skills, according to the ACES website.
Break-out sessions students have an opportunity to attend will be led by editors of the Associated Press Stylebook; Merrill Perlman, BJ '74, former director of copy desks at The New York Times where she was in charge of the 160-plus copy editors across the newsroom; Bill Walsh, a multiplatform editor at Washington Post; representatives of the copy desk chief at BuzzFeed; Carol Saller, an editor at the Chicago Manual of Style; and copy editors at the Arizona Republic, Dallas Morning News, Upworthy, The Onion and many more publications.
Berendzen and Brady Jones, Missourian print editor, will attend the conference. Berendzen will present two sessions: "College Teaching: So You Want To Go Into The Classroom" and "Getting It Right: Fact-Checking Nontraditional Sources."
The conference keynote speaker is Kory L. Stamper, who is editor-at-large at Merriam-Webster.
ACES is an organization of editors working at magazines, newspapers, online, in the book and nonprofit industries and at corporations, and it also includes students and professors, according to its website.
The American Copy Editors Society's Education Fund has awarded 88 scholarships to students interested in editing, according to its website. Seventeen of those scholarships – approximately 20 percent – have gone to Missouri School of Journalism students.
Updated: September 15, 2020
Related Stories
Expand All
Collapse All
---