Newspaper Journalism Student Named Best Intern in National Editing Program
By Traci McMurray
Columbia, Mo. (Feb. 1, 2006) — Missouri School of Journalism student Diego Sorbara has been chosen as the 2006 Ed Trayes Scholar, an honor given to the best intern in the Dow Jones Newspaper Fund's intensive copy editing summer program. Sorbara, the award's second recipient, received a $1,000 scholarship. Approximately 100 students participate in this national internship program each year.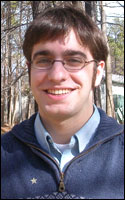 The Ed Trayes Scholar Award was established on behalf of Edward Trayes by one of his former copy editing students. Trayes is co-founder and director of the program.
As a Dow Jones intern, Sorbara worked at the Hartford (Conn.) Courant. Supervisor Tom Twitchell praised Sorbara's work and predicts a bright future for his former intern.
"He made a lot of friends here at The Courant, and he did a lot of great work for us. He's smart, he's funny, and he's naturally curious about the world around him. More than that, he seems to really love journalism, and that's so important these days. We expect he'll be a success no matter where he goes," Twitchell said.
Sorbara said he was shocked to receive a phone call from Trayes informing him that he won the award.
"I just did my job all summer, nothing terribly special, so it was surprising that I stood out to him," Sorbara said. The senior from LaGrange, Ill., is pursuing majors in newspaper journalism and French. Sorbara will graduate in May.
As part of his journalism coursework, Sorbara works as a reporter, copy editor, designer and assistant news editor for the Columbia Missourian, the city's daily morning newspaper, and its bilingual magazine, Adelante. Both serve as learning laboratories for Missouri Journalism students.
Michael Fuhlhage, assistant professor and news editor for the Columbia Missourian, believes that Sorbara is not only talented at copy editing, but that his dedication and passion also have helped him succeed as a student and journalist.
"It's hard to remember a day that I haven't seen Diego in the newsroom in the past year. His love for the language was clear when he took my introductory editing class," said Fulhage. "That love of language has turned into a passion for the craft of copy editing and a critical eye for how the news is told, and it's been tremendously satisfying to see how he's grown the past couple of years."
The Trayes Scholar Award is just one of several scholarships that Sorbara has received for his outstanding work. He received a $10,000 Scripps Howard Foundation Scholarship, one of only 10 students nationwide to be selected for this award, and the Copley Newspapers Scholarship. Sorbara placed second in the Page One/News Design category from the University of Missouri chapter of the Student Society for News Design and received an honorable mention in Special Sections Design from the Michigan State University Design Contest for College Students.
---
Traci McMurray is a junior at the University of Missouri – Columbia. She is pursuing majors in media convergence journalism and Classical Humanities. She has interned at WQLZ in Springfield, Ill., and serves as one of two campus representatives for mtvU. McMurray intends to work in the field of music marketing and public relations upon graduation.
Updated: April 8, 2020
Related Stories
Expand All
Collapse All
---