Sorbara Named Top Copy Editing Student in U.S.
Columbia, Mo. (May 1, 2006) — Diego Sorbara has received the $2,500 Aubespin scholarship, given to the top copy editing student in the U.S. by the American Copy Editors Society. Sorbara is a newspaper journalism student at the Missouri School of Journalism.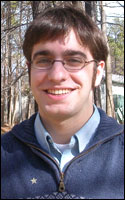 As part of his journalism coursework, Sorbara works as a reporter, copy editor, designer and assistant news editor for the Columbia Missourian, the city's daily morning newspaper, and its bilingual magazine, Adelante. Both serve as learning laboratories for Missouri Journalism students.
"This award is a testament to Diego's hard work, exceptional skill, love of the craft of copy editing and devotion to journalism. He believes in the future of news, whether that be in the form of newspapers or whatever it morphs into. That really showed in his acceptance speech at the conference," said Michael Fuhlhage, an assistant professor, news editor for the Missourian and an ACES student chapter adviser at the School.
In his acceptance speech at the ACES annual convention, Sorbara said that he felt that it was an exciting time to be a copy editor as those in this role will provide critical leadership as news content transitions to a variety of platforms.
In addition to Fuhlhage, other MU chapter advisers attending were Mary Lawrence and Margaret Walter. Students who accompanied Sorbara on the trip were Marin Devine, Sallie Hickle, Robbie Ketcham and Brandon Morgan.
The award recognizes Merv Aubespin, who provided the vision for ACES while he was serving as the chairman of the Human Resources Committee of the American Society of Newspaper Editors in the mid-1990s. Aubespin, associate editor for development at the Courier-Journal in Louisville before retiring, was also an early president of the National Association of Black Journalists.
The Aubespin award is just one of several scholarships that Sorbara has received for his outstanding work. He was chosen as the 2006 Ed Trayes Scholar, an honor given to the best intern in the Dow Jones Newspaper Fund's intensive copy editing summer program. Sorbara received a $10,000 Scripps Howard Foundation Scholarship, one of only 10 students nationwide to be selected for this award, and the Copley Newspapers Scholarship. He placed second in the Page One/News Design category from the University of Missouri chapter of the Student Society for News Design and received an honorable mention in Special Sections Design from the Michigan State University Design Contest for College Students.
Updated: April 9, 2020
Related Stories
Expand All
Collapse All
---