Junior Katie Yaeger Is One of 5 National Winners of a $1,000 Editing Scholarship
The Award Is Provided by the American Copy Editors Society Education Fund
By Rebecca Dell
Columbia, Mo. (April 10, 2014) — Katie Yaeger, a junior news editing student at the Missouri School of Journalism, has won a $1,000 scholarship from the American Copy Editors Society Education Fund. She was one of five winners in the nation out of 55 entrants.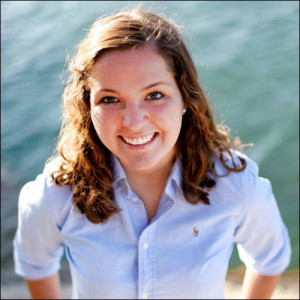 This is the second recognition Yaeger has received recently for her editing proficiency. The Dow Jones News Fund selected Yaeger for one of its competitive paid summer internships, placing her with The Kansas City (Mo.) Star. She competed against 550 students from universities around the nation vying for about 80 paid internships in digital journalism, news editing, sports editing and business reporting.
"She really, really cares about quality content," said Associate Professor Maggie Walter, interactive news editor at the Columbia Missourian. "She reads a story not just to see what it says but to see what it doesn't say."
Walter says Yaeger has a knack for noticing where readers may have more questions and following up with reporters to add those details to stories.
"One of the mantras I say in class is, 'It's always about the reader,'" Walter said. "They get tired of hearing me say it, I'm sure, but they get it. Katie already had it."
Yaeger, who served as a summer copy editing intern at the Orange County (Calif.) Register in 2013, said she enjoys the process of collaborating throughout the newsroom and engaging with readers.
"I think copy editing is incredibly important because it helps a media outlet present information as clearly, concisely and accurately as possible to its audience," she said. "My love of copy editing initially stemmed from a love of grammar and language, but I've come to realize that it involves so much more than that. I enjoy looking at a story from a reader's perspective, asking questions and determining whether the wording conveys the intended message."
Figuring out how to present a collection of photos by four-time Pulitzer Prize winner and 2013 Missouri Honor Medal recipient Carol Guzy is one of many examples that demonstrate Yaeger's editing diligence. Thinking like a reader, Yaeger included the title, date taken and location for each photo. She expanded the cutline into a full description so that readers could better understand the background of each photo.
The ACES Education Fund has provided 69 scholarships since 1999. This year's applicants were judged by professional editors from around the country: Mark Allen of Columbus, Ohio; Carol Carpenter of New Orleans; Jeff Kleinman of Miami; David Sheets of St. Louis; and Diego Sorbara, BJ '06, of New York.
Updated: July 24, 2020
Related Stories
Expand All
Collapse All
---