Barone Wins $1,000 Scholarship for Editing
By Maggie Walter
Associate Professor
Columbia, Mo. (April 5, 2011) — Josh Barone, a senior print and digital news major, won a $1,000 scholarship for editing from the American Copy Editors Society during its annual conference, held this year on March 17 to 19 in Phoenix.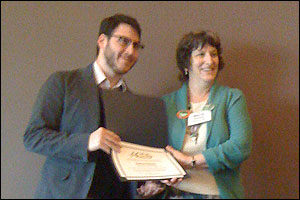 Barone was one of five students selected for the award. In addition, winners received free registration to the conference and a donation from the ACES Education Fund for travel expenses.
Five other students and two journalism professors from the Missouri School of Journalism attended the conference held at the Walter Cronkite School of Journalism and Mass Communications at Arizona State University.
The other students are Jessica Bigazda, Caitlin Steffen, Michelle Gao, Hannah Ritchie and Kevin Deane.
Nick Jungman, the Knight visiting professional and senior editor for transition at ColumbiaMissourian.com and the Missourian, and Maggie Walter, associate professor and adviser for the Mizzou Chapter of ACES, also attended.
Jungman and Walter presented "The Transition: Creating an Interactive Copy Desk," a session devoted to the recent changes in the Missourian newsroom designed to have a "Web first" focus.
Walter also participated on a panel discussion on "Women in Management" and was presenter during the closing plenary session on "The Future of Editing."
To learn more about ACES and to see highlights from the conference, go to http://www.copydesk.org/.
Updated: May 21, 2020
Related Stories
Expand All
Collapse All
---