Josh Barone Wins 2012 Atwater Prize for Writing Contest
Columbia, Mo. (May 17, 2012) — Joshua Barone, BJ '12, was the winner of the 2012 Atwater Prize for Writing contest.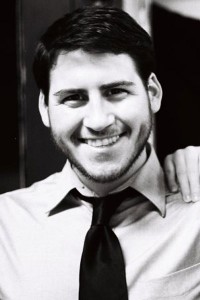 Barone earned numerous awards and recognitions for his writing while a student at the Missouri School of Journalism. In February he was recognized as the top candidate and named the Aubespin scholar in the American Copy Editors Society student copy editing contest. Barone received $2,500 for the honor. ACES also awarded him with two scholarships during his undergraduate studies.
Barone interned at Esquire magazine in New York during the spring 2012 semester. He also served as the assistant news editor at the Columbia Missourian, held a Dow Jones internship at The Wall Street Journal and was an editorial intern at Standard & Poor's.
The selection committee awarded Barone the Atwater Prize on the strength of three stories that ran in the Columbia Missourian and Vox magazine.
"A Murder Unanswered: The Aftermath of Tevin Nelson's Death" about the death of a 21-year-old man outside of a Columbia nightclub.
"Missouri Death Row Inmates Face an Uncertain Future" about Missouri's Department of Corrections search for new ways to execute prisoners.
"New Sacred Heart Pastor Doing Double Duty, with Grace" about a Catholic priest who serves as pastor of two parishes.
Barone received $500 and a copy of Eudora Welty's memoir "One Writer's Beginnings," which was a favorite of the late Jim Atwater, former dean and faculty member of the Missouri School of Journalism. This annual prize is given in memory of his love of writing, the J-School and its students.
Those serving on the Atwater Prize for Writing selection committee were Jeanne Abbott, Liz Brixey, George Kennedy, Pat Smith and Patty Atwater, widow of the former dean. Cheri Cherry coordinated the contest.
Updated: June 8, 2020
Related Stories
Expand All
Collapse All
---