Missouri Journalism Student Named Dow Jones News Fund's Top Intern
By Nathan Allen
Master's Student
Columbia, Mo. (Oct. 13, 2010) — Missouri School of Journalism student Joshua Barone recently was selected as the 2010 Edward Trayes Scholar. Given to the top intern in the Dow Jones News Fund's rigorous copy editing summer program, the honor also includes a $1,000 scholarship. Barone is the seventh recipient of the award and the second from the Missouri School of Journalism.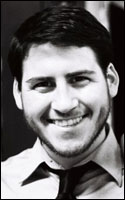 The award is named on behalf of Edward Trayes, co-founder and director of the Dow Jones News Fund. Trayes serves as the director of the master's program at Temple University.
Barone, a senior from Great Falls, Mont., worked at The Wall Street Journal in New York as a copy editor, rotating among the international, national and corporate desks. He spent his time proofing the pages and editing them line-by-line.
Yvonne Dennis, the Journal's assistant news editor, was Barone's immediate supervisor. "Joshua showed a deep care for the newspaper from the day he arrived until the moment he left, proofing pages religiously, pointing out errors pre-publication and generally helping make our processes better," she said.
"Joshua also did the newspaper a tremendous favor by extending the length of his internship by four weeks when we had an unexpected staff departure," Dennis added.
After completing the internship, Barone traveled to Beijing to begin work providing English-language coverage of the China Open, a professional tennis tournament. The School has been sending students to China for this program the past two years. Barone currently is working on the China Open website during the day and his coursework in the evenings. He will arrive back on campus Oct. 11.
It was while Barone was in Beijing that he received a phone call from Trayes congratulating him for the honor. Trayes selected Barone because of his passion and dedication to journalism.
Barone said Jake Sherlock, assistant professor and opinion editor at the Missourian, encouraged and arranged for him to take a test required for the program.
"Josh is everything today's editor needs to be," Sherlock said. "He's nimble, he knows how to publish to multiple platforms, and he's a very good critical thinker. His intelligence, his commitment to our ever-changing craft and his professionalism are the types of skills future employers will love about him."
Barone is currently a page designer and reporter covering higher education for the Columbia Missourian.
"Josh has thrown himself into the difficult task of understanding the complexities of university system governance and budgeting," said Katherine Reed, who teaches the reporting class and is an editor at the Missourian. "So I wasn't at all surprised to hear that Josh had won this recognition. He's already a standout in our newsroom."
Barone also has served as editor of The Maneater, the independent campus newspaper. He will graduate in May 2011.
Updated: May 14, 2020
Related Stories
Expand All
Collapse All
---