3 Missouri Journalism students awarded Dow Jones News Fund internships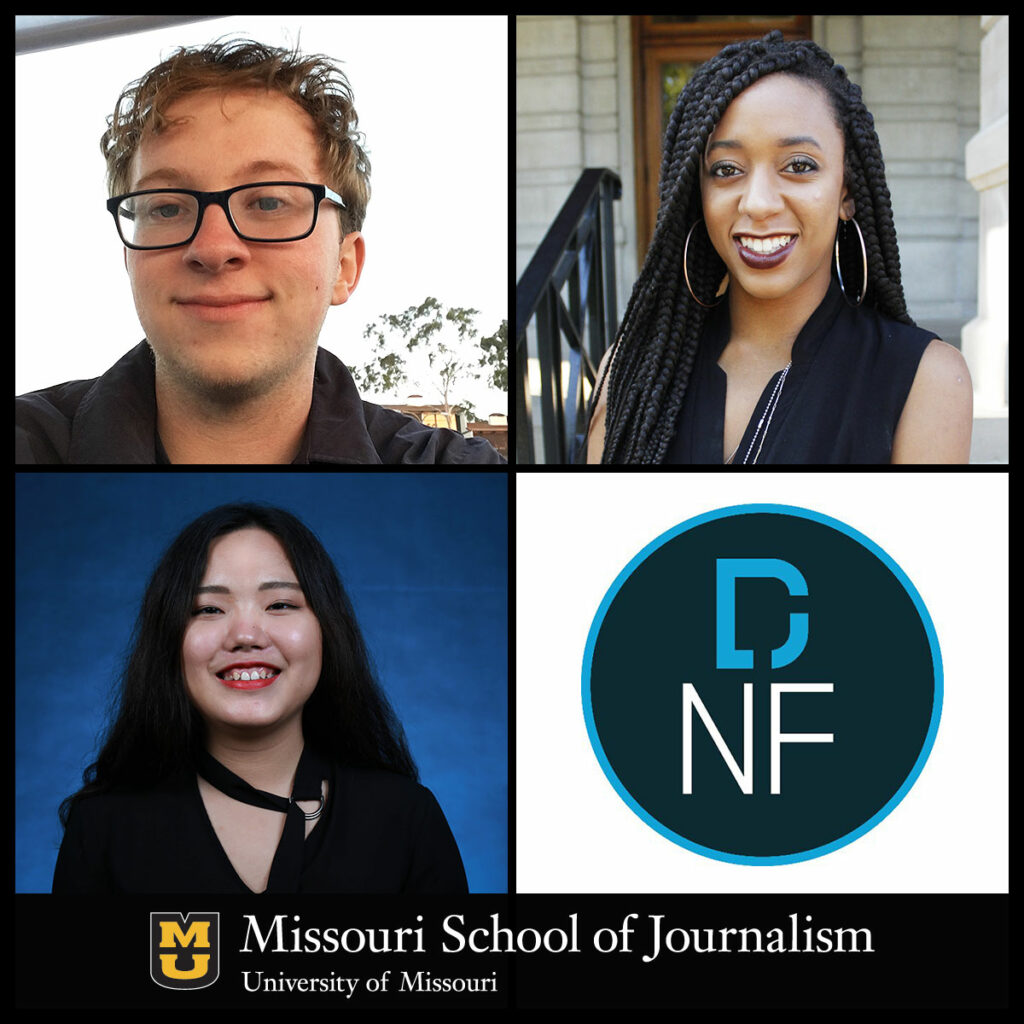 Missouri students Theo DeRosa, Ashley Jones and Yue Stella Yu are among 79 undergraduate and graduate students chosen nationwide for a highly prestigious Dow Jones News Fund data and business internship this summer.
Program includes paid summer internship and $1,000 scholarship for returning students.
Columbia, Mo. (May 14, 2019) — Three Missouri School of Journalism students are among the 79 undergraduate and graduate students who have won a nationwide competition for prestigious Dow Jones News Fund (DJNF) data and business internships for this summer.
Winning students will work as data and digital journalists, business reporters and multiplatform editors in paid internships at 65 of the nation's leading news organizations. The DJNF received more than 770 applications last fall.
Theo DeRosa, a sports journalism senior from Sacramento, Calif., will participate in the Centers for Editing Excellence at the University of Texas at Austin. He will complete his internship at the Omaha World-Herald. "In my internship, I'm most looking forward to covering the College World Series for the Omaha World-Herald," DeRosa says. "I've loved baseball all my life, and getting to report on this event is very exciting."
Ashley Jones, a journalism sophomore from Tulsa, Okla., will attend the Data Journalism Program at the Missouri School of Journalism. Jones will complete her internship at St. Louis American. "I am looking forward to improving my investigative reporting skills, and learn new professional interviewing techniques," Jones says. "I am honored to participate in such an amazing opportunity."
Yue Stella Yu, a second-year graduate student from Wuhan, China, will also attend the Data Journalism Program. She will complete her internship at the Salt Lake Tribune. "I'm thrilled to join the Salt Lake Tribune as a data journalism intern for the summer," Yu says. "Many thanks to the Dow Jones News Fund for making it possible, and thanks to my dear professor David Herzog and Charles Minshew with IRE for giving me this opportunity." During her time at the Tribune, Yu hopes to "produce in-depth data-driven stories alongside experienced award-winning journalists and to learn a lot more about data-crunching from the professionals."
According to Laura Johnston, associate professor and senior news editor for the Columbia Missourian, these internships with the DJNF are "highly competitive and provide an enriching experience for students."
The summer internship program begins with a one-week training program before students report to work for a minimum 10 weeks. Those returning to college will receive $1,500 scholarships.
Investigative Reporters and Editors, headquartered at the Missouri School of Journalism, will train 15 journalists to obtain and analyze data, visualize information and employ other computer-assisted reporting methods. Among them are six students selected by the Emma Bowen Foundation in partnership with the Institute for Nonprofit News through a grant supported by the Democracy Fund. This is the fourth year in a row that Missouri has served as the training site for data journalism.
About the Dow Jones News Fund
The Dow Jones News Fund was founded in 1958 to improve the quality of journalism education and improve job applicants in the news business. Summer internships began in 1960. One of the most recognized programs in the world, DJNF regularly selects Missouri Journalism students along with the best and brightest future journalists in the country.
Updated: November 10, 2020
Related Stories
Expand All
Collapse All
---