London Internship Provides Opportunity for Missouri Student to Help Compile 'Royal Baby Bible' for CBS News-London Correspondents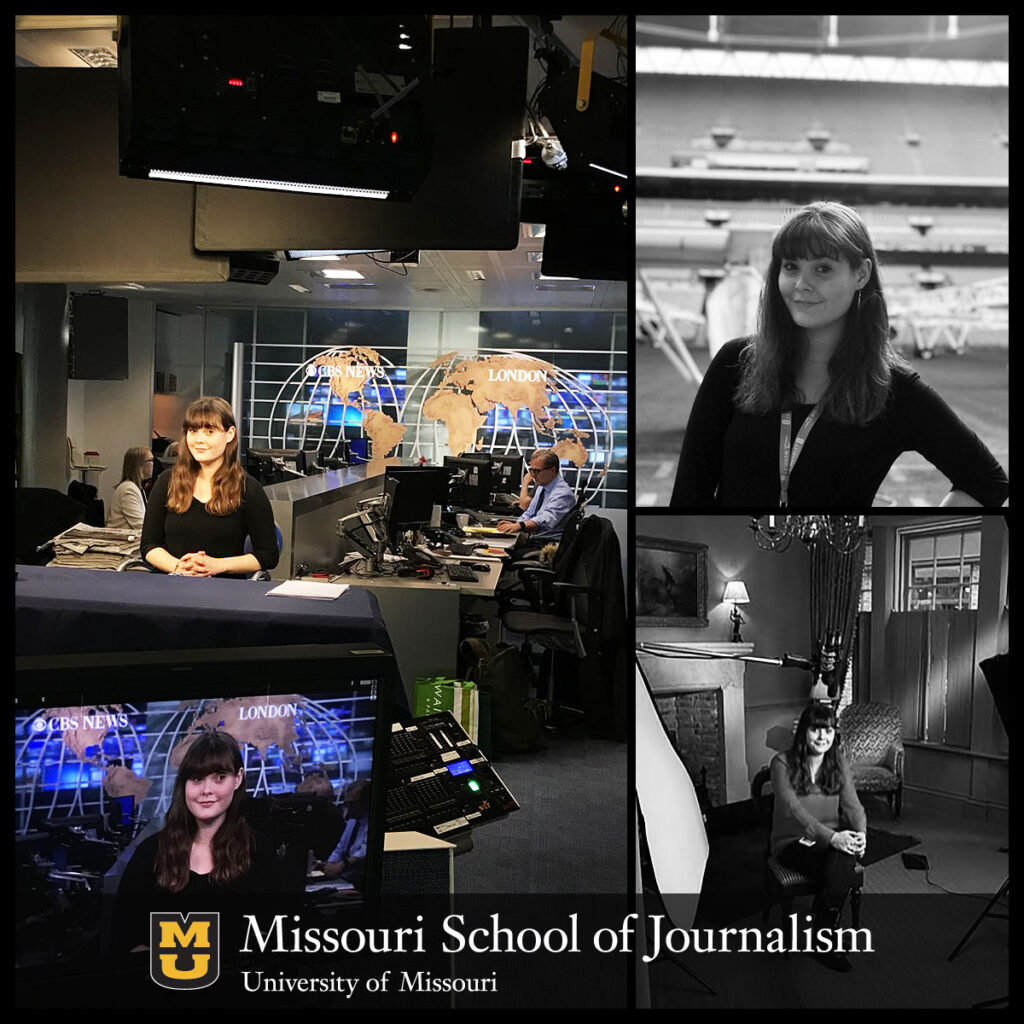 During a particularly event-filled London internship, convergence journalism junior Caroline Watkins worked as part of a research team to compile what came to be known as the "Royal Baby Bible," a resource that put relevant facts at the fingertips of CBS News correspondents as they were filing their reports on the birth of Prince Harry and Meghan Markle's child.
Convergence reporting class helped prepare junior Caroline Watkins for fast-paced reporting environment.
By Jennifer Nelson
Columbia, Mo. (May 20, 2019) — As they were reporting on the birth of Prince Harry and Meghan Markle's child, CBS News correspondents based in London turned to the "Royal Baby Bible," a resource packed with information compiled by a small research team that included Caroline Watkins, a convergence journalism junior at the Missouri School of Journalism.
Watkins, who has an interest in working in international news after graduation, interned at CBS News for the spring 2019 semester as part of the School of Journalism's London Program. For the Royal Baby Bible, she spent weeks poring over resources looking for information about the royal family, previous royal births, and even some fun facts about the royal nursery. As just one example, Watkins learned that Duchess Markle requested that painters use vegan paint on the walls of the child's nursery.
Watkins' colleagues were also interested in what the public thought about the latest royal baby, what names they thought might be selected and where they thought the baby might be born, said the McLean, Virginia, native. She turned to several sources, including Royal Communications and Glamour, for her research. Some of the information, such as the name and gender, was harder to find because it was kept secret.
"As the weeks went by, Caroline was trusted to do more and more for the network's international coverage, culminating in the responsibility of helping provide context and detail for the royal birth," said Professor Martha Steffens, spring 2019 London Program supervisor and Society of American Business Editors and Writers endowed chair. "She also got the privilege of watching foreign correspondents up close – great training for her future career."
The Royal Baby Bible was just one assignment; Watkins also was working in the CBS newsroom until midnight, feeding information to an anchor during the April 15 Notre Dame Cathedral fire. She also researched airline safety and previous plane crashes for correspondents to include with stories about the March 10 crash of Ethiopian Airlines Flight 302, which killed 157 passengers.
During her internship, Watkins also helped transcribe notes, compile contacts and set up equipment for live shoots, which included accompanying the team to various hospitals to shoot supplemental "B-roll" footage in preparation for the royal birth. Although she had some experience working in the newsroom at the Journalism School's NBC affiliate KOMU-TV, interning at CBS gave Watkins the chance to learn more about broadcast news. She said that anytime she felt intimidated in this professional environment, she made sure to ask plenty of questions and remind herself that she was there to learn.
Watkins said she was thankful for her convergence reporting class as it helped prepare her for working in a fast-paced environment. "You always have to be on your toes and ready for whatever happens, at any moment," she said.
In addition to completing an internship with a news outlet, the London Program requires students complete two classes – International Issues Reporting and British Life and Culture. The classes provided opportunities to visit news publications including Bloomberg and The Guardian and helped students adjust to living and working in London, she said.
As someone who confesses to having a "travel bug," Watkins was thankful for the opportunity to see other European countries including France, Belgium and Spain on weekends and during spring break and to become more independent. She plans to intern with the CNN Vision team in Atlanta this summer, helping with research, transcription, as well as writing scripts for feature stories and assisting with social media.
Updated: November 10, 2020
Related Stories
Expand All
Collapse All
---