Missouri Journalism Students Produce, Coordinate Press Coverage of the China Open
The Tournament Is the Largest Tennis Event in Asia
Columbia, Mo. (Nov. 14, 2011) — Missouri School of Journalism students helped produce and coordinate the majority of the press coverage at the largest tennis event in Asia.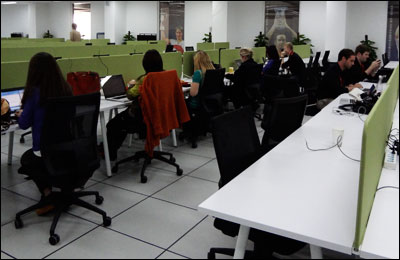 The China Open is the premier tennis tournament of the season and brings the top professionals to Beijing. Missouri journalism students have participated in the program for the past three years. Carolina Escudero, the School's Argentina program director, accompanied the students to Beijing this year. Jeanne Abbott, an associate professor on the print and digital news faculty, went with the group the previous two years.
The 10 graduate and undergraduate students produced news and coordinated public relations activities. The news team produced more than 79 percent of the English articles on the official China Open website and worked on their own blogs. The public relations team helped coordinate more than 91 percent of the press conferences during the tournament and assisted in organizing player activities. Students also provided content for the Beijing Daily Youth, which has a circulation of 600,000 in Beijing alone and CCTV Channel 5.
"The China Open event is an important part of the School's international offerings," said Fritz Cropp, director of International Programs.
"In addition to the excellent work they are doing for the professional tennis associations and the tournament itself, the students get an opportunity to live and work in Beijing for two weeks," he said.
Magazine journalism senior Suet Lee was a member of the news team.
"Even though I was in a foreign environment, the media outlets worked much the same," said Lee. "I learned how to work through jet lag."
Strategic communication senior Peter Schmidt escorted the athletes to press conferences following their matches. He also made sure the athletes attended events in their respective sponsorship booths.
The cost of the trip covered lodging in a hotel close to the event. Overall, Schmidt was happy to have the education from the J-School leading up the trip.
Master's student Erin Meyer described the trip as an "incredible learning experience."
"Having to deal the language barriers and cultural differences was something I have never had to deal with before," she said. "We worked hard and had long hours but definitely had a good time doing so."
Updated: June 4, 2020
Related Stories
Expand All
Collapse All
---