University of Missouri-Columbia, Beijing Olympic Organizing Committee, Renmin University of China Sign 'Memorandum of Understanding'
Missouri School of Journalism Students Will Serve as Interns at 2008 Olympic Games
By Kevin Carlson
MU News Bureau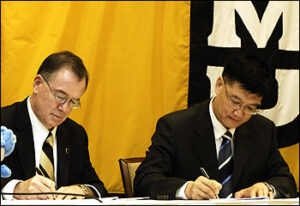 Columbia, Mo. (Aug. 24, 2007) — Students from one of the world's most prestigious journalism schools will have an opportunity to gain valuable professional experience at the world's most celebrated sporting event next summer as Beijing hosts the 29th Summer Olympiad. On Thursday, the Missouri School of Journalism, the Beijing Organizing Committee for the Games of the XXIX Olympiad (BOCOG) and Renmin University of China (RUC) signed a Memorandum of Understanding concerning a student volunteer project. As part of this project, MU and RUC will cooperate to select and train journalism students for the 2008 Olympic Games in Beijing.
MU is one of 13 international universities that will recruit and train Olympic News Service volunteers for BOCOG. Three hundred English-native speakers will be trained in BOCOG's Olympic News Service International Volunteers Project. Six elite cooperating Beijing universities will provide housing for the volunteers, with RUC supplying free accommodations for MU's students.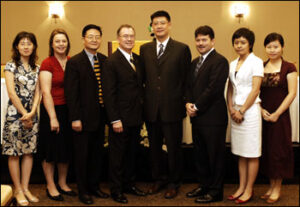 "The Beijing Olympics program provides Missouri students a unique opportunity to gain practical experience while working at a prestigious event and experiencing a different culture," said Fritz Cropp, director of international programs for the School of Journalism. "Our participation is consistent with the experiential philosophy of the Missouri School of Journalism and with our continued efforts to provide global opportunities for students."
Taking part in the signing ceremony at Reynolds Alumni Center were MU Chancellor Brady Deaton; Margaret Duffy, acting associate dean of the Missouri School of Journalism; and Weijia Sun, head of the Media Operations Department for BOCOG. The agreement reinforces Mizzou's long-standing commitment to working with journalists in China and the School's increasing efforts in study abroad programs.
MU will manage this project similar to its other study abroad programs, with an MU faculty mentor in Beijing to oversee the students. Currently, about one in every four journalism undergraduate students has an international experience before graduation. There are now 18 programs in 14 countries for Missouri Journalism students.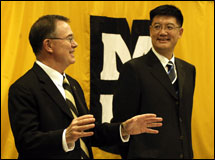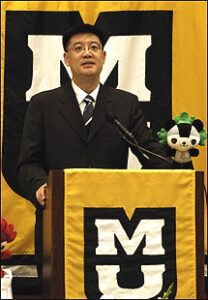 ---
Updated: April 20, 2020
Related Stories
Expand All
Collapse All
---