Biotech University Student Winner Attends International Science Conference In China
By Steve Veile
Manager, Biotech University
Columbia, Mo. (Aug. 19, 2010) — For Charlotte Bellis, it was a long way from the Missouri School of Journalism to the World Congress of Industrial Biotechnology in Dalian, on the east coast of China, but she earned the right to be there and was determined to make the most of it.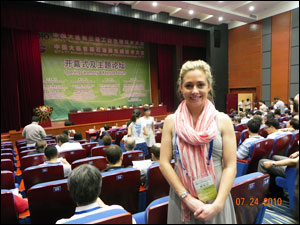 As a master's degree student at the Missouri School of Journalism, Bellis, MA '09, was awarded the trip to China after winning a reporting contest in fall 2009 as part of Biotech University. A unique two-day program for journalism students, Biotech University teaches about the science of biotechnology, along with tips on how to report on this complex subject. Held at the Bond Life Sciences Center and at a mid-Missouri farm, it was sponsored by the United Soybean Board, the Missouri School of Journalism and the National Center for Soybean Biotechnology, located on the University of Missouri campus.
It was the grand prize of a trip to an international biotechnology conference in Europe that attracted Bellis, and nearly two dozen other journalism students, to the conference and reporting contest. Bellis was determined to win the top prize and put in close to 100 hours developing the multi-media entry that she submitted. It included a TV story, a print article, a flash animation and a blog. An independent panel of judges scored her entry the highest, and win she did.
But, Bellis did not go to Europe. After she completed her master's studies in December, she returned to her native New Zealand to work for a national TV network. "Europe was too far and too expensive," Bellis explained, noting it could take up to 40 hours to travel from New Zealand to Europe, with layovers and connecting flights. Working with Biotech University administrators, she chose a conference in China as her conference venue.
While at the conference Bellis posted daily blogs, a requirement of her winning prize. In the blog she wrote about the contest she entered, what she was learning about, and the latest developments in the field of biotech from interviews she conducted with scientists who made presentations at the various sessions she attended. Her blogs can be found by visiting www.biotech-university.com.
After the first day of the conference, Bellis' blog entry expressed a bit of frustration. "I have heard more multi-syllabic words starting with 'mono' or 'hydro' and ending in 'nol' or 'myl' than I care to remember," she wrote. But while the conference was obviously aimed at doctoral-level scholars and researchers, it was not all Chinese to her. Sessions, by the way, were presented in English.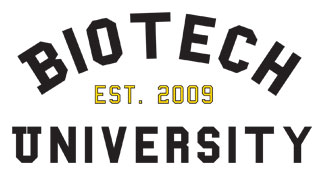 "There have been moments of connection," she noted in her blog. "Coming from a reporting background, my job is to take in-depth technical subjects and translate them for your average reader/viewer. In this sense, I was on the perfect mission to improve my journalistic skills."
Speakers from all over the world presented their findings on various kinds of biotechnology: "green biotech" for agricultural, "white biotech" for industrial, "blue biotech" for marine, "red biotech" for pharmaceutical. Outside the auditoriums and lecture halls, she conducted interviews and conversed with the likes of Ivan Ingelbrecht, from University Ghent, Belgium, who is working on a biotech project in Africa for the United Nations Industrial Development Organization, and renowned microbiologist David Gutnick, of Tel-Aviv University, who is responsible for a number of scientific breakthroughs in the world of petroleum. "Simply, he (Gutnick) found microbes that could clean up oily messes in a safe and natural way," Bellis noted in her blog.
Bellis included some recreational activities in her trip. There was a visit to a large square in Dalian one evening where locals gathered around and asked to have their picture taken with the young blonde woman from the west. She also attended a banquet with entertainment for all of the conference participants. Later, she traveled to Beijing to sightsee.
"There is one common denominator in China – people everywhere," she observed. "This is not a place to relax, but rather, to people watch and soak in this fast-paced dynamic culture."
This year's Biotech University will be held Oct. 15-16. An international biotech conference like the one Bellis attended will once again be the top prize. In addition, there will be $6,000 in scholarships awarded, with separate tracks for grads and undergrads.
"Good luck to the Mizzou students who will soon partake on the same journey I have over the last year," Bellis closed in her blog. "Goodbye from China!"
Updated: October 22, 2020
Related Stories
Expand All
Collapse All
---