Upcoming Lecture to Discuss How to Communicate Science, Health and Medicine
Focus Is on Protecting Lives and Improving People's Health and Well-being
Columbia, Mo. (March 10, 2010) — Every day, organizations, companies and agencies are trying to reach people with messages and information related to health – from ways to stay healthy to new advances in science and medicine. In today's complex world, it can be quite difficult to achieve communication success. Along with traditional media, there are many other venues such as the Internet, Twitter and Facebook. The question is how do you get your messages out to the people you need to reach and in a way that matters.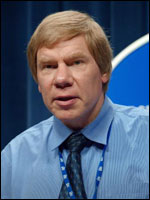 Glen Nowak, director of media relations and electronic media for the Centers for Disease Control and Prevention, faces this challenge daily – and on a wide range of topics – from H1N1 pandemic flu to E. Coli outbreaks to combating obesity. He will discuss how the CDC use various forms of media, both traditional and emerging, to send messages and information designed to protect lives and improve people's health and well-being in the upcoming Smith/Patterson Lecture Series presentation.
"Communicating about Science, Health and Medicine: Who Knew It Could Be So Difficult?" will be held from noon-1 p.m., Wednesday, April 14, in the Fred W. Smith Forum of the Donald W. Reynolds Journalism Instituteat the Missouri School of Journalism.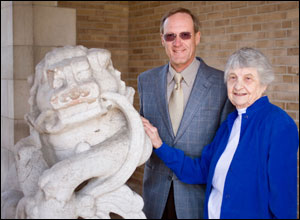 The Smith/Patterson Lecture Series was established in 2008 by Russell G. Smith II and Gail Smith to honor former journalism Professor Joye Patterson, who was Smith's mentor during graduate school. Patterson taught science writing at the School from 1966 to 1988. Twice a year, the Smith/Patterson Lecture Series, organized by the Health Communication Research Center (HCRC), hosts professionals to discuss current trends in science journalism.
The Health Communication Research Center is a grant-funded center based in the Missouri School of Journalism. Its primary mission is to foster interdisciplinary research to improve communication between the health care community and the public. The center capitalizes on the University of Missouri's strengths in health care outreach, education and prevention.
Updated: May 7, 2020
Related Stories
Expand All
Collapse All
---