KBIA-FM Wins Oral Health Champion Award
The Missouri Coalition for Oral Health Recognizes Station's Stories About Access to Dental Services for Underserved Populations
Columbia, Mo. (March 15, 2016) — The Missouri Coalition for Oral Health recognized KBIA-FM with an Oral Health Champion Award for its outstanding coverage of oral health policy and the ways in which limited access to oral health care affects many Missourians.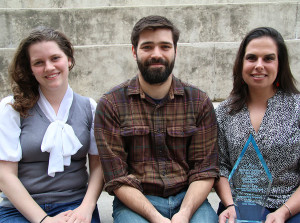 The award is given to individuals or organizations that have made significant contributions to high quality oral health care for underserved populations. KBIA staffers accepted the award on March 10 during the MCOH's annual conference in Jefferson City.
KBIA was selected because of its efforts in revealing a dental health care crisis in the state. KBIA Health and Wealth Desk reporters Rebecca Smith and Bram Sable-Smith, and Assistant News Director Sara Shahriari developed two stories to highlight the issue.
In 1,723 Patients, the reporting team told how more than 1,700 people waited in line for hours to get free dental care at a clinic in Columbia, Mo. The turnout for this clinic, called the Missouri Mission of Mercy, exposed a hidden crisis: The expense of dental care and lack of access are major obstacles for many throughout the state and the country. The story aired on Aug. 11, 2015.
Intersection-Dental Care Access in Missouri explored the complicated situation around access to affordable dental care in Missouri. The story aired on Oct. 6, 2015.
Updated: June 15, 2021
Related Stories
Expand All
Collapse All
---