Journalism Students, Faculty Win Health Journalism 2016 Fellowships
Participation Reflects Growing Interest in Health, Science and Public Policy
Cleveland (April 12, 2016) — Among the more than 600 attendees at Health Journalism 2016 over the past week in Cleveland, Ohio, were five Missouri School of Journalism students and seven on-campus professionals. Ten won fellowships to the annual conference of the Association of Health Care Journalists.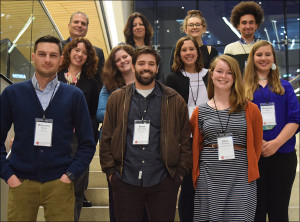 Students included graduate student Kathryn Mersmann, and undergraduate students Marlee Ellison, Madelyne Maag, Colin O'Brien and Elise Schmelzer. Along with their classes, the student winners also work for the School's professional, community-based news outlets: KOMU-TV, KBIA-FM and the Columbia Missourian. The students blogged and tweeted about conference sessions they covered.
Also awarded fellowships were assistant professor Sara Hiles, digital director, Vox Magazine; associate professor Katherine Reed, an editor with the Missourian; Bram Sable-Smith, lead reporter, Health and Wealth Desk, KBIA-Columbia; Rebecca Smith, health reporter/producer, KBIA-Columbia, and Kristofor Husted, reporter, Harvest Public Media/KBIA.
Conducting the conference was Associate Professor Len Bruzzese, who serves as executive director of AHCJ. Jacqui Banaszynski, Knight Chair in Editing, was one of the conference speakers.
"Interest in health, science and public policy continues to grow at the Missouri School of Journalism," Bruzzese said. "AHCJ is happy to assist these students in furthering their passion and in networking with top journalism and health professionals."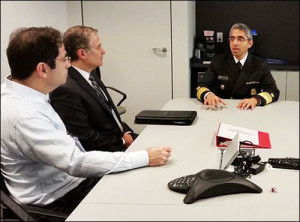 Along with Pulitzer Prize-winning journalists, the students heard from the U.S. surgeon general, the undersecretary of health at Veterans Affairs, health commissioners from several major cities, medical researchers and even NFL football players discussing concussions.
Headquartered at the Missouri School of Journalism, AHCJ is a nonprofit professional organization dedicated to advancing public understanding of health care issues through improved health reporting. This year marks the 11th anniversary on campus for the association and its supporting Center for Excellence in Health Care Journalism. Since AHCJ moved its operations to the Missouri campus from the University of Minnesota in 2005, the organization's membership has doubled to about 1,500 journalists across the United States and in 20 other countries.
The fellowships were awarded through two different programs administered by AHCJ. One is supported by the Missouri Foundation for Health and is aimed at Missouri-based reporters. The other is supported by the Leona M. and Harry B. Helmsley Charitable Trust and is aimed at college journalism students and instructors. Twelve universities are represented in the academic fellowships this year.
Updated: September 24, 2020
Related Stories
Expand All
Collapse All
---