University of Missouri's Reynolds Journalism Institute Announces Spring 2018 Student Innovation Fellows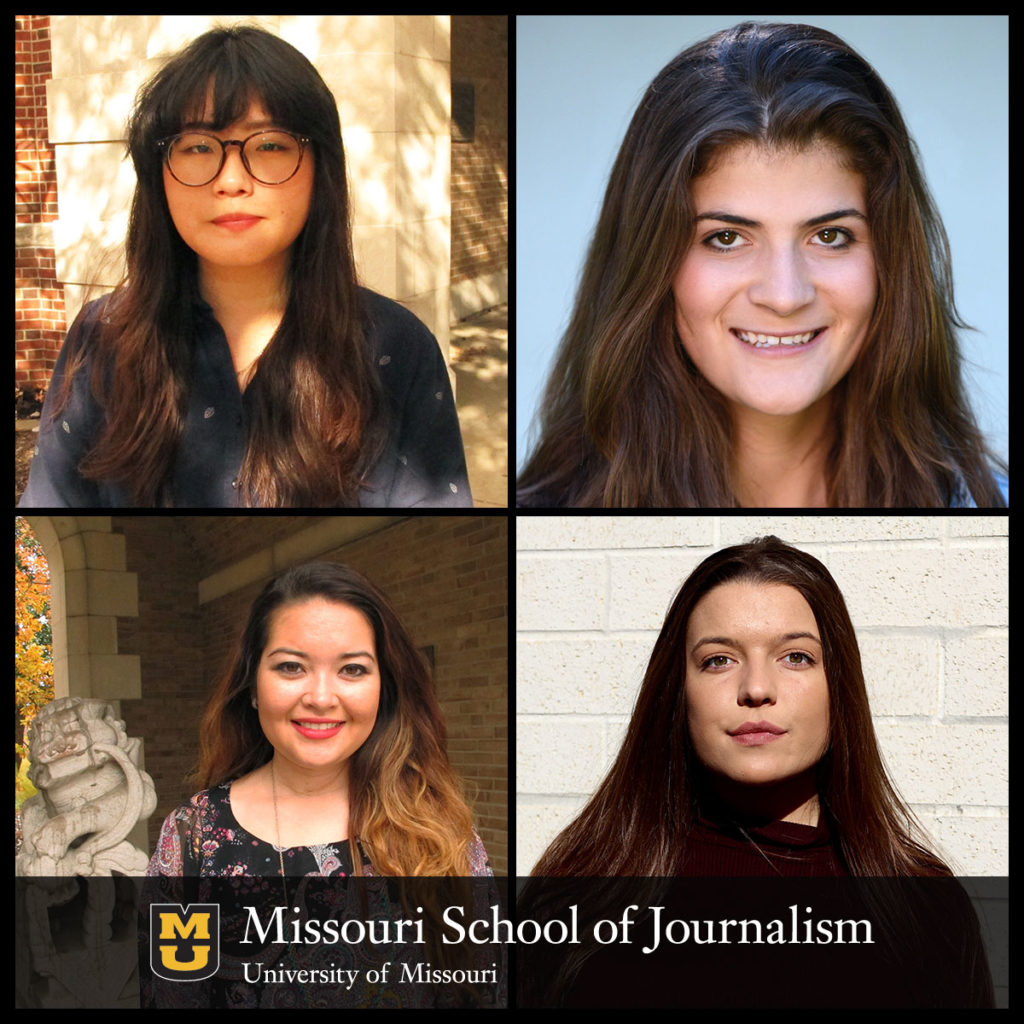 The RJI Spring 2018 Student Innovation Fellows are (clockwise from top-left): Soo Rin Kim, Lily Oppenheimer, AnnMarie Welser and Mica Soellner.
Columbia, Mo. (Nov. 30, 2017) — Four Missouri School of Journalism students will bring their skills and passions to Washington, D.C., and New York City newsrooms as 2018 Reynolds Journalism Institute (RJI) Student Innovation Fellows.
The 2018 class of fellows are Soo Rin Kim, a graduate student from Seoul, South Korea, and seniors Lily Oppenheimer from Pittsburgh, Mica Soellner from Belleville, Illinois, and AnnMarie Welser from Mokena, Illinois.
As part of the newly-launched fellowship, RJI is partnering with forward-looking news outlets to financially support Missouri School of Journalism students as they work 30 hours a week at one of those outlets. Students will receive at least a $4,000 stipend.
"We wanted a way to expand the already-deep connections between students at the Missouri School of Journalism and leading innovators in the news business," said Mike McKean, RJI associate director. "And we found it with an outstanding group of inaugural partners in our fellowship program."
According to McKean, students will work on projects including state-of-the-art storytelling techniques and engagement strategies with initial partners Mic, PolitiFact, NowThis and ABC News.
The spring 2018 fellowships were open to juniors and seniors, as well as graduate students. Students were encouraged to apply for positions with the partner organizations that fit their skills and interests.
"PolitiFact is a small organization with less than a dozen journalists, so we need our interns to contribute," says Executive Director Aaron Sharockman. "The University of Missouri and RJI have a track record of delivering students who are ready on day one, and we're excited to be working with them."
"At Mic, our audience are those who most influence and impact the world, and we very much see that in the class at the Missouri School of Journalism," says Publisher Cory Haik. "We're excited to bring their creative and curious minds into the Mic newsroom to further our mission in setting the pace on cultural movements, and innovating in and around new forms of visual journalism, both of which we believe this intern class to very much help shape."
The 2018 Student Innovation Fellows are:
After the fellowship, the students are required to submit a final report for RJI's audience detailing their project and how what they learned can benefit others in the news business. RJI Student Innovation Fellowships are available during the fall and spring semesters.
About the Donald W. Reynolds Journalism Institute
The Donald W. Reynolds Journalism Institute works with citizens, journalists and researchers to strengthen democracy through better journalism. RJI seeks out the most exciting new ideas, tests them with real-world experiments, uses social science research to assess their effectiveness and delivers solutions that citizens and journalists can put to use in their own communities.
Updated: October 26, 2020
Related Stories
Expand All
Collapse All
---