RJI Student Innovation Fellowship program helps Missouri School of Journalism graduate land audience strategy job at The Times in U.K.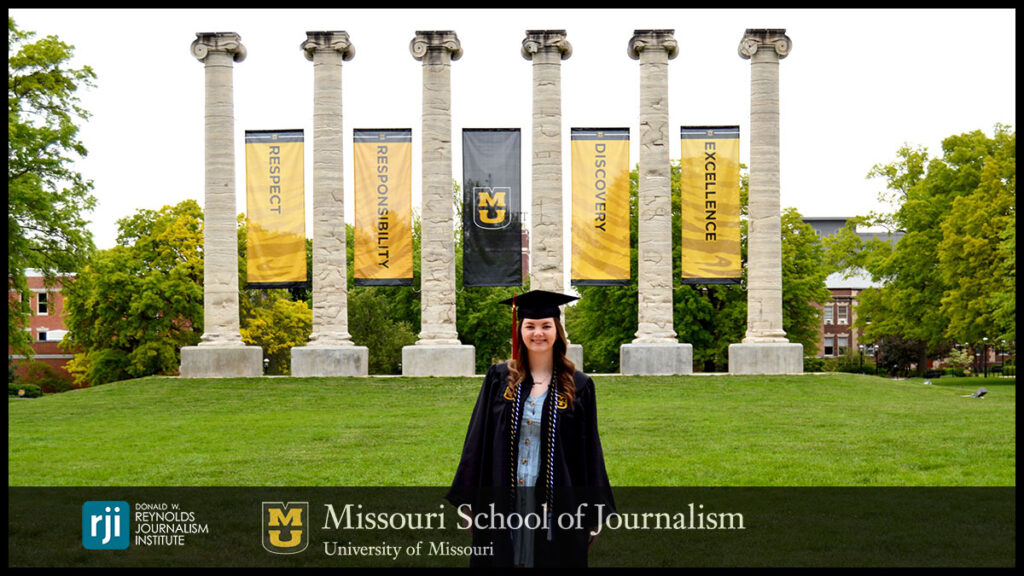 Alumna Laura Murgatroyd, BA '20, credits the hands-on Missouri Method of journalism training for he landing an audience strategy job at The Times and the Sunday Times in the United Kingdom.
School emphasizes hands-on learning method
Columbia, Mo. (August 19, 2020) — Missouri School of Journalism graduate Laura Murgatroyd, BA '20, said recent hands-on training she gained while working on an innovative news project for the Missouri Information Corp as an RJI Student Innovation Fellow this summer was key in landing an audience strategy job at The Times and The Sunday Times in the United Kingdom.
The Leeds, England, native will be an Apple News audience strategist, which means she'll be working as "the bridge" between the Times' U.K. newsroom and Apple News' editorial team in the U.S. as she curates the Times' journalism on the Apple News app, she said.
During the fellowship, which the School's Donald W. Reynolds Journalism Institute developed in 2018, Murgatroyd worked with the Columbia Missourian, a Missouri School of Journalism newsroom, and the Missouri Information Corps,  a pop-up newsroom formed by the J-School dedicated to providing free COVID-19 news coverage to news outlets across the state through Distributed Media Labs including the Missourian. She developed a COVID-19 widget as part of the fellowship. The widget was made for the ease of sharing free COVID-19 stories with news organizations around the state including the Missourian.
Murgatroyd was one of five RJI Student Innovation Fellows working with newsrooms this summer through the program, which pairs Missouri School of Journalism students with newsrooms to work on innovative projects such as new storytelling techniques, audience engagement strategies, delivery platforms or revenue opportunities. This year's partner newsrooms included the Carolina Panorama, The Associated Press, The Washington Post and the Chatham News + Record. Fellows received a $5,000 stipend from RJI's Palmer Innovation Endowment and were required to work between 30 to 40 hours a week for 12 weeks this summer. RJI shared highlights from the students' work in its Innovation in Focus series. Students shared their work, interviewed journalism professionals and produced tip sheets to help other newsrooms interested in pursuing similar projects.
"The student innovation fellowship program is a great partnership that benefits both the newsrooms and the students involved," says Kat Duncan, RJI's interim director of innovation. "The students gain real work experience where they get to learn from professionals in their chosen skillsets. The newsrooms gain a passionate, hardworking and innovative staff member for the summer whose job it is to try new things, experiment and help launch new initiatives. This summer all of our students worked so hard to produce amazing projects in their partner newsrooms that we've already had requests from newsrooms to partner again next summer. We also had two students who were offered job opportunities, one part-time and one full time, in the work that they love doing. I couldn't be more proud of our students."
The fellowship program provided Murgatroyd with an opportunity to learn more journalism innovation strategies and emphasized the newsrooms' growing digital audiences, she said.
"Building the COVID-19 widget for the Missouri Info Corps allowed me to gain experience in understanding digital audiences and what attracts them and why someone might want to read our content over a competitor's," she said. "Then I came to understand how to market the widget, even though it's free. This came up a lot during my interviews with The Times, as the Times has a very 'digital-first' approach in their journalism strategies, so they liked the idea that I was able to see the benefits of innovation in digital media through the work I had done on the widget."
She said she will also be marketing content on Apple News to readers around the world, so understanding how to make something worthy of someone's time investment, for instance, was a large part of her fellowship and will be transferrable to her new role, she said.
Since her fellowship was so short, she had to learn about how to understand the Missourian's audience in a more accelerated fashion, which will be a useful skill in her new job, she said.
Murgatroyd said she developed an interest in writing when she was little. After pursuing reporting as a possible career, she discovered how much she enjoyed engaging audiences and social media when she joined the outreach team at the Columbia Missourian in the fall 2019 to help promote content through social media and community events. Mentor Elizabeth Stephens, associate professor, asked students including Murgatroyd to tackle analytics and countless social posts.
"I think this was when I started to realize that I was having more fun doing journalism work," she said. "Reporting had me run down and I didn't feel joy. I missed the interaction I got to have with people and I felt as though I got to know our audiences at the Missourian better."
To learn more about the RJI Student Innovation program, contact Kat Duncan.
Columbia Missourian
The Columbia Missourian is a digital-first community newsroom that covers news and sports. The paper is supervised by professional editors and staffed by Missouri School of Journalism students who do the reporting, copy editing, design, photography and multimedia. This hands-on teaching of learning-by-doing is called "The Missouri Method." The published work is optimized for social media, mobile and web, with the print editions delivered five-days-a-week. The publication was founded in 1908 as a community newspaper.
Updated: November 13, 2020
Related Stories
Expand All
Collapse All
---