Elizabeth Conner Stephens named executive editor of Columbia Missourian and Missouri Community Newspaper Management Chair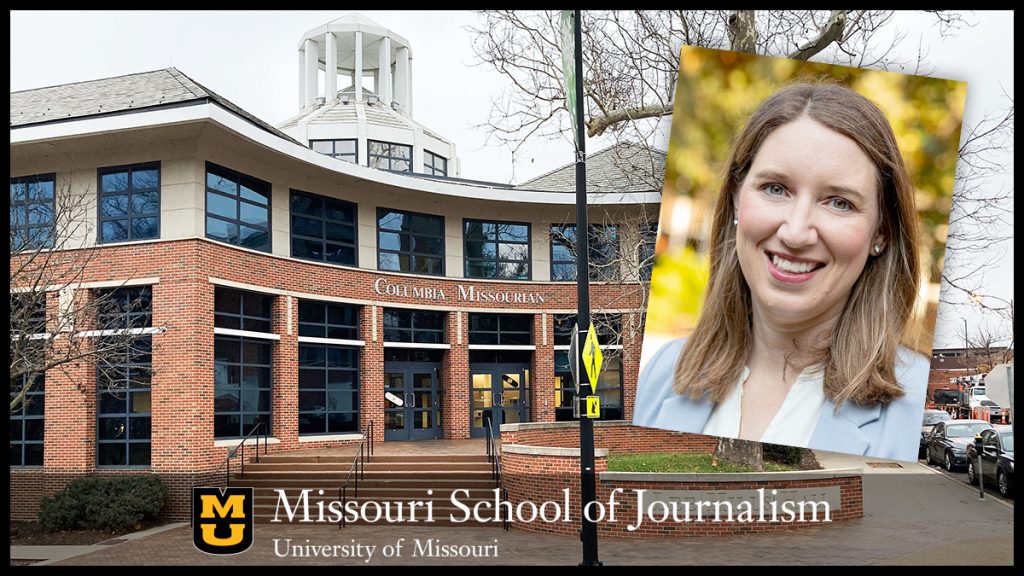 Stephens will lead the newsroom's coverage while working with community newspapers around the state to improve local news coverage
Columbia, Mo. (Dec. 20, 2021) — Elizabeth Conner Stephens has been named executive editor for the Columbia Missourian, the Missouri School of Journalism's digital-first community newsroom. An associate professor at the School and formerly the digital director for the Missourian and KOMU-TV, she will direct coverage and community engagement. She will also hold the Missouri Community Newspaper Management Chair, which will see her work with local newspapers across the state to help improve their coverage and operations.
"The Missourian is a place I love and care about and want to see thrive, so to be able to lead that effort is really exciting to me," Stephens said. "I really believe in community news and the value it brings, and I'm eager to become more connected with the community and tell its stories well."
Stephens will officially step into the role on Jan. 16 and will take over for Mark Horvit, who has served as interim executive editor since July.
"Elizabeth Stephens brings an ideal mixture of comprehensive newsroom experience, a strong sense of the community and proven leadership skills to this position," said David Kurpius, dean of the School of Journalism. "She has demonstrated she has what it takes to serve our students, our community and the industry at large in this crucial role."
With more than 15 years of experience in journalism, Stephens has served in variety of editor roles in print, digital, and television outlets, and she also brings experience as a social media director and community outreach coordinator to the role. After earning a bachelor's degree from the School of Journalism in 2005, she got her start at the Ledger-Enquirer, the Pulitzer Prize-winning community newspaper in Columbus, Georgia, where she worked her way from copy editor to copy desk chief in less than three years.
After stints at finance and law publications, she came to the Missourian in 2011 as a Knight visiting editor before earning her master's degree from the School in 2014 and subsequently joining the faculty full time. She was named digital director for the Missourian and KOMU-TV in 2020 and worked with editors in both newsrooms to execute digital best practices.
"The Missourian is a place I love and care about and want to see thrive, so to be able to lead that effort is really exciting to me."

Elizabeth Conner Stephens
"She has the aptitude and all the skills needed to be a great executive editor," said Mike Jenner, a teaching editor at the Missourian and the Houston Harte Chair in Journalism. "She's focused on community journalism throughout her career, and as the Community News Endowed Chair, she'll do a lot to help community newspapers succeed."
Coming on the heels of important updates to the School's professional newsrooms, including the establishment of the collaborative One Newsroom in Lee Hills Hall and the overhaul of the School's curriculum toward cross-training and multiplatform journalism, Stephens is moving into the role at a pivotal time for the Missourian.
"The executive editor and Missouri Chair is a pillar of the School's missions," Kurpius said. "Leading the Missourian's coverage, Stephens will ensure her students make the most of their opportunities for real-world work experience and a forward-looking education in the One Newsroom. And as an anchor for our School's relationships with community newspapers throughout the state, she will help us serve the people of Missouri by promoting excellent local news around the state and in the Missourian's newsroom, while finding innovative ways to push our industry forward in Missouri and beyond."
In the endowed chair position, Stephens will work closely with the Missouri Press Association, which endowed the chair two decades ago as a joint effort with Mizzou to strengthen community newspapers and educate journalism students about them. The chair was previously held by Ruby Bailey, who joined the Indianapolis Star earlier this year.
"Stephens has proven that she is the most qualified choice to be the next executive editor of the Missourian," said Mark Maassen, executive director of the Missouri Press Association. "In her role as chair, I can tell you that Missouri newspapers are looking forward to her innovative concepts and presentations. I couldn't be happier with her selection."
When the Missouri School of Journalism opened in 1908, the Missourian was launched as a training laboratory for reporters and editors. In what is known as the "Missouri Method," student journalists report, edit, design and publish local coverage in a printed newspaper five days a week and daily on columbiamissourian.com, all under the watchful eyes of experienced faculty editors. Over the past 113 years, thousands of journalists have learned their skills at the Missourian before graduating and joining the news industry across the U.S. and the world.
The Missouri Chair in Community Newspaper Management, established in 2000, is one of 10 endowed chairs at the Missouri School of Journalism. The others are: Goldenson Chair in Local Broadcasting (est. 1982); Meredith Chair in Service Journalism (est. 1986); Lee Hills Chair in Free-Press Studies (est. 1995); Knight Chair in Digital Editing and Producing (est. 1997); Maxine Wilson Gregory Chair in Journalism Research (est. 1997); Houston Harte Chair in Journalism (est. 1998); Curtis B. Hurley Chair in Public Affairs Reporting (est. 1998); Society of American Business Editors and Writers Endowed Missouri Chair in Business and Financial Journalism (est. 2000); and the Donald W. Reynolds Endowed Chair in Business Journalism (est. 2008).
Updated: December 20, 2021
Related Stories
Expand All
Collapse All
---