Columbia Missourian and Vox Magazine Designers Win 9 National Awards in SND College News Design Contest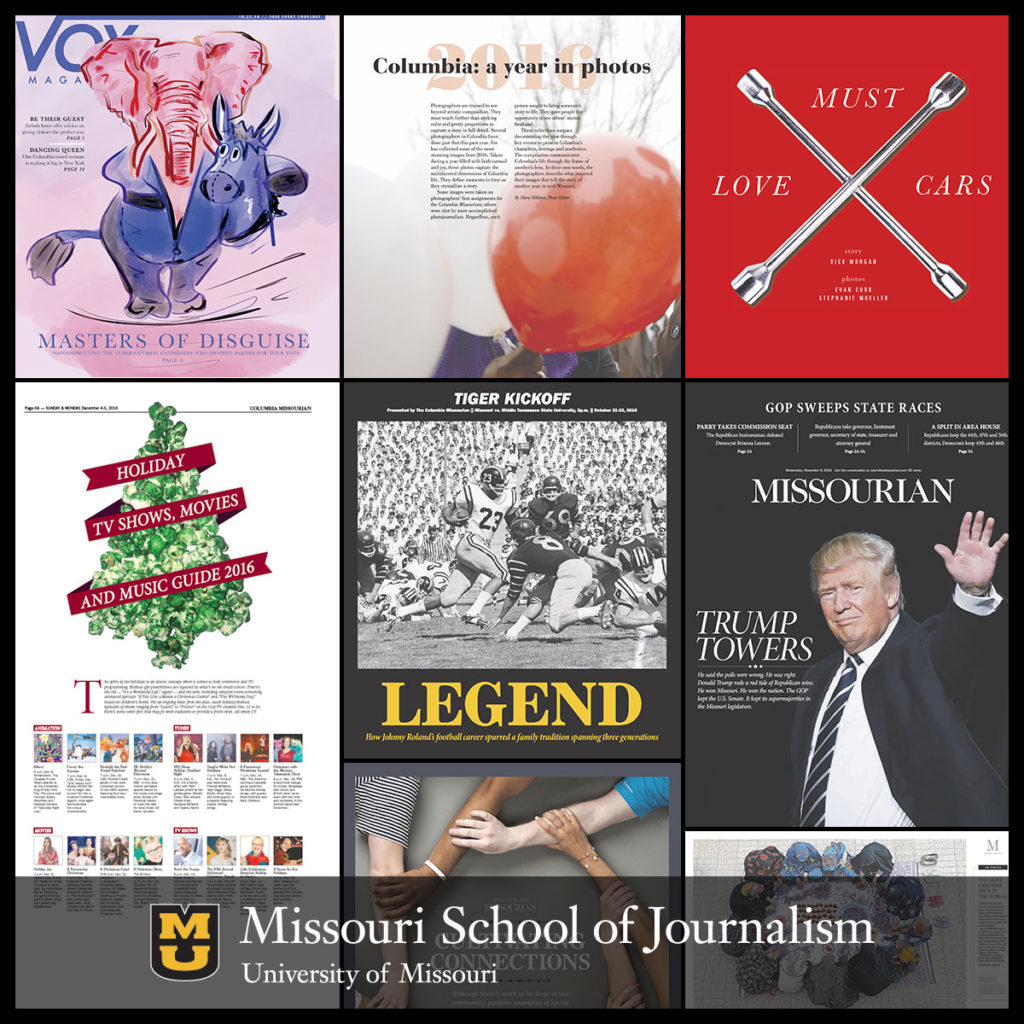 The National Competition Honors Excellence in Design and Graphics
By Yue Tang
Columbia, Mo. (May 8, 2017) — The Columbia Missourian and Vox Magazine designers took home nine awards in seven categories in the SND College News Design Contest. It is sponsored by the Edmond C. Arnold Michigan State and University of Missouri chapters of the Society for News Design.
The national competition drew more than 340 entries.
The contest was judged digitally, allowing the contest to tap into industry professionals across the country, including journalism alumnae Sarah Morris, BJ '12; Stefanie Kienstra, BJ '10; and Sarah Herrera Hackman, BJ '10.
Submitted work had to have been created since April 8, 2016. First place winners in each category received a plaque. Second, third and honorable mention winners received award certificates.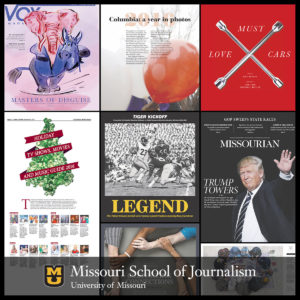 "Under the direction of former Missourian design editor Brady Jones, our designers really stretched and did a great job displaying strong visuals and thinking outside the box in their designs," said Assistant Professor Elizabeth Stephens, who serves as faculty adviser for MU's SSND chapter. "I'm glad to see these students recognized for their hard work in the last year."
Missouri School of Journalism winners are as follows:
Photo Story Design
First Place: Alex Wozniczka, "The Most Valuable Spice in the World," Columbia Missourian
Third Place: Mary Hilleren, "Columbia: A Year in Photos 2016," Vox Magazine
Special Section
Second Place: Allison Mann, Tiger Kickoff, Columbia Missourian
Honorable Mention: Brianna Schroer, "Cultivating Connections," Columbia Missourian
Sports Page Design
Second Place: Sasha Kochurova, "Sprinting Ahead," Columbia Missourian
Front Page Design
Honorable Mention: Brianna Schroer, "Trump Towers," Columbia Missourian
Feature Page Design
Honorable Mention: Brianna Schroer, "Holiday Shows, Movies and Music Guide 2016," Columbia Missourian
Magazine Cover
Honorable Mention: Madalyne Bird, "Masters of Disguise," Vox Magazine
Magazine Spread
Honorable Mention: Ben Kothe, "Must Love Cars," Vox Magazine
Updated: August 15, 2019
Related Stories