The Missouri School of Journalism and Vox Magazine students win 6 awards, 3 honorable mentions in national contest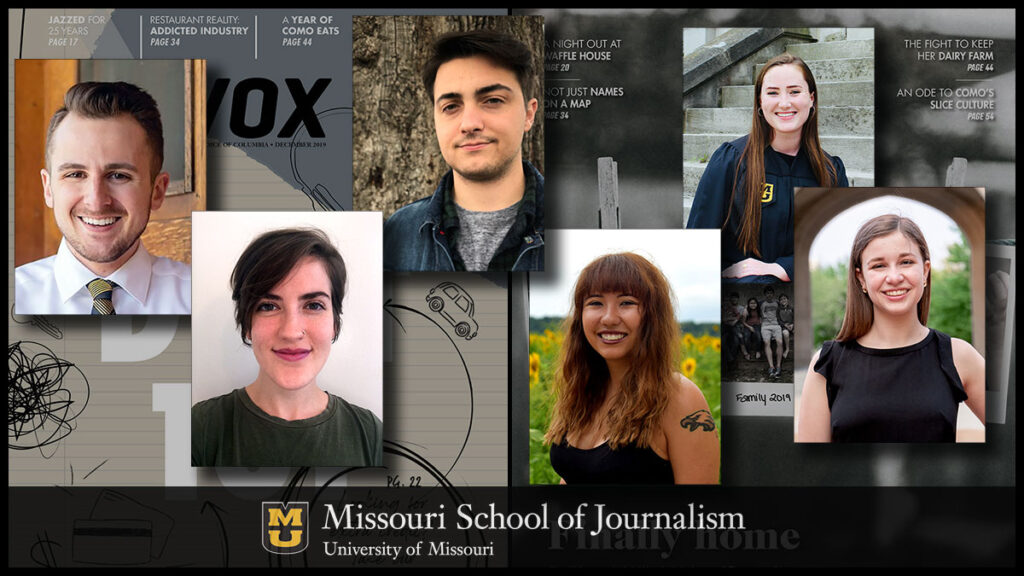 Students gain hands-on experience as they learn how to write long-form journalism, observe the environment around them
Columbia, Mo. (Sept. 24, 2020) — The Missouri School of Journalism and Vox Magazine won six awards and three honorable mentions in the annual Student Magazine Contest, sponsored by the Association for Education in Journalism and Mass Communication.
Missouri School of Journalism students received hands-on training while producing and designing the winning content for Vox Magazine, a cross-platform city magazine providing insight on local news and culture.
"Everything the magazine publishes in print or online is the result of creative collaboration, and a lot of hard work from a wonderful and talented team of students," said Heather Lamb, editorial director of Vox. "Whether the challenge is making stories about debt entertaining or publishing a magazine amid a pandemic, these students find a way to deliver."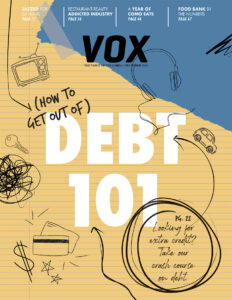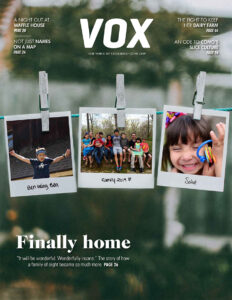 Meet this year's winners
Category: Single Issue of an Ongoing Magazine – Design
Recognition: Honorable Mention
Article or issue: June 2019 issue of Vox Magazine

"This entry showcased strong design discipline throughout the issue," noted the judges. "The magazine's pace is clearly established, and the design carries together different pieces."
Category: Single Issue of an Ongoing Magazine – Editorial
Recognition: Second Place
Article or issue: December 2019 issue of Vox Magazine

"Good job, solid city-magazine-style journalism, and the core feature on debt is superb and well-aimed at the target audience," said the judges.
Category: Coronavirus Coverage (Special Category)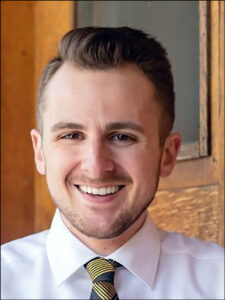 Nick Kelly's story "Love you Columbia," edited by student Emma Veidt, is an essay Kelly wrote about when goodbyes are taken away from us. He personally experienced the loss of not being able to go through in-person graduation and having to leave his friends early when COVID-19 hit. He had trouble processing the quick endings. Writing the article gave him a chance to process what he was feeling, as well as write an article that many others could relate to, he said.
As he wrote the article, it gave him the opportunity to put into practice what he'd learned from Associate Professor Ron Stodghill throughout his Intermediate Writing and Advanced Writing courses.
"He (Stodghill) has one thing he likes to call the 'big think,'" he said. "That was one thing he stressed with this assignment was that, 'Hey, our job as journalists, when something big happens in the world, there's a lot of times to think critically for our readers. A lot of times that means a big think of where you take a step back and what does this all mean or what are we really going through?"
Category: Articles – First Person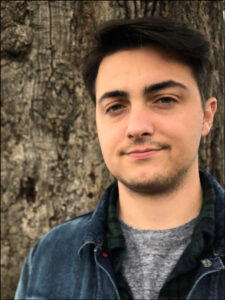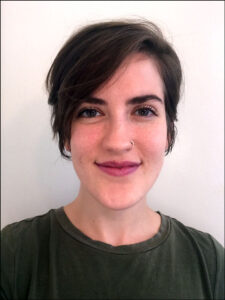 Brooke Johnson, MA '19, and Connor Lagore, BA '19, wrote "Waffle House of the Rising Sun," edited by student Katherine Herrick, which is about two friends, who are colleagues, hanging out from sunset to sunrise at two different Columbia Waffle Houses "to observe the late-night debauchery," that goes on there, said Johnson. She is currently working as a writer and editor for the Enrollment Services Division at the University of Southern California.
Sitting in the restaurants for an entire night shift was a good opportunity to practice observing one's environment and taking details that might enrich a story, said Lagore. They had been learning about observation work in Associate Professor Emeritus Berkley Hudson's class.
"This really pushed both of us out of our comfort zone," said Lagore, who is now a features writer at The Express-Times in Easton, Pennsylvania. "Of course sitting in a restaurant for 13 hours is uncomfortable, but it also required a lot of patience, recognition of human moments and an openness to being challenged."
"The people working at the Waffle House were very interesting to talk to," said Johnson. "It was fun trying to capture them in writing."
"This piece is so clever and compelling! The interviews are fun and capture their subjects perfectly. It's a well-done piece on a small-scale subject, which is a delight to read," wrote the judges.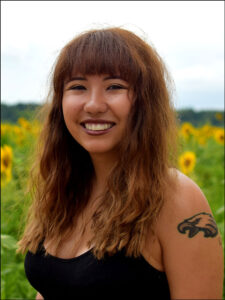 "This is an American Story," edited by student Meg Donahue, examines Gabby Velasquez's family's immigrant history and how she reconciles that with who she is today and the world she lives in, she said.
She said although she was nervous about writing something so personal, after finding a photograph of her grandparents in the Philippines, she knew she wanted to explore her family history more.
"I really had to separate myself from the idea that a writer must be removed from their writing," said Velasquez, digital editor at the Columbia Daily Tribune. "I'm usually telling others' stories, so to open up about my own was incredibly scary. I had a lot of conversations with my friends at the J-School and my professor Berkley Hudson, and they really kept me grounded."
Initially the story was 10,000 words long, but in working with her fellow Vox colleagues and professors, she learned how to "find the most important details and let them speak for themselves."
"This entry was an interesting take on an expected subject. Her not-melting pot metaphor was fun and unexpected, and she carried the story well with interviews with her family. A lovely reflection on her personal history," noted the judges.
Category: Articles – Service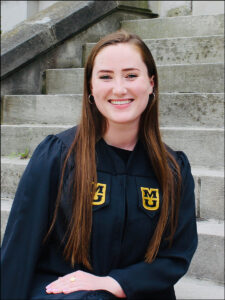 Meg Donohue, BJ '20, wrote "Mental Health First Responders," edited by student Morgan Spears, which is about a program called Mental Health First Aid. MHFA trains participants to identify signs of mental illness, start difficult conversations, help loved ones who are struggling and safely intervene in times of mental crisis. Although the story primarily focuses on MHFA, the story also talks about the problem with taboos around mental health and why a program such as MHFA is so necessary, says Donohue.
Donohue said she learned about MHFA from a classmate as she explored the possibility of writing an article about self-care. She conducted about 20 interviews with people, including someone from the National Council for Behavioral Health.
"J-School classes focus a lot on sourcing and taking all stakeholders into account," said Donohue. "So I cast a really wide net when I was reporting. The result was that I had a lot of perspectives to draw on."
This posed the challenge of what angle and direction to take, however, she was thankful for the help of those at Vox who were "really crucial to getting me out of my head and figuring out what the absolute best way to tell the story was."
"Excellent overview of such an important, topical issue, with clear instructions on how to detect mental health issues and discuss them capably with others. Well done!" noted the judges.
Recognition: Second Place
Article or issue: "United in Debt"
Author: Vox staff
Vox staff produced a series of stories for "United in Debt" that shed light on the status of consumer debt. Reporters sought out answers to not only how people have wound up in such a financial crisis, but how they could find their way out.
This series of stories produced for "United in Debt" looks at consumer debt and seeks to answer the questions of "how we got into this financial mess, but more importantly, how do we get out of it."
"This expansive feature could give any reader a solid financial baseline education. The topics explored are useful for a wide variety of people at different ages and stages of life. The breadth and quality of reporting is excellent."
Category: Articles – Feature
Recognition: Honorable Mention
Article or issue: "The Body Issue"
Author: Sabrina Brons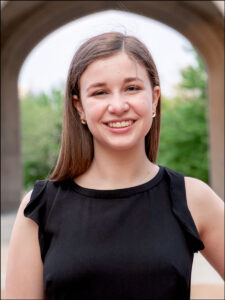 Sabrina Brons, BJ '20, published "The Body Issue," edited by student Christiane-Tresor Crawford, which is a feature article focusing on three local teenagers who, in the face of unhealthy ideals often found on social media, redefine body confidence and find healthier versions of themselves. The article was "very well-researched and reported" noted the judges.
Brons said writing the article was a good practice in editing for long-form magazine stories.
"One of the most challenging aspects of writing this piece was finding the right structure to tell the story," said Brons, who is currently pursuing a graduate degree at the University of Amsterdam. "It ended up being restructured multiple times, and I really credit the editors who worked with me for helping this piece come together."
Category: Articles – Places
Recognition: Third Place

Chosen from seven entries

Article or issue: "What's in a name?"
Author: Vox staff
A handful of students co-authored a feature article about different historical buildings and streets to shine some light on some of Columbia, Missouri's most recognized names such as Nifong Blvd., Ellis Fischel Cancer Center and Mizzou Arena.
"Clever throughline to tell the story of Columbia through its namesakes," noted the judges. "The variety of medical, musical, historical and political figures paints the history of the city in a vibrant way. Especially loved the sidebars on the more unusual elements, like the fonts – one of those things the readers probably see every day, but never knew, a great window into the character of the city. Also love that this was a joint project, showcasing the communal spirit in its production."
Updated: September 24, 2020
Related Stories
Expand All
Collapse All
---