Berkley Hudson Connects with His Former Students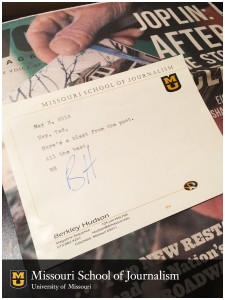 Columbia, Mo. (July 8, 2016) — Edward Hart, BJ '13, is pursuing his passion for editing and magazine journalism. Today, he lives in New York and works as a staff fact-checker for New York Magazine.
It was at the Missouri School of Journalism where Hart became a journalistic chef of sorts. "I really learned to love magazine as product," he says. "It is kind of like a multi-course meal: You have your appetizer and your soup to hook your reader before they can get to the entree."
Hart has always been an avid reader with a strong passion for the kind of long-form journalism popular among major magazines. Hart had the opportunity to write this type of story when he was a student. Hart covered the catastrophic, EF5 tornado that struck Joplin, Missouri, in late May of 2011. The article, titled "Starting from the Ground Up," ran as a special feature in Vox Magazine on Dec. 15, 2011. As he spoke to families who lost their homes in the tornado, Hart had to balance his role as a journalist with the emotional impact he felt while interviewing the storm's victims.
It was Associate Professor Berkley Hudson who helped him find his flow and voice through the story. Hudson would sit down with Hart and make him read the story out loud as a way to help Hart make his writing sound more conversational. Hart was reminded of his days as a student when he received an envelope in the mail from Hudson. It was the Joplin story the two had worked on.
"I have really vivid memories of Berkley's questions while editing that and the table reads we did on the story," Hart says. "I could see his fingerprints on it and was really surprised by how much I still enjoyed reading it."
Hart's work today consists mainly of fact-checking. While he has not focused on writing in recent years, Hart says his past experiences writing pieces have made him better at communicating and editing as a whole.
Updated: September 29, 2020
Related Stories
Expand All
Collapse All
---