Magazine Students, Vox Magazine Win 11 Awards in National Competition
The Association for Education in Journalism and Mass Communication Student Magazine Contest Attracted 203 Entries
Columbia, Mo. (July 23, 2015) — Magazine students and Vox Magazine have won 11 awards in the annual Association for Education in Journalism and Mass Communication Student Magazine Contest.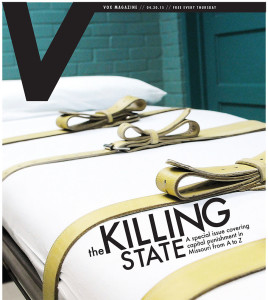 First-place honors were received in five categories, in the areas of investigation and analysis, people, places, service and information, and start-up magazine project: team.
Vox is an award-winning weekly city magazine that is distributed throughout the city of Columbia and appears in the Thursday edition of the Columbia Missourian newspaper .
This year's competition attracted 203 entries from universities from the United States and Canada. Judges for the contest, which included 13 categories, were publishers, editors and writers for consumer and specialized business magazines.
"I think this is the most impressive showing Vox and the magazine program have had with the AEJMC awards program since the magazine launched in 1998," said Jennifer Rowe, associate professor and chair of the magazine journalism faculty. "It's great to see not only the work of our students recognized but also those faculty who guide and direct the articles, issues and projects."
The 2015 AEJMC Student Magazine Contest categories and winners are:
Consumer Magazine Article: First Person (18 Entries Total)
Second Place: "The Hitchhiker's Guide to Traveling" by Robert Langellier. The faculty advisers were Berkley Hudson and Heather Lamb.
Judges' Comments: This is a great, well-written guide. It has a good mix of personal narrative, history of the topic, and the current state of the topic. There are a few articles like this in the contest, which lean towards service journalism and are well-packaged with lots of extra nuggets of info. This one stood out for reading more like a true narrative. You can tell that the writer has a strong grasp of the subject, which is why he can weave personal and research together so well. I also like that he brings up race and class – something that is often avoided when covering this romantic topic.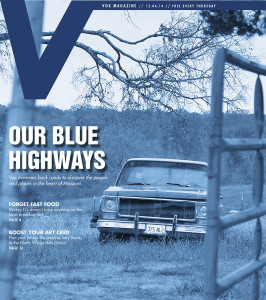 Honorable Mention: "Ashes to Dust" by Taylor Kasper. The faculty advisers were John Fennell, Heather Lamb and Paige Williams.
Judges' Comments: There were several service stories here. Many were very good, but the personal involvement sometimes seemed secondary, unnecessary, or slightly fragmented from the other story taking place. There were a lot of stories about death also. Most of them were touching, well-written, thoughtful eulogies. But most of them stopped there. The one that truly stood out had a lesson that elevated it. Another one stood out because the writer actually spent time with a man who cremates bodies. Personal essays and narratives are a tough breed of writing because you have to convince a reader immediately that your experiences and thoughts are worth caring about. If you're not a chef or renowned food critic, why should I care about your thoughts on the culinary arts? If you're not an expert on the topic, then do the research so you can be. Show that reporting fairly early in the story so that the reader knows they could possibly learn something new here. While eulogies are moving, almost everyone has experienced death. If it's a topic that many are familiar with, think of ways to enhance the topic. Bring in advice from a therapist or talk to a person who spends more time with corpses than humans.
Consumer Magazine Article: Investigation and Analysis (19 Entries Total)
First Place: "The Death Penalty in Missouri from A to Z" by the Advanced Writing class taught by Associate Professor Paige Williams.
Judges' Comments: A novel and compellingly comprehensive approach to a controversial topic. The piece was a surprise – both in terms of its structure and the depth of information it managed to convey.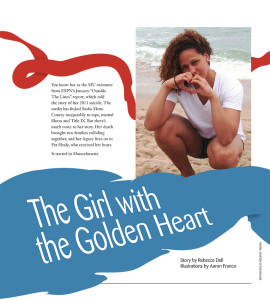 Consumer Magazine Article: People (29 Entries Total)
First Place: "The Girl With the Golden Heart" by Rebecca Dell. The faculty advisers were Heather Lamb and Sara Shipley Hiles.
Judges' Comments: This is the dramatic story of a heart transplant. It tracks both donor – the girl with the golden heart, a star college swimmer who commits suicide in a fit of depression (possibly triggered by an alleged campus rape) – and the recipient – a young man with a genetic history of heart problems. The two families have stayed close since the transplant. The story reads like a brilliant film script.
Second Place: "Notes From the Underground" by Joey Fenning. The faculty advisers were John Fennell, Heather Lamb and Paige Williams.
Judges' Comments: This is the fascinating history of rock and punk music in contemporary China, as told by a Chinese woman OJ in Missouri, a Chinese fan in San Francisco and an American OJ in Beijing. From the interaction of their lives, we learn how censorship and bureaucracy have not managed to suppress modern music in an often-disapproving totalitarian country.
Consumer Magazine Article: Places (16 Entries Total)
First Place: "Our Blue Highways" by fall 2014 Vox Magazine reporting students. The faculty advisers were John Fennell, Sara Shipley Hiles and Heather Lamb.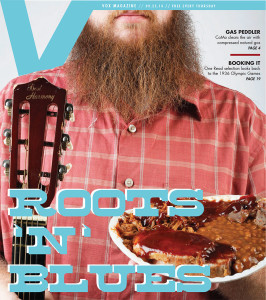 Judges' Comments: This entry was a triumph of concept and packaging – two areas that can still set magazines apart from daily journalism. "Our Blue Highways" paid homage to author William Least Heat-Moon's bestselling 1983 book, Blue Highways, borrowing its main conceit: that small towns along the nation's back roads are rich in culture and color. Executing the project involved sending reporting teams out in all directions from their home base in Columbia, Missouri, to explore small towns. The journalists returned with first-person narratives, photographs, and video, which were deftly edited. The writing was tight and varied, and the design inviting, pulling you into a rural world you scarcely knew still existed. The videos were under two minutes each, leaving you satisfied but wanting more, which was also true of the online slideshows showcasing professional-level photography. Multimedia worked well in this package with the digital components enhancing the print edition but also strong enough to stand alone.
Consumer Magazine Article: Service and Information (13 Entries Total)
First Place: "Roots 'n' Blues" by multiple writers. The faculty advisers were John Fennell and Heather Lamb.
Judges' Comments: This is all that a service package should be: It bursts with helpful, well-reported guidance delivered in creative ways (love the four-part matrix and the scannable callouts throughout). Another plus: A tight intra speaks directly to the reader, telling him/her exactly what benefits the package delivers.
Third Place: "Brunch Time" by multiple writers. The faculty adviser was Heather Lamb.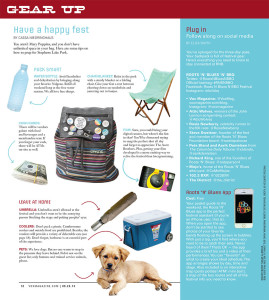 Judges' Comments: When it comes to dining pieces, luscious photos are half the battle, and this package slings them out with style. The accompanying text delivers solid service, too. The most helpful element by far is the table that lets readers scan the recommended restaurants by price, hours, and so on. (Additional creative packaging techniques would make the piece better still.)
Online Magazine (6 Entries Total)
Third Place: Vox Magazine iPad Edition. The contributors included students from Advanced Design, Magazines Across Platforms, Magazine Staff and Reporting classes. Faculty advisors were Sara Shipley Hiles, Joy Jenkins, Heather Lamb and Renee Martin Kratzer.
Judges' Comments: A sharp, alt-weekly-feeling arts and culture publication. Nice iPad design, but the depth and rigor of content could be improved.
Single Issue of an Ongoing Print Magazine: General Excellence (18 Entries Total)
Second Place: Vox Magazine's "Death Penalty" issue published on April 30, 2015. Contributors were students in the Advanced Design, Advanced Writing, Magazine Staff and Staff Photography classes. Faculty advisors were John Fennell, Brian Kratzer, Heather Lamb, Renee Martin Kratzer and Paige Williams.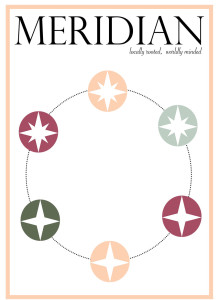 Judges' Comments: With a special issue on capital punishment in Missouri, Vox magazine performs a tricky balancing act. Can you treat a deadly serious subject that has been debated for decades with originality and even wit? This issue of Vox tackles the subject with an A to Z format that is compelling, easy to read and provocative.
Start-up Magazine Project: Team (7 Entries Total)
First Place: "Meridian" by Publishing Class students Allissa Fisher, Abbie Wenthe, Rachel Rowsey, Shannon Robb, Lihua Yu, Lindsay Pierce and Allison Shapiro. The faculty advisor was John Fennell.
Judges' Comments: This team deserves a lot of credit for sheer passion and boldness in wanting to reach past the usual content silos. The first thing that struck me was the writing: fresh, direct, uncomfortably candid in some cases. I was struck by one of the editor's stories about her journey to a new last name, for instance. Overall, the team shows an excellent grasp of some of the basics of magazine craft. Meridian has an effective mix of narrative stories, short pieces, infographics, and other attractive entry points. I very much like the full-page interludes featuring matching art and inspirational quotes. What a great way to support reader-friendly pacing! While I found the actual financials in the business plan to be extremely optimistic, the document itself was thorough, perhaps the best example of one I've seen in years of judging this contest. And the magazine itself has been given a beautiful, inviting, competitive design.
Updated: September 10, 2020
Related Stories
Expand All
Collapse All
---