Vox Magazine Earns National SPJ Recognition
Mark of Excellence Awards Given for Digital Excellence, Multimedia and Feature Photography
Columbia, Mo. (May 21, 2015) – The Society of Professional Journalists has selected three Vox Magazine entries for national finalist honors. The 2014 Mark of Excellence Awards recognize the best collegiate work published or broadcasted during 2014. Vox is an award-winning, small-city tabloid that highlights trends, culture and activities to the mid-Missourian community.
"It's exciting to see Vox get national recognition," said Jennifer Rowe, chair of the magazine journalism faculty. "In particular, we had two classes involved in two of these three finalists. The Magazines Across Platforms class, taught by Sara Shipley Hiles, does the majority of the work related to production of the weekly iPad app. And our Vox reporters from the News Reporting class in Fall 2014 put together the Blue Highways project, directed by Hiles."
It's a journalism trifecta. "We're blessed with students who are hardworking, talented and innovative. I'm proud of the Vox staff," Hiles said.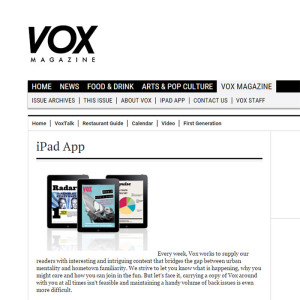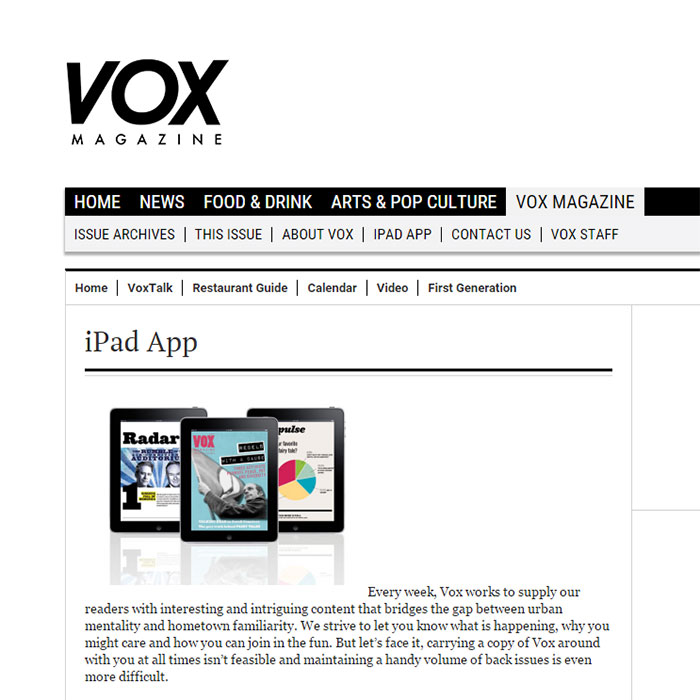 The SPJ national finalist winners are:
Best Digital-Only Student Publication
National Finalist: Vox Magazine iPad Edition
Best Use of Multimedia
National Finalist: "Our Blue Highways," by Vox Magazine Staff
Feature Photography, Large School Division
National Finalist: "Poetic Prophecy," by John Farmer de la Torre, published in Vox Magazine
"John shot this as his graduate component in Staff Photojournalism and was edited by Liz Pierson who was the photo editor of Vox at the time," noted Brian Kratzer, assistant professor of photojournalism. Pierson, BJ '14, MA '15, now a photo editor in New York City at Mashable, covered the recent Billboard music awards in Vegas both on the red carpet and at the show.
Only entries that were selected as a first-place regional winner advanced to the national competition. The School earned 12 awards in the Region 7 contest.
Judges, who must have at least three years of professional journalism experience, were directed to choose only those entries that they felt were outstanding work worthy of a national honor.
Founded in 1909 as Sigma Delta Chi, SPJ promotes the free flow of information vital to a well-informed citizenry; works to inspire and educate the next generation of journalists; and protects First Amendment guarantees of freedom of speech and press.
Updated: September 8, 2020
Related Stories
Expand All
Collapse All
---