Meredith Corp. Executives Praise Students' 2 New Magazines Prototypes
Publications to Focus on Needs of Modern Black Families and Simplifying Millennials' Finances
Des Moines, Iowa (May 16, 2016) — Missouri School of Journalism students from two capstone classes, Magazine Publishing and Advanced Design, joined forces to create prototypes for two new magazines that they formally presented to Meredith Corp. executives, editors and designers in Des Moines, Iowa, on May 6.
Meredith is the leader in creating and distributing content across platforms in key consumer interest areas such as food, home, parenting and health through well-known brands such as Better Homes and Gardens, Allrecipes, Parents and Shape. Meredith serves more than 100 million American women and more than 70 percent of U.S. millennial women every month.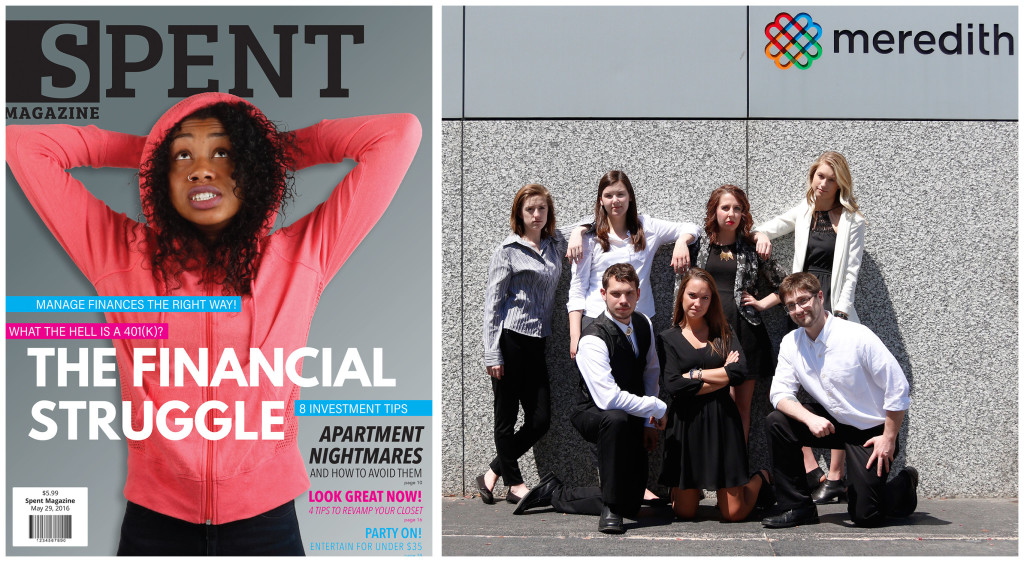 The School's magazine program's graduates now work at many national titles including Cosmopolitan, New York, Entertainment Weekly, Texas Monthly, The Atlantic, Martha Stewart, Women's Health, Men's Health, Men's Journal and more. Following the School's Missouri method – learning by doing – the capstone publishing class is a professional experience. Students not only create new magazines and business plans, they learn how the industry works, from implementing new ideas through the printing process. During the semester industry professionals offer in-class or Skype sessions that focus on circulation, direct mail marketing, finance, and digital and print publishing.
The Meredith team praised both publications for their originality, focused editorial and engaging designs. Students in the Magazine Publishing class also created extensive business plans that included contents for future issues, circulation, advertising and financial plans. Meredith executives commended the prospectuses for their detailed and realistic projections.
Gregory Kayko, managing editor of Better Homes and Gardens magazine, who led the Meredith team during the students' presentation, wrote this about Upbringing: "True story, the circulation director and I read the tagline, 'Strengthening Black Families,' turned to each other, and said, 'How is it we've never done this magazine?'"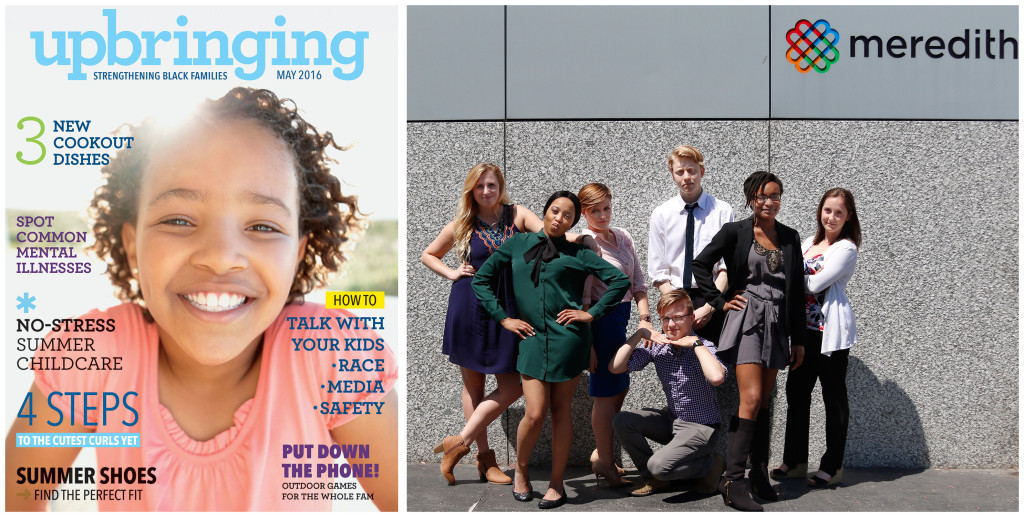 About Spent, Kayko said, "Media companies spend tens of thousands of dollars trying to identify key niches in the market. This team identified possibly the most urgent need of the hottest consumer demographic out there – without a budget. Brilliant! Finally, someone put flesh on the bones of millennials and revealed something critical about their psyche: Real Millennials don't like being called millennials."
Added Associate Professor and Meredith Chair John Fennell, who teaches the publishing class, "These two teams were impressive. They began the semester with original ideas and followed through with thoughtful editorial, strong design and smart business plans. There is no doubt in my mind that with the right funding, these magazines could succeed in the marketplace."
The publishing class partnered with Ovid Bell Press, a printer located in Fulton, Missouri, to create electronic versions of the magazines.
The two magazines and mission statements outlining the goals of the titles are:
Upbringing Strengthening Black Families. The goal of this title is to reach an underserved market. Currently there is no print magazine in the U.S. market for black families. Mission Statement: Upbringing is passionate about serving the needs and desires of modern black families. We celebrate raising children and strengthening families with an understanding for cultural relevance. We offer straightforward advice, authentic stories and timely commentary to initiate conversations. Upbringing is a positive catalyst for challenging assumptions while embracing the unique experiences of growing up black.
Spent is a financial, lifestyle magazine directed toward millennials. Like Upbringing, there is no print magazine in the U.S. market that focuses on financial information for this generation. Mission Statement: Spent guides active, money-conscious venturers from where they are to where they want to be financially. Spent helps readers manage the big F – Finance – and shows how money influences other aspects of life. We're the only magazine that simplifies the financial jargon and explains the realities of life. Spent is about more than a 401(k); it's about enjoying life and still planning for the future.
This is the tenth year that Missouri School of Journalism magazine journalism capstone teams have presented their capstone projects to Meredith and the fourth year it has partnered with Ovid Bell Press. The Advanced Design class is taught by Adjunct Professor Renee Martin Kratzer.
Updated: September 25, 2020
Related Stories
Expand All
Collapse All
---