New Partnership with Meredith Corporation Creates Professional Opportunity for Magazine Journalism Students
Columbia, Mo. (Feb. 14, 2007) — The Meredith Corporation of Des Moines, Iowa, is putting the design and planning skills of 36 magazine journalism students from the Missouri School of Journalism to the test.
Meredith, one of the nation's leading media and marketing companies, publishes 26 subscription magazines, including Better Homes and Gardens and Ladies Home Journal, and more than 200 special interest publications. The company's titles have a combined circulation of about 30 million readers.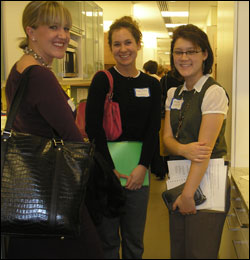 For the Missouri Journalism students enrolled in either Magazine Publishing or Advanced Design, the assignment is to develop prototypes for four new publications the company hopes to launch. They will unveil their design concepts and business plans on May 1 during formal presentations to Meredith executives at the School.
Magazine Publishing and Advanced Design are two of the capstone courses in the magazine journalism emphasis area. Capstone courses provide an opportunity for students to demonstrate skill proficiency and working knowledge in a subject area. John Fennell, associate professor of magazine journalism and Meredith Chair in Service Journalism, teaches Magazine Publishing. Jan Colbert, associate professor and chair of magazine journalism, teaches Advanced Design.
Fennell and John Riha, BJ '73, editorial director of Meredith's Special Interest Media Division, conceived the idea for the cooperative effort between the company and the School. Fennell said the assignment is a great project for students who are passionate about magazines.
"From creating a vision for a new publication, to developing editorial, design and business plans, students taking this capstone course are stepping into the real world," Fennell said. "The conceptual thinking and practical skills they learn in putting together a magazine from start to finish will serve them throughout their careers. Plus, it's fun."
In late January the students and their professors took the nearly five-hour road trip to Meredith's offices for a briefing about the publication concepts the students will be developing this semester. During the visit, Riha presented the history of the 105-year-old company and led the group on a tour of the facility. He also hosted lunch for the students with other Meredith editors and designers in the Better Homes and Gardens Test Kitchen.
After lunch, the students met with members of Meredith's Home Design Group to discuss features of a cover design that can increase magazine sales. The students then shared their thoughts about several magazine covers nearing completion.
Following the discussion, the students broke into groups to meet with editors and designers about the specific magazine concepts they will create this semester. The Meredith editors and designers who met with the students included: Joy Taylor, editor in chief, Family Food Collection; Linda Kast, editor in chief, Home Design; Bridget Sandquist, art director, Family Food Collection; Steve Cooper, senior editor, Home Design Group; and Jill Waage, group editor, Home Design.
To wrap up the visit, Jeff Myers, general manager of Special Interest Media, offered the students a step-by-step explanation of a magazine's profit and loss statement, demonstrating the financial thinking that guides magazine editors and publishers.
Brianne Sanchez, a magazine journalism senior from Lisle, Ill., is enrolled in Fennell's course. One of the most important lessons the students are learning, she said, is that professionals must balance creativity and cost.
"In our meetings, we brought to them the energy of new ideas and angles while they reminded us of the marketplace realities that seemingly small decisions, such as trim size, have on our projects," Sanchez said.
When her group delivers its final presentation, Sanchez said she looks forward to creating a finished product that will inspire readers and professionals alike.
"It's a little bit crazy to think that in the spare hours we've carved out for group meetings, we're working on a prototype that won't just look great on a coffee table and be an interesting read, but will have a well thought-out business plan backing it," she said.
Updated: April 16, 2020
Related Stories
Expand All
Collapse All
---