Magazine Club Visits Top Publications in New York City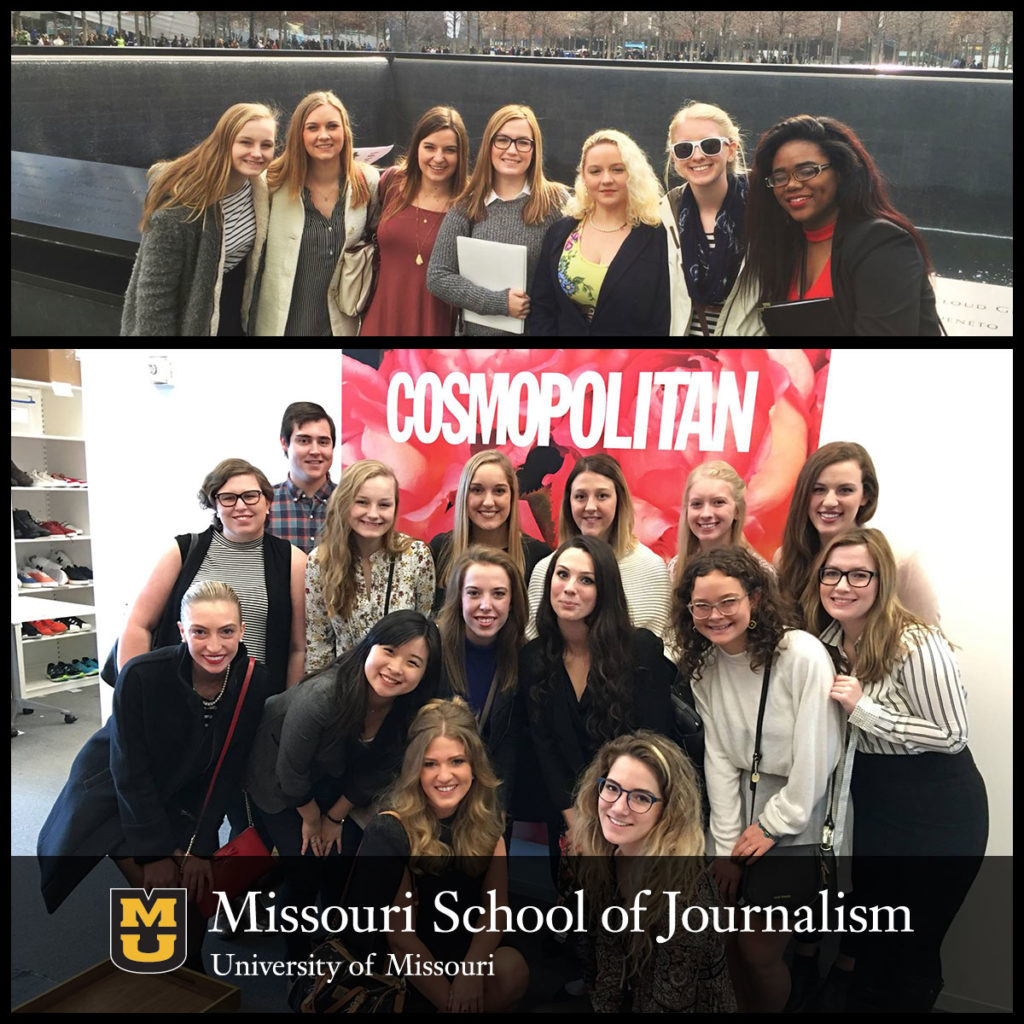 Magazine Club students visit the 9/11 memorial (top) and Cosmopolitan magazine during a trip to New York City. Photos: Brittany Emond.
The Trip Included a Networking Event with Alumni
By Crystal Duan
New York (March 27, 2017) — Magazine Club students and professors from the Missouri School of Journalism traveled to New York City to visit some of the top publications in the media industry.
The Feb. 21-26 trip included three days of visits at magazines such as Glamour, Cosmopolitan, Self, Entertainment Weekly, Men's Health, Women's Health, as well as online media outlets Buzzfeed, Mashable and Thrillist.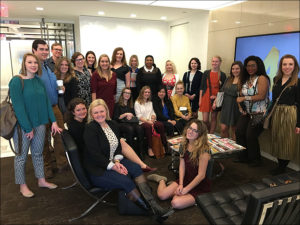 Alumni of the school's magazine journalism program hosted most of the visits. These included Ted Hart, BJ '13, at New York Magazine, Madison Alcedo, BJ '16, at Country Living; Abby Kass, BJ '16, at Meredith Parents Network; and Ciera Velarde, BJ '15, MA '16, at Thrillist, among others.
At each appointment, staffers shared their personal experiences, advice for landing jobs and internships and insight into their magazine's editorial processes.
"It's hard to underestimate how valuable this trip is for magazine students," says Magazine Club co-president Lauren Puckett. "We were able to visit the places we might be working for one day. The advice we received from the staff was so earnest and practical. They gave us tips on everything from freelance pitching to finding an affordable apartment in Brooklyn."
Alumni from the school hosted a networking event at the Ainsworth Midtown. Vox Magazine published some of their advice for students still in school.
"The trip is a great opportunity for students to get super current information about what people working in magazines are doing right now," said Assistant Professor Heather Lamb, who accompanied students on the trip along with Professor John Fennell. "It also lets them 'test drive' New York, to see if they'd like to work there someday."
Publications visited included:
Crystal Duan is a senior investigative journalism major from Portland, Oregon, who hopes to be a current affairs critic someday.
Updated: October 16, 2020
Related Stories
Expand All
Collapse All
---