Seven Learning, Networking Sessions in Two Days: Fast-Paced Trip to New York Inspires, Motivates Strategic Communication Students
Columbia, Mo. (March 2, 2007) — "The box doesn't exist anymore," noted Linda Kaplan Thaler as she encouraged 16 strategic communication students from the Missouri School of Journalism to be fearless in exploring traditional and non-traditional strategies for their clients. Kaplan Thaler, chief executive officer of the New York advertising and entertainment agency that bears her name, was one of more than a dozen speakers to offer case studies, professional tips and job-hunting and career-building advice to the students during a recent School-sponsored educational trip to New York City.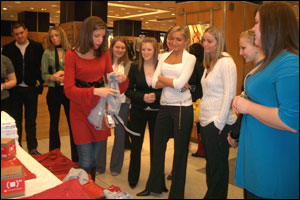 This intensive two-day trip to Manhattan exposed the students to some of the top advertising and public relations agencies, media companies and corporations in the world. This was the eighth year for the New York trip. Agencies and companies are rotated so that students receive a different experience each year they attend.
"Our alumni and other industry leaders are what make these trips such an overwhelming success," said Suzette Heiman, associate professor and director of planning and communications for the School. "They open their doors, enlist their co-workers, share useful information and encourage the students to realize their ambitions and follow their dreams – and, they accept resumes."
Heiman said that the goal was to expose students to seven very different places. "The trip did this and more," she said.
"This trip really taught me what a 'real world' advertising agency is like," said Megan Sweeney, a senior from Delmar, N.Y. "The environment was young, fun and bursting with creativity. We learn a lot in our classes, but you could never teach that energy."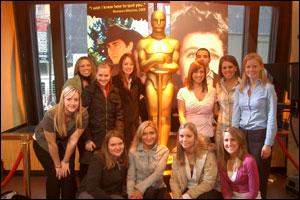 At The Gap, Steve Gutierrez, BJ '91, regional human resources manager, and Kristen Dorney, regional visual manager, presented a case study on Gap Red, a special collection of must-have designs that use 100 percent African cotton. The example illustrated how a company's social responsibility agenda can assist African women and children affected by HIV/AIDS while helping to achieve corporate objectives. Students toured the Gap store on 34th Street, a retail outlet that has the highest foot traffic in the world, to better understand how retail displays reinforce key communication messages.
From his Rockefeller Center office, Dan Migala, BJ '96, publisher of The Migala Report, shared information about producing a publication for those involved in professional sports marketing. He emphasized how important it is to create a win-win environment throughout the planning and implementation stages of every project.
At The Kaplan Thaler Group, Steve Baer, BJ '76, said that everything begins with an idea. "Ubiquity is the new exclusivity," he explained. "Clients need to be special, be everywhere and be strong." Baer introduced the creators of the award-winning Aflac duck campaign, Tom Amico and Eric David, who shared the genesis of the idea and how the advertising concept catapulted the unknown insurance company to top-of-mind recognition. A case study presented by Lori Korchek demonstrated how communication strategists can achieve high visibility even with a small budget.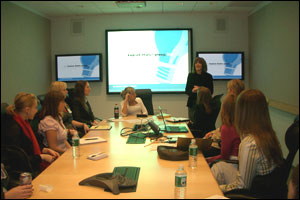 The members of an ESPN marketing team — each of whom said that they have the best job in the world — encouraged students to know and understand the business of their employers. Todd Helmrich, a senior director, said that he "knocked on a lot of doors" when he first joined the worldwide leader in sports, asking producers, computer programmers and others from different departments what they did. "The value of these relationships helps me every day, even though it's been 10 years in some cases," Helmrich said. Senior Sales Director Lori Taylor, BJ '89, said that advice given to her while a student continues to pay benefits: "Use your resources," of which, she said, "Missouri Journalism students have an abundance."
"The fight is for attention, not viewers," said Scott Flynn, planning director at Horizon Media, as he explained a key strategy in media planning. He and others at the agency, including Brad Adgate, senior vice president and director of research, spoke about the multiple platforms that are being utilized to reach today's consumers.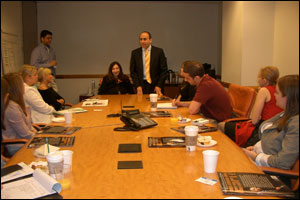 Elise Titan, a senior vice president at Manning Selvage & Lee, presented numerous case studies to define public relations and show how it works with other elements of the marketing mix. "It's always important to have a strong, relevant news hook," she said.
At DraftFCB the presenters noted that consumers are "binging and nibbling with media." Bryan Lattimore, BJ '04, an account planner, said that it is up to him to have questions, and that he relies on research and curiosity for the answers. Andrew Wind, BJ '03, a copywriter, presented a somewhat controversial pro bono campaign created for the Rocky Mountain Oyster Feed in Eagle, Idaho.
Students also received advice about how best to navigate the job-hunting process. Gutierrez said that most companies do behavior-based interviewing, asking for concrete examples that show what results particular actions achieved. Veinia Eubanks, a recruiting coordinator at DraftFCB, said companies try to match the right people with the right account. "This is important because for more than any other reason people stay at jobs where they like the people they work with," she said.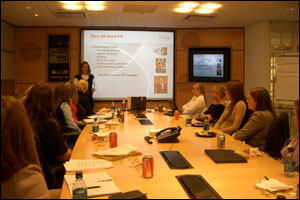 Kaplan Thaler said that each person is the most important person in the world. "Be nice," she said. "It may not mean much now, but 20-30 years down the road, it will." One way to exercise this principle: Answer every e-mail. In a gracious gesture, Kaplan Thaler gave each student a copy of her latest book, "The Power of Nice: How to Conquer the Business World with Kindness."
All presenters said that they expect Missouri Journalism students to have solid written and oral communication skills, but that many other factors are necessary for success. They include integrity, ethics, patience, ability to prioritize tasks and manage time, the quality of decisions and taking responsibility for developing yourself. Most importantly, students should thank the people who help them along the way.
The students now plan to use the knowledge and advice gained on the trip.
"One thing I learned from the trip was the power of the 'thank you' note," said Mark Stanley, a junior from Dallas, Texas. "What I learned from the trip," noted Brie Romere, a junior from Kingwood, Texas, "is that there are so many possibilities. With my degree, I can go into media planning and buying, marketing, sales, creative, account planning and management, and even human resources. I can easily transition into another position if I find other ways to challenge myself." And from Anna Kondrashova, a senior from Russia, "This trip was a touch of 'real world.' It proved that everything is possible in this life. It's pure inspiration and motivation to conquer the world. I know it sounds cheesy, but isn't it all we are striving for?"
Updated: April 16, 2020
Related Stories
Expand All
Collapse All
---