Missouri Strategic Communication Students Plan and Conduct Regional Spelling Bee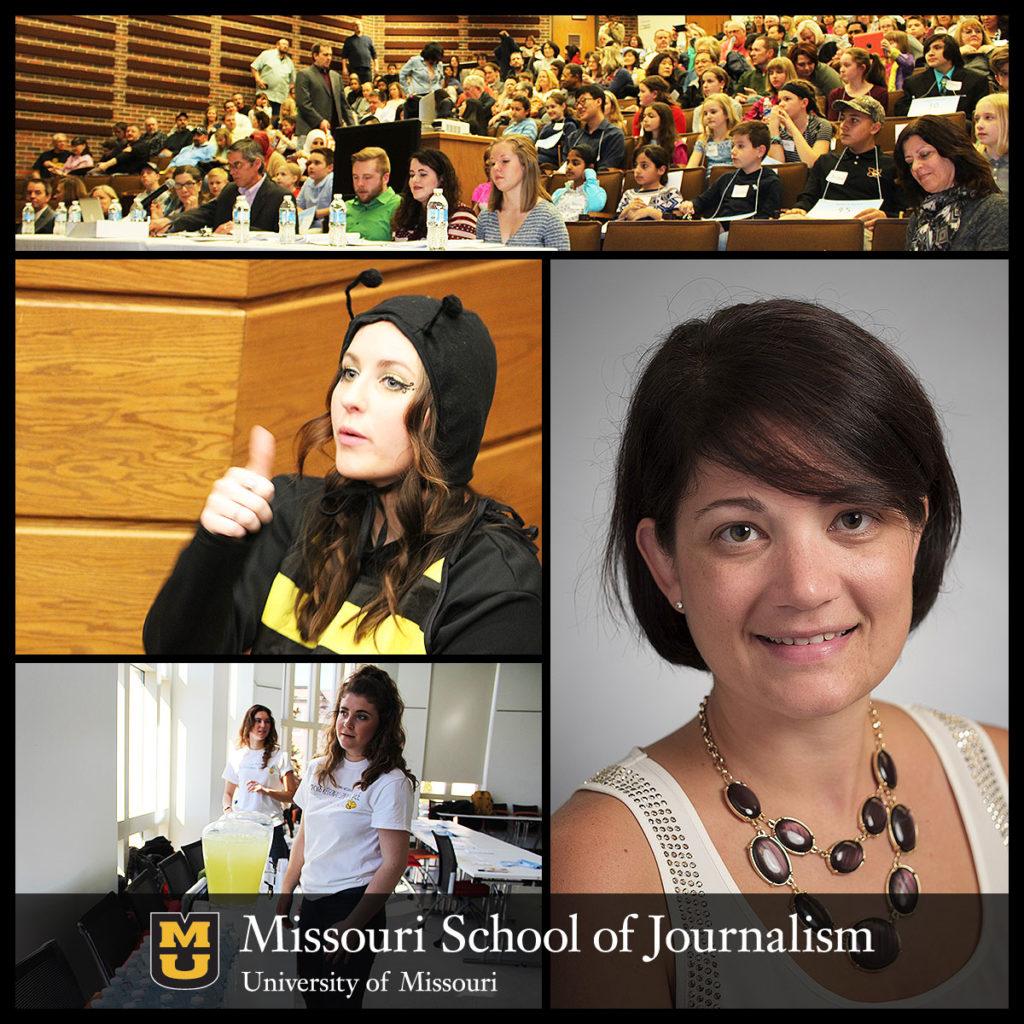 A team of 12 strategic communication students, under the direction of instructor Lauren Eisleben, planned and executed the Columbia Missourian Regional Scripps National Spelling Bee, held March 13.
Event Provided J-Schoolers with Real Work Experience in PR, Event Planning and Promotion
By Nate Brown
Reynolds Journalism Institute
Columbia, Mo. (March 16, 2018) — The highlight of 13-year-old Lauren Holsapple's day was winning the Columbia Missourian Regional Scripps National Spelling Bee, which was held March 13 at the Missouri School of Journalism.
The best part of instructor Lauren Eisleben's day? Hearing one of her Missouri Journalism students say, "This is the best project I've ever done in the J-School."
While third- through eighth-graders were spelling words aloud such as "gradient" and "mathematics," a team of 12 strategic communication students from Eisleben's event planning course was behind the scenes running the event.
The students held various positions such as event manager, graphic designer, strategy coordinator and spatial designer. Classmates from Vox Magazine helped to fill gaps, said Eisleben, serving as tour guides, parking attendants, ushers and registration coordinators.
"I was in charge of sponsorships, but I still got to help out with decorations and set up," said senior Hannah Tow, who hopes to have a career in event marketing after graduation. "We learned very quickly that everyone needed to have a hand in everything to make the event as successful as can be."
Fifty elementary and middle school students from mid-Missouri competed in the regional bee, which was hosted by Columbia Missourian editors.
"Planning and executing this event gave the students invaluable, real work experience as it pertains to public relations and event planning and promotion," said Eisleben. "This course is so applicable and relevant to the students because it encompasses all aspects of strategic communication. It is a perfect example of the Missouri Method at work and working alongside other emphasis areas within the Journalism School."
Eisleben's favorite moments included seeing the standing-room-only crowd in Fisher Auditorium, speaking with nervous parents, and "watching my students really dive into all the details of the event. They thought of things I would've never thought to review and plan."
The spelling bee also was a great opportunity to welcome future Tigers to Mizzou and the Journalism School, she said.
Eisleben's class totals 26 students. The other 14 are working on Columbia Grown, a farm-to-table event that Vox Magazine is hosting in April.
"My goal as a teacher is to not only teach concepts, but to help students learn to apply them in their professional lives," she said. "I'm proud of every graduate of the J-School, but my hope is that those graduates truly enjoyed their experience as students in the School of Journalism."
Updated: October 30, 2020
Related Stories
Expand All
Collapse All
---