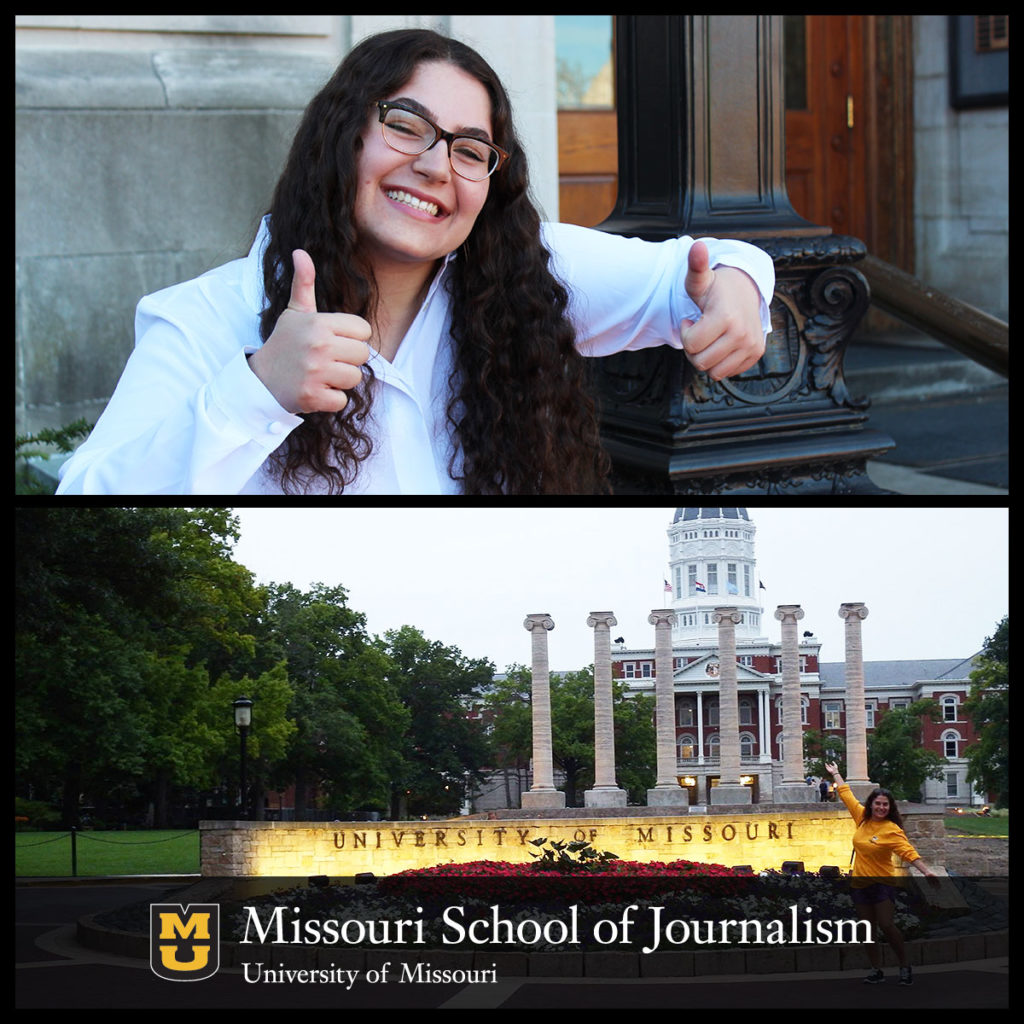 The Missouri Method, Friendly Atmosphere are Key to New Jersey Student's Success
Alexis Cettina is a sophomore studying strategic communication at the Missouri School of Journalism. A Robbinsville, N.J., native, Cettina wasn't sure where she wanted to go to school, but knew she wanted to study journalism. A quick Internet search pointed the way for her college choice.
"When I Googled '#1 journalism school in the United States' and Mizzou popped up, how could I ignore it?" Cettina said.
Not knowing much about the University of Missouri or the City of Columbia, Cettina needed an official visit to help make up her mind.
"When I took a tour of Mizzou's campus and noticed just how incredible the School of Journalism's 'Missouri Method' really is, how friendly everyone in Missouri is compared to people at home, I knew I was destined to be a Tiger."
Having a vision disability and coming from a graduating class of 230 students on the East Coast, Cettina felt her transition to Mizzou could be rough. To help her succeed, Cettina worked to form connections with her peers, advisers and faculty to feel comfortable during her first year on campus.
"Getting to know my floor student staff members, meeting with my advisers in the Disability Center, Honors College, and Journalism School frequently, sitting in my floor lounge to meet other students, and joining organizations proved to be the best ways to form my Mizzou family," Cettina said. This past summer Cettina served as a 2017 Summer Welcome leader.
"Hours after I found out I was selected, I was learning Mizzou's fight song and alma mater, skipping around campus completing Mizzou traditions, and eating Shakespeare's pizza with 36 other students, each of us overflowing with Tiger pride," Cettina said. "I have never been prouder to attend Mizzou or felt more connected to the family I have found at this University."
Cettina's advice to other students looking to build their Mizzou connections is to step out of their comfort zone and find organizations to join: "As a large university, Mizzou has the advantage of being diverse, drawing people from different states and countries as well as people of different cultures and beliefs. Being part of this family, I feel fortunate to be around these incredible people," Cettina said. "Step out of your comfort zone and contribute to the incredible environment here at Mizzou."
Updated: October 26, 2020
Related Stories
Expand All
Collapse All
---