2 Strategic Communication Students Win in National 3% Competition
Poster by Jenny Sanchez and Anna Vierneisel Seeks Gender Diversity in Creative Advertising Leadership
By Caroline Murray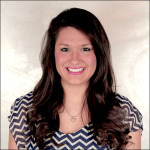 Columbia, Mo. (Oct. 18, 2014) — Strategic communication students Jenny Sanchez, a master's student, and Anna Vierneisel, a senior, have been named winners of the 3% Student Competition. They will represent the Missouri School of Journalism at the 3% Conference in San Francisco in November.
The 3% Conference seeks diversity in creative advertising leadership, where women represent only 3 percent of creative directors, by championing female creative talent and leadership. With this mission in mind, the student competition participants were asked to create a poster announcing the imaginary increase of the ratio of female-to-male creative directors by 300 percent. Sanchez and Vierneisel's poster was one of 10 selected.
Their poster features depictions of powerful women in creative fields, like Anna Wintour in publishing and Katie Couric in reporting, alongside the face of one man, David Ogilvy in advertising.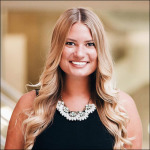 "We wanted to point out that although the number of women in executive positions in the advertising industry is getting better, we are still not there yet," Sanchez said. "We hoped to make that point very clear by juxtaposing a man's face against all these other influential women in other creative industries."
As winners of the competition, Sanchez and Vierneisel each won a $250 travel stipend and tickets to the conference, which will take place Nov. 3-4 at the Intercontinental San Francisco. The students also are invited to a private luncheon where industry leaders will review their portfolios.
"The 3% Conference is truly an inspiration to young female professionals in the field and, as leaders in our program, Jenny and I cannot wait to share the information we learn from this conference and concepts espoused by the speakers to other students at the J-School," Vierneisel said.
Vierneisel and Sanchez agreed more gender diversity in creative leadership in advertising is needed to create work women can really connect with.
"With advertising, the consumer only sees the visual elements of a campaign and creatives are the ones who lead the visuals," Sanchez said. "When an agency is stacked with male creatives, those visuals can unintentionally become masculine and sometimes even degrading to women. As with any form of the media, diversity leads to more complex and profound conclusions."
The students said they could not have won the competition without the help of their professors and mentors at the Missouri School of Journalism.
"The strategic communication program at the J-School gave me confidence in my writing, and I have been pushed to always create great work," Vierneisel said.
The winning posters will be displayed at the 3% Conference and will be featured in a future 3% blog post.
The mission of the 3% Conference is to build the business case for diversity by championing female creative talent and leadership by offering content, community and professional development. The movement includes the 3% Conference, multi-city road shows, a vibrant online community, a Super Bowl event, a student scholarship fund, a creative award and a business blog.
Updated: July 31, 2020
Related Stories
Expand All
Collapse All
---