Columbia Missourian to Host Scripps Regional Spelling Bee March 13 on the MU Campus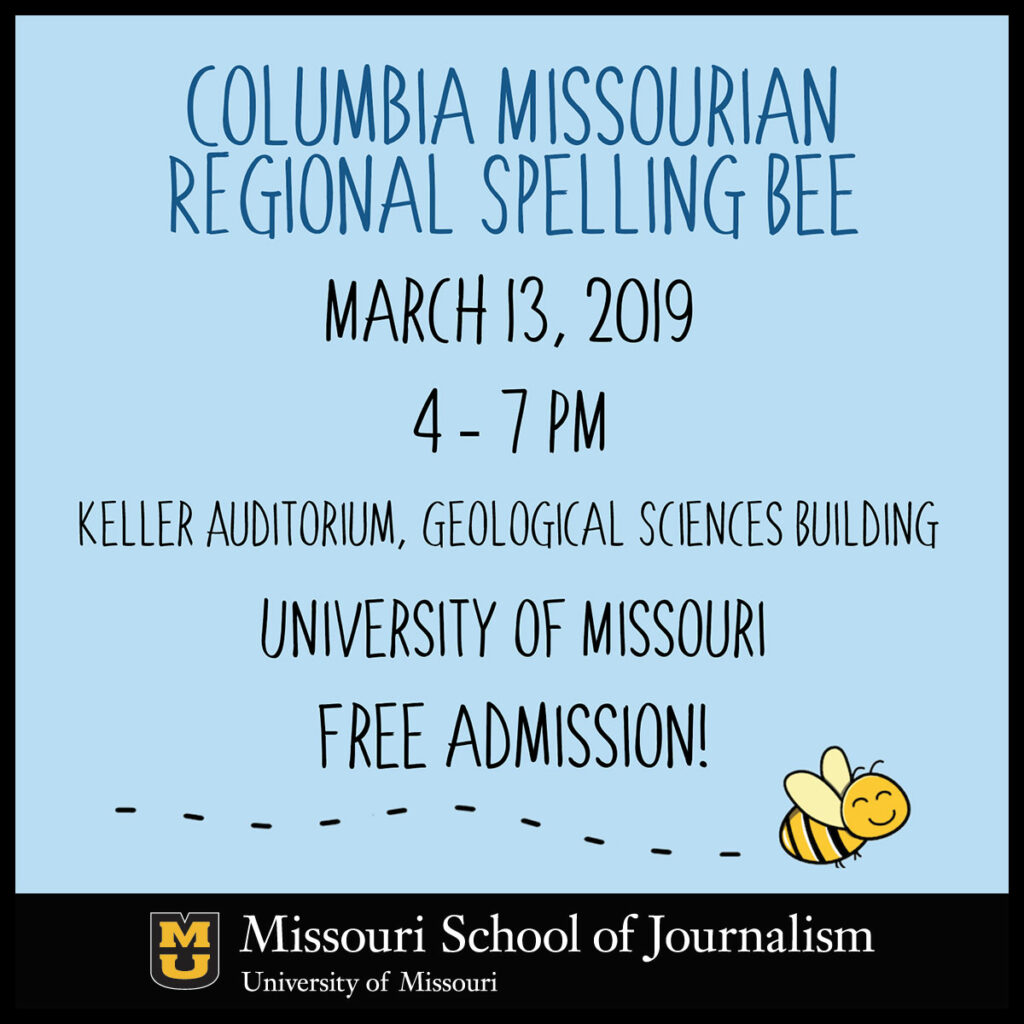 55 Students from 8 Mid-Missouri Counties Slated to Compete
Columbia, Mo. (March 8, 2019) — The second annual Columbia Missourian Regional Spelling Bee will be held from 4 to 7 p.m. on Wednesday, March 13, in Keller Auditorium in the Geological Sciences building at the University of Missouri. The Scripps National Spelling Bee is the nation's largest and longest-running educational program.
There are 55 elementary and middle school students from eight mid-Missouri counties competing in the event to qualify for the Scripps National Spelling Bee – known as Bee Week. Columbia-area competitors are listed below.
The Missourian is proud to sponsor this event as students receive multiple benefits from participating in it, according to Bryan Chester, the Missourian's general manager.
"Students improve their spelling, increase their vocabularies, develop their news literacy skills and more through this program," Chester said. "These are skills that will help them in their studies and throughout their lives."
Regional winners will be eligible to compete in the national event, which will be held May 26-31 at the Gaylord National Resort and Convention Center in National Harbor, just outside of Washington, D.C. ESPN will broadcast the competition.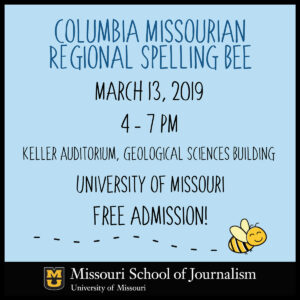 Missouri School of Journalism students enrolled in an Event Planning and Promotion class are executing the event on behalf of the Missourian. "This class is yet another great example of the Missouri Method at work," said Lauren Eisleben, who teaches the class. "Students learn how to use events as an effective public relations tool in the strategic communication industry."
Event sponsors for the Columbia Missourian Regional Spelling Bee are Missouri Cotton Exchange, Flying Cow, Andy's Frozen Custard, McDonald's, Visionworks, Missouri State Teachers Association, Scholastic Books, Veterans United Home Loans, Columbia Mall, Focus on Learning, Harold's Doughnuts and GOPO Gourmet Popcorn.
Participating Mid-Missouri Elementary and Middle Schools
Ann Hawkins Gentry Middle
Beulah Ralph Elementary
Blue Ridge Elementary
Cedar Ridge Elementary
Christian Chapel Academy
Christian Fellowship School
Columbia Independent School Lower
Columbia Independent School
Derby Ridge Elementary
Eliot Battle Elementary
Fairview Elementary
Islamic School of Columbia-Missouri
Jefferson Middle
John B. Lange Middle
John Ridgeway Elementary
Locust Street Expressive Arts Elementary
Mary Paxton Keeley Elementary
Mid-Missouri Co-Op of Home Educators
Midway Heights Elementary
Mill Creek Elementary
New Haven Elementary
Oakland Middle
Our Lady of Lourdes Interparish
Parkade Elementary
Rockbridge Elementary
Russell Blvd. Elementary
Shepard Blvd. Elementary
Smithton Middle
Two Mile Prairie Elementary
Ulysses S. Grant Elementary
West Middle
Windsor Street Montessori School
Updated: August 15, 2019
Related Stories