Down to the Last Detail: Strategic Communication Students Plan Community Event for Vox Magazine
A 14-member student team from instructor Lauren Eisleben's event planning course took care of all details to host Columbia Grown, selling sponsorships, hiring a chef and collecting donated food from local farmers.
By Jennifer Nelson
Reynolds Journalism Institute
UPDATED April 4, 2018: Due to a forecast of continued cold weather, this event has been moved indoors to the Reynolds Journalism Institute, 401 South Ninth St.
---
Planning for a farm-to-table event for the Columbia, Missouri, community started in a University of Missouri classroom. The student's work will "bear fruit" April 7, during Columbia Grown, an event held at Reynolds Journalism Institute, 401 South Ninth St. in Columbia.
A 14-member student team from instructor Lauren Eisleben's event planning course has spent class and free time this semester selling sponsorships, hiring chef Melissa Poelling of 44 Canteen and collecting donated food from local farmers. They also have been collaborating with student staff from event host Vox Magazine on promotional efforts for the event.
"I'm excited to see what I see in my head come to life," says senior Rewdjety Redick, who is a spatial designer for the event.
Redick's role has been co-designing the layout of the event to fit the venue with Amanda Logan. This includes mapping the venue layout to provide optimal comfort, strategically placing tents where people will eat, organizing seating arrangements and setting up the live entertainment area, says Eisleben.
Students were selected for various event planning positions including assistant event manager, production managers, strategy coordinators and graphic designers based on any previous experience and their interests, says Eisleben.
"Everyone is encouraged to do what they enjoy because one of my goals as a teacher is for them to enjoy their experience," she says.
Columbia Grown is the first event Redick has helped plan, but she says she's come to love her design role after getting ideas from watching HGTV and incorporating them in her own planning.
As president of the student-run Sustain Mizzou, senior Megan Tyminski has helped plan several events at MU including beekeeping classes, stream clean-ups and day camps. But as the co-event manager of Columbia Grown, she says this is the first event she's planned with such a large event planning staff. This has presented challenges and learning opportunities, she says. Emily Ladig is the other co-event manager.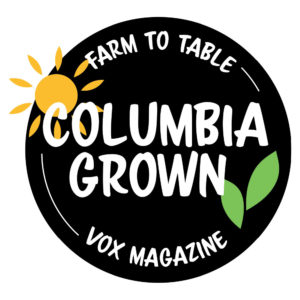 "There's a lot more working together and having to bounce ideas off people," Tyminski says. "It has been challenging to find time to meet and delegate in a way that works for everyone…Google Docs help."
The students' work won't be finished until after the event is over. Eisleben says all the students will put in at least eight hours on the day of the event as they help with decorating, cleaning, helping vendors unload and assisting with ticket management.
Eisleben's class also includes a team of students who recently planned and executed a regional spelling bee. This group will help out on the day of the event, as well.
Columbia Grown is also providing other Missouri School of Journalism students with "Missouri Method" hands-on, real-world experience. Vox Magazine editors and writers have been producing a farm-to-table special section ahead of the event and promoting the event on various digital platforms. Photographers and reporters will also be covering the event.
Vox Editorial Director Heather Lamb says the event is also a good opportunity to get the magazine and University of Missouri journalists out in the community and engaging with people.
"It's becoming more and more common that media companies are getting into events, which makes sense because it's a way of connecting to the community," says Lamb. "Let's invite the readers to something we think that they would like. We know our readers really like food content."
Tickets can be purchased for $65 until April 4 at Voxmagazine.com. The ticket price includes a four-course Italian meal, happy hour drinks, live band, beer and wine pairings and CCUA staff-provided tours of the center grounds. Food vendors will also be joining attendees at the tables to share information about their business or local food sourcing, says Eisleben.
Updated: October 30, 2020
Related Stories
Expand All
Collapse All
---