Strategic Communication Students Create Marketing and Advertising Plans for Missouri Town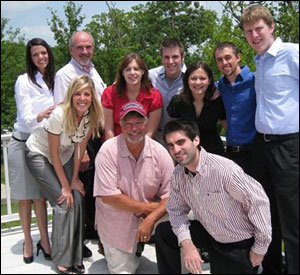 Columbia, Mo. (June 5, 2008) — This summer, Missouri School of Journalism strategic communication students spent a week in Stockton, Mo., conducting research and creating advertising campaigns for several businesses in the small southwest Missouri town, which was nearly destroyed by a tornado in May 2003. The course, "Creating and Implementing Effective Strategic Communications: A Hands-On Experience," is taught by Craig Ligibel, BJ '70, MA '71, retired president of VML, a worldwide advertising and marketing agency based in Kansas City. He received assistance from Wayne Powell, AgJ '69, a resident of Stockton and marketing director of Tuthill Corporation in Mt. Vernon, Mo. Additionally, VML provided assistance with online research, creative and production resources.
For each of the nine years Ligibel has taught the course, he has taken a small group of talented students to a Missouri town. There, they set up a mini-advertising agency, working with the community and local merchants to research and develop better advertising and promotions strategies. Past course locations have included Rocheport, Salisbury, Marshall, Carrollton, Trenton, Clinton, Harrisonville and Weston, all in Missouri.
The following is a local account of the students' work that appeared in the Cedar County (Mo.) Republican & Stockton Journal.
Stockton urged to take stock in itself
By Linda Greer, editor
Cedar County (Mo.) Republican & Stockton Journal
May 29, 2008
A college marketing class that whirled through town like a tornado last week quickly surmised Stockton residents are warm, tough and bold.
"Of all the towns I've been to, Stockton is the most vibrant," University of Missouri retired professor Craig Ligibel said during the class' presentation to area business leaders last week at Orleans Trail resort. "It has a great entrepreneurial spirit."
From Monday-Thursday, May 19-22, eight University of Missouri students led by Ligibel conducted resident interviews and met with business owners to assess Stockton's marketability and whether shoppers were happy with local wares. Friday, May 23, students presented their findings and offered suggestions to promote Stockton.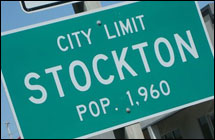 "Five years ago, Stockton was a town that was almost wiped away. It was on life support," Ligibel told those who attended the session, including mayor Patty Thompson and Stockton Area Chamber of Commerce executive director Charlotte Haden. "Stockton is a town too tough to die. The tornado, instead of killing Stockton, resulted in a rejuvenated spirit."
Upon arriving in Stockton, the four two-member student teams paired with owners of NorthShore Sport Fishing Bait and Tackle, Pappi's Pizza and Stockton Lanes and representatives of the Stockton Lake Association.
NorthShore Sport Fishing
Students Dustin Miller and John Wiehe reported their results after spending three days with Dean and Shannon Ratliff, NorthShore owners. They said the Ratliffs face challenges because they are a new business located away from the marinas. The business, however, is between Stockton and Bolivar on Highway 32, and offers selections of bait and tackle not available elsewhere locally.
Another challenge for the business is leisure activities usually are the first thing families cut when gas prices go up, they said.
A customer survey at NorthShore revealed most shoppers are men age 35 and older. They come to NorthShore for the equipment selection and fishing information, the students said.
Miller and Wiehe suggested the Ratliffs get a bigger road sign, offer product demonstrations and fishing clinics and expand their outdoor seating area to give fishermen a place to congregate when not fishing.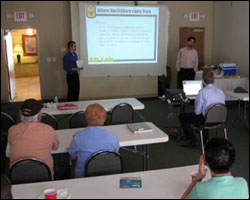 Pappi's Pizza
Students John Dobson and Emily O'Bryan said Pappi's Pizza also does not have a large enough sign for customers to recognize the business.
A customer survey revealed most area residents have heard of the business, but most are unaware of Pappi's buffet, the students said.
The business could promote the buffet more as a good value, offer a dinner and movie tie-in and use the restaurant's big-screen TV for special events, they said.
Stockton Lake Association
Students Sarah Boyd and Eve Lofthus conducted an online survey, as well as talking to people visiting Stockton Lake. They reported one million people visit the lake annually. Nearly all stay just one day, they said. Ninety-three percent visit with a spouse.
"Most people in Kansas City never heard of Stockton Lake," Boyd said.
The association could market the lake as peaceful, natural and not crowded compared to Table Rock Lake or Lake of the Ozarks, they said. The lake's largest appeal is to families, Boyd said.
Lofthus said when she and Boyd did a Google search for Missouri lakes, camping, boating or fishing, Stockton Lake did not show up in 39 pages of searches.
The students suggested the association buy search spots on Google, offer cross-promotions with area restaurants and bait shops and inquire about brochures through the Missouri Department of Tourism.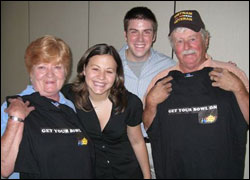 Stockton Lanes
Students Nabely Castillo and Anthony Jackson said John and Rebecca Walker bought Stockton Lanes in October 2006 as a project for Rebecca, but the bowling soon became much more than that to them.
The Walkers added handicap-accessible bowling features, automated score-keeping, colorful lights and the Ball and Pin Grill with pool tables, video games and a big-screen TV.
The students presented two advertising promotions they created for Stockton Lanes, one a radio advertisement telling listeners to "get their bowl on" at Stockton Lanes. The students presented the Walkers T-shirts imprinted with the slogan.
Castillo and Jackson also showed printed advertisements they created with a Stockton Lanes logo and the slogan, "Play. Laugh. Bowl." They suggested the business offer a varsity bowling league and conduct bi-monthly charity bowling events to draw new customers.
Summary
At the end of the reports, those in attendance applauded the students' efforts. The Walkers stood to hug their student team members and thanked them for their work during the week.
"This has been a great shot in the arm," Haden said.
"You can't believe the amount of work the students put into this," Ligibel said.
Ligibel said of the nine years he has conducted the interactive marketing class, the Stockton experience was the best. Of the resident surveys, he said, "Respondents paint a picture of friendly, determined, resilient residents."
When Ligibel suggested Stockton erect a welcome sign, mayor Thompson said, "That's in the making."
To market the town, Ligibel said the town could promote itself by creating a bank card, for example, that when people make purchases locally, a percentage of the sale could go toward building a youth center.
Holding up a section of the newspaper with photos of area graduates, Ligibel said the pictures represent Stockton's fresh, vibrant youth. The town must take stock in its youth to prevent them from engaging in dangerous activities like the choking game and selling drugs as was reported recently, he said.
Ligibel said business leaders could create Stockton spirit contests or give out spirit awards.
Of the 50-person marketing survey regarding product availability, Ligibel said, "Ninety percent of people said if they could buy it here, they would."
Most residents prefer to shop in Stockton for convenience, service and to keep tax dollars at home, he said.
Respondents shop out of town for selection and cost, Ligibel said.
"One to two times a week, people are running up and down the road to Bolivar to shop," Ligibel said. "You've got businesses here doing things. You need to keep as many shopping dollars at home as you can."
Talking with Ligibel and marketing professional Wayne Powell, Stockton, after the presentation, Haden said she wished more Stockton public officials and business leaders had attended the session. She said she will present many of the students' suggestions to the chamber.
The strategic marketing class project was paid for by a grant through the University of Missouri. There was no cost to Stockton or the businesses featured. The students were mostly seniors majoring in advertising.
Updated: April 28, 2020
Related Stories
Expand All
Collapse All
---