Humans of Strat Comm: Kelsie Wilkins
Columbia, Mo. (Sept. 24, 2018) — Show Me. What does this staple of Missouri culture mean? To Kelsie Wilkins, Missouri School of Journalism student, it evokes nostalgia. The "Show Me" slogan causes her to reflect on her impression of the university as an incoming freshman and how much of an impact she's made since then – an impact that will certainly last.
Wilkins is a strategic communication student entering her fourth year at Mizzou. She is the president of the Legion of Black Collegians, a residential advisor at MU Residential Life and a member of the National Association of Black Journalists.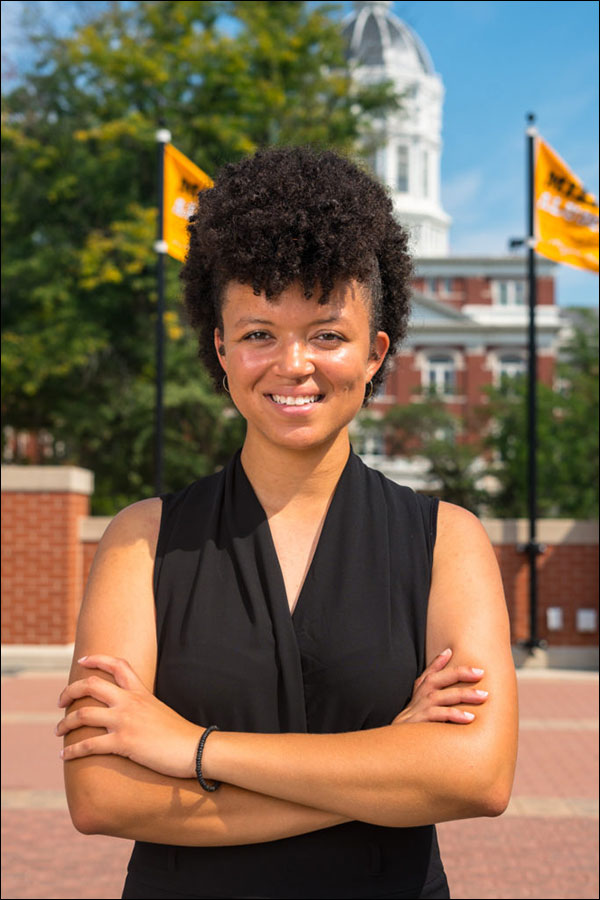 In addition, last spring Wilkins was one of 18 students across campus tapped into Mortar Board, one of Mizzou's seven secret societies. This is a very selective tradition in which outstanding staff and students are recognized through admission to a society that represents important values, in this case the values of scholarship, leadership and service.
The impressive student is also featured in the university's #ShowMe video that was released just before the beginning of the school year. The video highlights what the "Show Me" slogan means to the university and the impact that its legacy has on the world. The video resonates with Wilkins because it captures so many areas of the campus, which she relates to her time at Mizzou.
"Though I'm in the Missouri School of Journalism, I've had remarkable experiences across this campus that have changed my life," she says.
One of these remarkable experiences is participating in the Missouri Method – learning by doing – that the journalism school embodies.
"The Missouri School of Journalism has pushed me harder than I thought possible. The Missouri Method has allowed me to gain skills in my field of study that I would not be able to gain anywhere else," Wilkins said. "I've had the opportunity to work on campaigns and receive feedback from real-world clients. Having a real-world client rely on me to succeed was the push I needed to elevate my work to a level I had never reached."
When it comes to picking a favorite Mizzou memory, Wilkins has to stop and think. Although it's hard to pick a single memory, all of them have a common thread of involving the Mizzou community.
"I firmly believed that a support network can be the defining factor of success," says Wilkins. "I have been blessed to find friends, mentors and advisors that have become my home away from home."
Wilkins advises prospective Mizzou students to find their community, explaining that it will serve as a safe haven when times get tough.
"It's impossible to succeed anywhere without a support network," says Wilkins. "Find an organization that invests in you as much as you invest in it."
Updated: November 5, 2020
Related Stories
Expand All
Collapse All
---