45 Strategic Communication Students Visit Chicago to Network, Learn about the Industry
By Lauren Walsh
Master's Student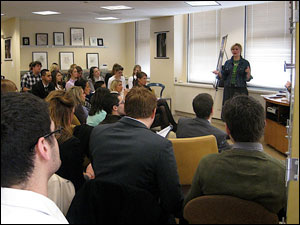 Columbia, Mo. (March 16, 2010) — "Take advantage of any opportunity to get into the game," noted Karen Sauder, BJ '90, as she welcomed 45 Missouri School of Journalism strategic communication students to DraftFCB Chicago. Sauder, who serves as the agency's managing director, also told the students that this is a very exciting time to be in the industry.
The visit to DraftFCB was the first of eight that the group would make to advertising and public relations agencies and related programs on Feb. 25-26.
Crain's Business Journal, Hill and Knowlton and Hodge Schindler Integrated Communications rounded out Thursday's schedule. On Friday the group started the day at Wrigley Field to learn about marketing efforts for the Chicago Cubs. This was followed by stops at The Integer Group, Ketchum and Ogilvy & Mather advertising and public relations.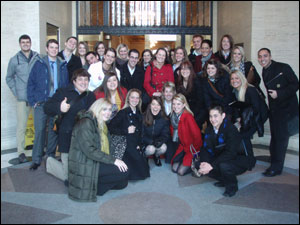 "Trips like this permit students to observe first hand how real-world communications companies operate," said Professor Suzette Heiman, who organized the trip.
In planning the schedule, Heiman said the goal was to have each visit be unique, to present something new or different from the other visits.
One take-away from DraftFCB was "6.5," the average engagement time to capture someone's attention. At Crain's, Charlie Thompson, BJ '82, encouraged students to ask the "which means what" question, to make sure that the communication is clear and tailored to the audience.
Hill and Knowlton's Michael Kontos gave an overview of the Olympics' complex organizational infrastructure, highlighting to students what the agency needed to understand to prepare Chicago's recent bid for the 2016 games. Sally Hodge shared an owner's view of working at a small public relations agency.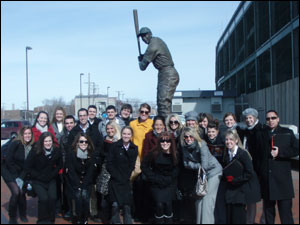 Matt Wszolek spoke about the magic of Wrigley Field and how the communications team integrates this concept into marketing efforts for the Chicago Cubs. Christen Terry, BJ '02, and Hannah Davis, BJ '08, spoke about how Integer's work intersects branding and selling.
At Ketchum, students broke up into small groups to learn about specific areas such as word of mouth, brand, social media, corporate/healthcare and research. Linda Eatherton, BJ '72, partner and director for global food and nutrition, greeted the group, and shared that, "it's all about relationships."
In both the advertising and public relations presentations at Ogilvy & Mather, students were encouraged to know as much as possible about their clients' business.
Many Missouri journalism alumni helped arrange the visits and participated in the sessions.
"We truly appreciate the incredible support of our alumni and their colleagues for all that they did for us," Heiman said. "They generously shared their time, insights and knowledge. All of us are very grateful to them."
Updated: May 7, 2020
Related Stories
Expand All
Collapse All
---