Students Learn about Account Management in a Boutique Setting
Columbia, Mo. (May 2, 2005) — A recent one-hour strategic communication topics course focused on teaching students methodology to aid in the account management in a creative boutique. The class, Creative Account Management, ran for eight weeks and culminated with presentations to instructors Jeff Graham and Marc Kempter from CORE in St. Louis.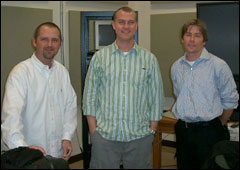 Graham, BJ '91, and Kempter, BJ '86, are partners and account executives at CORE. Founded in 1995, CORE has been named one of the world's Top 10 agencies by Graphis, an international journal for visual communication and the premier international showcase for print advertising. Kempter and Graham have worked in account management together for more than a decade, beginning at TBWA/Chiat/Day in St. Louis. Their brand experience includes work for Ralston Purina, Miller Brewing, DuPont, Monsanto, Panera Bread, NFL, Fine Living Network, Virgin Mobile USA and many others.
What made this course unique is that it focused on working in a smaller boutique-style agency as opposed to a larger, full-service agencies. Creative boutiques are often recognized for their ability to create fresh, distinctive ideas to address specific advertising problems. Most of CORE's 19 employees are creatives, and they work closely with the account management team.
"College prepares you to work at more of a large corporate agency. We wanted to give students a different experience, one that would be beneficial in a creative boutique. It's a lot more fun to be an account person in a place where the AE's and creatives work together," Kempter explained.
Creative Brief
The Creative Account Management class involves a lot of "reverse engineering" of familiar ad campaigns. Students receive finished ads for campaigns ranging from Apple and HP to MINI and Ikea. Working backwards, they then write a strategy document that might have inspired that campaign. In each creative brief, students are asked to identify the answers to these strategic questions:

Why are we advertising?
Who are we talking to?
What do people currently think?
What would we like them to think?
What is the single most important idea we can convey?
Why should they believe it?
What is the brand's personality?
Graham also thought the class would help account management students learn to work better with creatives: "Just having a passion for advertising and an understanding of it gets you 50 percent there, but creatives really appreciate it when an account exec gets it."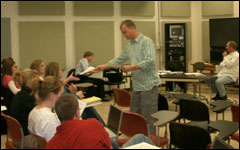 Senior Cristina Sambursky, of Lee's Summit, agreed, "It's very beneficial for those of us who aspire to be account execs and want to work with creatives. I think that sometimes in the ad world account execs and creatives speak different languages. This class teaches people how to communicate better."
Part of the training in the course included creative brief campaign assignments. The assignments were meant to provide real life practice and promote analytical thinking.
In addition to the real life practice, Graham and Kempter also brought in outside presenters to add perspective to the class. One guest included former MU advertising major Steve Erich from Crispin Porter + Bogusky in Miami.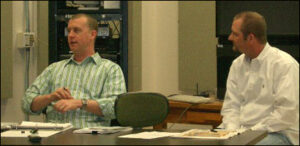 Erich oversees the $350 million Burger King account for CP+B. His presentation combined instruction and a bit of humor. On the making of the recent Chicken Fight TV campaign for BK, Erich recalled "The funniest line we ever got for an ad came from the legal department: 'None of the actors appearing in chicken suits were harmed during the filming of this commercial'."
Erich also gave students advice on how to get your foot in the door on the account side. "It's kind of tricky," Erich said. "Be relentlessly polite. Keep trying. Get in whether it's paid or not paid and prove yourself. I started out getting paid $4 an hour."
Senior Advertising major Matt Mason, of Minneapolis, Minn., thought taking the class would be a great way to get a foot in the door in addition to the educational aspect of the course. "This class could also help us land a job," Mason said.
Graham wanted to help students on all levels, but if students took nothing else away from the class he hoped that it was to "be a student of advertising rather than a bystander."
Updated: April 28, 2020
Related Stories
Expand All
Collapse All
---