Doctoral Student Wins 3 Awards at the American Academy of Advertising Annual Conference
Eunjin (Anna) Kim Recognized for Doctoral Proposal and Best Conference Paper, Receives Travel Grant
By Caroline Murray
Columbia, Mo. (April 8, 2014) — Missouri School of Journalism doctoral student Eunjin (Anna) Kim won three awards at the 2014 American Academy of Advertising annual conference: the Doctoral Dissertation Proposal Award, Best Conference Paper and the Graduate Student Travel Grant.
"This is an incredible accomplishment for our doctoral student," said Professor Shelly Rodgers, who served as AAA president in 2010. "Three awards at one conference may be an AAA first. Being recognized in this way is the highest honor for our student, our faculty and our program."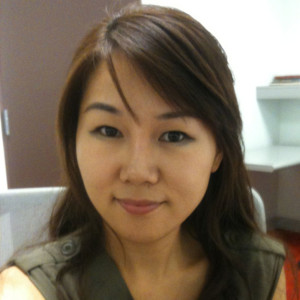 Kim's winning dissertation proposal, which came with a $1,500 prize, was titled "The Why and How of Narrative Advertising: An Integrated Process Framework."
The starting point for many researchers, Kim explained, is that the human brain is hardwired to process narratives better than arguments. Narratives are the fundamental way of understanding the world.
"Indeed, a sparse body of literature has demonstrated a positive relationship between narrative structures in ads and persuasion outcomes," Kim said. "Along with demonstrating these positive outcomes, individual researchers have offered many different explanations for why narrative ads are more effective such as transportation, empathy and self-brand connection."
Kim said a more consistent and mutually exclusive explanation for outcomes of narrative ads is needed to advance knowledge in this area. Her dissertation develops and tests a comprehensive framework of how narrative advertising works.
Her conference paper, "Differential Effectiveness of Promotion vs. Prevention Messages in Acquisition vs. Forfeiture Decision Task," explores how effectively consumers' decisions to buy something or give something up are influenced by promotion-focused or prevention-focused ads.
Kim said her adviser and dissertation chair Esther Thorson has been endlessly encouraging and supportive. In particular, Kim noted how Thorson exposed her to a wide variety of research projects, which broadened Kim's understanding of communication.
"Through various projects, I learned a lot about not only going from theory to method, but also about where my strengths and weaknesses lie" Kim said. To help me improve my conceptualization skills, Dr. Thorson spent lots of time training me as a theorist during the summer of 2012. That was my turning point where I had my 'ah-ha' moment."
Kim received $500 for the Graduate Student Travel Grant.
The American Academy of Advertising (AAA) is an organization of advertising scholars and professionals with an interest in advertising and advertising education. The 2014 annual conference took place March 27-30 in Atlanta.
Updated: July 24, 2020
Related Stories
Expand All
Collapse All
---