Missouri Journalism Faculty, Students and Alumni Present 94 Papers at International Research Conference
By Nathan Allen
Master's Student
Columbia, Mo. (Sept. 8, 2011) — Missouri School of Journalism faculty, students and alumni presented a total of 94 refereed scholarly papers at the annual Association for Education in Journalism and Mass Communication (AEJMC) conference held in St. Louis. A record 896 papers were accepted for presentation out of the 1,686 submitted for consideration.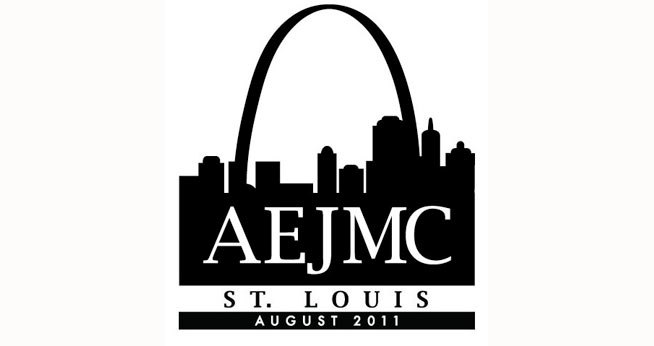 "In 1993, Missouri School of Journalism faculty presented three papers at AEJMC" said Esther Thorson, associate dean of graduate studies. "But in the last 15 years, Missouri faculty, graduate students and alumni have created more and more impact at this national meeting of journalism educators."
Thorson noted that a number of our faculty and students reported hearing that "Missouri research is everywhere."
"That's true – and it's music to our ears!" she said. "The work represents the best of both theoretical and applied approaches to understanding journalism and strategic communication."
Topics of the papers were wide-ranging and covered research on environmental issues, user-generated brand videos, international press, social media, news credibility, racial issues and news media literacy, to name a few. The amount of papers presented and diversity of topics is a result of the School's dedication to research on innovative and pertinent issues in mass communication.
A total of 17 papers submitted by Missouri journalism faculty, students and alumni received top awards. The conference brings in some of the top educators and students in journalism and mass communication from around the world.
Founded in 1912, the AEJMC is an international nonprofit organization composed of over 4,000 faculty, students and administrators at journalism and mass communication schools from 32 different countries. AEJMC is dedicated to providing the means necessary to journalism and mass communication educators and students to foster generations of practitioners and educators dedicated to better professional practices and a more informed public.
Papers presented by Missouri journalism students, faculty and alumni can be found below.
Current faculty, students and alumni are identified in bold face. Missouri journalism degrees are listed for alumni.
Advertising Division
Second Place Research Paper: Responses to User-Generated Brand Videos: The Persuasion of Inference Model. Chang-Dae Ham, PhD '11, Illinois at Urbana-Champaign; Esther Thorson.
Effects of Purchasing Experience and Repeated Exposure to the Website on Online Customers' Brand Relationship. Doyle Yoon, PhD '03, MA '99, Oklahoma.
PKM: Changes in Millennials' Experience with Media & Attitudes, Attention, and Coping Behaviors Regarding Advertisements Since 2004. Jensen Moore-Copple, PhD '07, West Virginia; Blair Dowler; Kelley Crowley.
Association of Schools of Journalism and Mass Communication
Free Trade or Political Strategy: The Economic Cooperation Framework Agreement (ECFA) in Chinese and Taiwanese News Media. Ming Dai.
Commission on the Status of Women
Gender Stereotypes and Citizen Journalism: Exploring What Effect, if Any, Gender Match has on Story Credibility for Citizen Journalism and Staff-Written News. Hans Meyer, PhD '09, MA '06, Ohio.
What's the Problem? Newspapers Explain Global Sex Trafficking. Anne Johnston, Barbara Friedman, PhD '04, MA '99, UNC; Autumn Shafer.
Community College Journalism Association, History, Newspaper and Communication Theory and Methodology Division
The Relationship Between Motivation Activation and Social Media. Paul Bolls; Heather Shoenberger; Dawn Schillenger; Anthony Almond; Jaime Williams.
Community Journalism Interest Group
Top Student Paper: Community News as Collective Action. Mark Poepsel.
Communicating Science, Health, Environment and Risk Division
Branding Health Communication Strategies Aimed at Healthcare Professionals. Patrick Merle; Robin Haislett; Dane Kiambi; Shannon Bichard; Kat Livingston; Shankar Borua; Spencer Sorensen; Stephanie Kang; Trent Seltzer; Elizabeth Gardner, PhD '10, Texas Tech; Coy Callison.
Can eWOM Help Smokers Quit? Effects of Online Consumer Reviews of Smoking Cessation Products Petya Eckler, PhD '10, MA '05, Iowa.
Dr. Soundbite: The Making of an Expert Source in Science and Medical Stories. Marjorie Kruvand, PhD '08, Loyola-Chicago.
News Coverage of Psychological Trauma and Posttraumatic Stress Disorder (PTSD): Trauma Causes, Reactions, and Treatment. J. Brian Houston.
Resources Aren't Everything, But They Do Help! Assessing Local TV Health News to Deliver Substantive and Useful Information for Smart Health Decisions. Young Ah Lee; Erin Willis; Sun A Park; Hyunmin Lee.
Communication Technology Division
Country Reputation in the Age of Networks: An Empirical Analysis of Online Social Relations and Information Use. Hyun Jin Seo, MA '07, Kansas.
Examining the Relationships of Smartphone Ownership to Use of Both Legacy and New Media Outlets for News. Clyde Bentley; Kenneth Fleming.
Exploring the Motivations of Online Social Network Use in Taiwan. Saleem Alhabash, PhD '11, Michigan State; Hyojung Park; Anastasia Kononova, PhD '10, American University of Kuwait; Yihsuan Chiang; Kevin Wise.
Incidental Exposure to Online News: An Insight from the Pew Internet Project Introduction. Borchuluun Yadamsuren; Sanda Erdelez; Joonghwa Lee; Esther Thorson.
Live Tweeting At Work: The Use of Social Media in Public Diplomacy. Juyan Zhang, PhD '03, Texas-San Antonio; Shahira Fahmy, PhD '03, Arizona.
Multitasking Across Borders: Media Multitasking Behaviors in the U.S., Russia, and Kuwait. Anastasia Kononova, PhD '10; Saleem Alhabash, PhD '11, Michigan State; Zasorina Tatyana; Diveeva Natalia; Kokoeva Anastasia; Anastasia Chelokyan, American University of Kuwait.
The Real You? Visual Cues and Comment Congruence on Facebook Profiles. Seoyeon Hong; Edson Tandoc Jr.; Eunjin (Anna) Kim; Bo Kyung Kim; Kevin Wise.
Social Media Policies for Professional Communicators. Daxton Stewart, PhD '09, MA '04, Texas Christian.
With a Little Help from My Friends: Motivations and Patterns in Social Media Use and Their Influence on Perceptions of Teaching Possibilities. Miglena Sternadori, PhD '09, MA '05, South Dakota; Jeremy Littau, PhD '09, MA '07, Lehigh.
Communication Theory and Methodology Division
Top Faculty Paper: Experimental Methodology in Journalism and Mass Communication Research. Rob Wicks, MA '80, Arkansas; Esther Thorson; Glenn Leshner.
Bloggers' Reliance on Newspaper, Online, and Original Sources in Reporting on Local Subjects Ignored by the Press. Brendan Watson, MA '08, UNC.
How Much is Enough? Sample Size Guidelines for Content Analysis of Political Blogs. Brendan Watson, MA '08, UNC.
Nearly A Decade after September 11: Navigating Current and Future Counterterrorism Communication Research. Brooke Liu, MA '03, Maryland; Abbey Levenshus.
Peer Influence in Adolescent Political Socialization: Deliberative Democracy Inside and Outside The Classroom. Mi Jahng; Mitchell McKinney; Esther Thorson.
Read, Watch, Learn: The Effects of Media Multitasking on the Processing of Cognitively Demanding Information. Anastasia Kononova, PhD '10, American University of Kuwait.
Cultural and Critical Studies Division
The Effects of Normalizing Forces on the Development of an Online Radicalized Public Sphere. Rachel Davis; Bob Britten, PhD '08, MA '04, West Virginia.
Heroines under Control: Unexpected News Portrayals of Women in the Organ of the Bulgarian Communist Party. Miglena Sternadori, PhD '08, MA '05, South Dakota.
How a Public Evaluate an Organization's Official Statement to Pursue Organizational Transparency: An Impact of Organizational Claims to Truth on the Public's Perception of Credibility Toward the Content. Bo Kyung Kim; Seoyeon Hong.
The World Cares: What Fantasy Themes Appear on Facebook Status Updates? Edson Tandoc Jr.; Heather Shoenberger.
Entertainment Studies Interest Group
Everybody's Doing It: Framing Analysis of Rehab on Celebrity News Blog. Erin Willis; Margaret Duffy.
Graduate Education Interest Group
Third Place Paper: An Empirical Study on How IPTV Affects Chinese Peasants' Attitudinal Modernity. Nan Wu and Hongbo Gao.
Freedom of the Press and the Pursuit of Happiness. Edson Tandoc Jr.; Heather Shoenberger.
What Do You Want from Corporate Blogs?: Motivations for Using Corporate Blogs. Nan Doori Song, University of Florida; Joonghwa Lee.
History Division
Top Faculty Paper: The Gathering Mists of Time: American Magazines and Revolutionary Memory, 1787-1860. Janice Hume, PhD '97, MA '95, BJ '81, Georgia.
Mexicans, Indians and the Worst Kind of White Men: Bayard Taylor's Construction of Mexican Identity. Michael Fuhlhage, MA '07, Auburn.
A Pestilent, Factional Quarrel: Letters Reveal Lincoln's Obsession with Censorship. Stephen Banning, MA '93, Bradley.
A Pulitzer up North, a Libel Suit down South: Southern Editors' Civil Rights Writings, 1954-1968. Aimee Edmondson, PhD '08, Ohio.
International Communication Division
Between Politics and Market: Chinese Media's Framing of Taiwan's Presidential Elections in 2004 and 2008. Ming Dai.
Community Service: Editor Pride and User Preference on Local Newspaper Websites. Jane Singer, PhD '96, Iowa.
A Comparative Analysis of Coverage of the 2008 Mumbai Attacks in The New York Times and The Times of India. Elizabeth Lance.
Determining International News Coverage in Non-elite Newspapers: How Important Are Gatekeepers? Beverly Horvit; Peter Gade, PhD '99, Oklahoma; Elizabeth Lance.
International Communication and Communicating Science, Health, Environment and Risk Divisions
The Changing Face of Traditional Medicine in South Africa from the Perspective of an American Partner. Glen Cameron.
Law and Policy Division
First Place Faculty Paper: Can I Use This Photo I Found on Facebook? Fair Use and Social Media Images. Daxton Stewart, PhD '09, MA '04, Texas Christian.
State Action, Public Forum and the NCAA: First Amendment Rights of the Credentialed Media. Michael T. Martinez.
Transparency as Talisman: The Shifting Rationales for Campaign Finance Regulation. David Wolfgang.
Mass Communication and Society Division
Top Papers, Second Place: Hostile Media and Presumed Effects in North Carolina. Brendan Watson, MA '08; Daniel Riffe, UNC.
Top Papers, Fourth Place (Honorable Mention): The Green Editorial Debate: A Comparison of the Framing of Environmental Issues in the Columbia Daily Tribune and St. Louis Post-Dispatch. Maria Garcia; Guy J. Golan, Syracuse University; Jeffrey Joe Pe-Aguirre, PhD '10, Central Arkansas University.
The Concept of Online Image of a Brand and Its Application to Nation Brands. Giorgi Topouria.
In Deepwater: A Comparative Analysis of The New York Times and The Guardian's Coverage of the BP Oil Spill. Patrick Ferrucci.
Exploring News Media Literacy: Developing New Measures of Literacy and Knowledge. Seth Ashley; Adam Maksl; Stephanie Craft.
How Self-Other Perceptions and Media Affordances Are Related to News Use by College Students. Esther Thorson; Eunjin (Anna) Kim; Margaret Duffy.
The Third-Person Effect Among Mormon College Students: An Examination of Social Distance and Behavioral Outcomes. Stephen Banning, MA '93, Bradley; Guy J. Golan, Syracuse; Sherry Baker, Brigham Young.
Seeing What You Get: A Comparison of Newspapers' Visual Brand Personalities and Consumer Perceptions. Adriane Jewett; Scott Reinardy, PhD '06, MA '03, Kansas.
The Use of Blogging as Online Grassroots Activism: Analysis of Blogs in the Scott Sisters Case. Thomas Broadus; Melody Fisher; Riva Teague; Jae-Hwa Shin, PhD '03, S. Mississippi.
Media Ethics Division
Top Paper, Special Call: The Psychology of Plagiarism. Norman Lewis; Bu Zhong, MA '00, Penn State.
Unprofessional, Ineffective, and Weak: A Textual Analysis of the Portrayal of Female Journalists on Sports Night. Chad Painter; Patrick Ferrucci.
Media Management and Economics Division
Media Structure and Conduct: A Comparative Study of Cancer- related Ads in Black and General Readership Newspapers. Ye Wang; You Li; Shelly Rodgers.
Minorities and Communication Division
First Place Faculty Paper: Mass Media and Perceived and Objective Environmental Risk: Race and Place of Residence. Brendan Watson, MA '08, UNC; Lynsy Smithson-Stanley; Daniel Riffe; Emily Ogilvie.
Second Place Faculty Paper: "What Are You Talking About?" Differences in Twitter Uses and Gratifications Between Black and White Twitter Users. Christopher Saunders, Saleem Alhabash, PhD '11, Michigan State; Cynthia Frisby.
Reporting Health to Minority Populations: A Content Analysis of Localized News Reporting. Ye Wang; Shelly Rodgers.
Sources of Health Information for American Indians in the Midwest United States. Mugur Geana, PhD '06, Kansas.
Newspaper Division
Top Faculty Paper: Covering a World in Conflict: The New York Times and Peace Journalism. Elizabeth Lance; Beverly Horvit; Amy Youngblood, Texas Christian University.
Audience Perceptions of Editing Quality: An Experimental Study of the Effects of News Processing. Fred Vultee, PhD '07, MA '04, Wayne State.
Crowd Control: Collaborative Gatekeeping in a Shared Media Space. Jane Singer, PhD '96, Iowa.
Follow the Leaders: Newspaper Journalists' Networks of Association on Twitter. Kyle Heim, PhD '10, Seton Hall.
Framing Capital Crimes in Two Newspapers. Jakob Berr, MA '10; Tim Vos.
Newspaper Financial Performance: Content Really Does Make a Difference. You Li; Esther Thorson; Shrihari Sridhar, Michigan State.
Use of Print & Online News Media for Local News: A Uses & Dependency Perspective. Kenneth Fleming.
Political Communication Interest Group
Investigating Media's Agenda-setting Effects on Different Generations in the New Media Environment, 1976-2004. Jae Kook Lee; Renita Coleman, PhD '01, MA '97, Texas at Austin.
Knowing is Half the Battle: Youth, Civic Norms and the Informed Citizen in Late Modern Society. Kjerstin Thorson, MA '07, Southern California.
Parenting Styles in Political Socialization: How the Path to Political Participation Begins at Home. Esther Thorson; Edson Tandoc Jr.; Mi Jahng.
U.S. Presidential Election: International Assessment of U.S. Media Coverage of Male and Female Candidates. Uche Onyebadi, PhD '08, MA '05, Southern Illinois
Updated: October 22, 2020
Related Stories
Expand All
Collapse All
---