Missouri Journalism Professor, Researcher Receives University's 2007 Undergraduate Research Mentor Award
Columbia, Mo. (May 14, 2007) — The University of Missouri-Columbia Office of Undergraduate Research recently named Paul Bolls one of two recipients of the 2007 Outstanding Undergraduate Research Mentor Award at the annual Undergraduate Research and Creative Achievements Forum.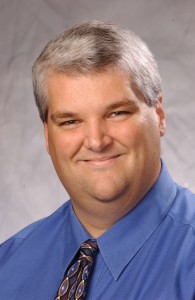 The award recognizes faculty members who support and promote undergraduate research and creative and scholarly achievements. In addition to an engraved plaque, the winners also receive $500 for research equipment and expenses.
Bolls, assistant professor of strategic communication and co-director of the Missouri School of Journalism's PRIME (Psychological Research on Information and Media Effects) Lab, said conducting original research as an undergraduate adds value to everything students learn in the classroom or on an internship site.
"The future leaders in our field are going to be professionals who are intelligent enough to be able to solve problems that don't have ready-made, obvious answers," Bolls said. "Nothing refines that ability like getting your hands dirty designing, conducting, analyzing and presenting a study."
Senior strategic communication majors Rachel Bailey, Rebecca Norris and Katie Roehrick coordinated Bolls' nomination. Bailey, Norris and Roehrick each conducted original scholarly research with Bolls and had their work accepted for presentation at a meeting of the International Communication Association.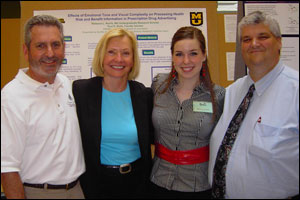 "Paul Bolls is not only a rare professor in the quality and depth of his lectures, but outside the classroom, his curiosity is contagious as well," Bailey wrote in a letter nominating Bolls for the award. "During orientation meetings in the PRIME Lab, new student associates have spoken of Dr. Bolls' ability to get them interested and keep them interested in the research he conducts. Personally, I believe he gives little thought to recruitment of these individuals; it just happens naturally, which is far more impressive."
Bolls worked with each of his undergraduate mentees in the School's PRIME Lab, which conducts research into how people emotionally and cognitively process media messages. Using such measures as heart rate, perspiration and facial muscle movement, the Lab's work is at the forefront of understanding real-time responses to the media. Although gathering such data can be time-intensive and complex, Bolls made sure the students had the knowledge and confidence they needed to conduct the experiments.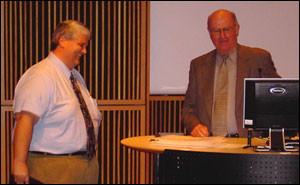 "Professor Paul Bolls immediately treated me as a professional and warmly introduced me to the procedures of the Lab," Norris wrote in her letter of nomination. "More importantly, he opened my eyes to the field of communication research, which is now my intended career choice."
Conducting the experiment was not the end of the students' research process, however. Bolls worked with the undergraduates to turn their projects into papers for presentation at one of the leading academic conferences in the field of communication.
"Instead of dictating my actions, Dr. Bolls taught me the research process in order that I could manage the project," Roehrick wrote. "His belief in me was truly inspiring. Without his support, I am not sure that I would have had the courage to present our research to a room full of academics in Dresden, Germany."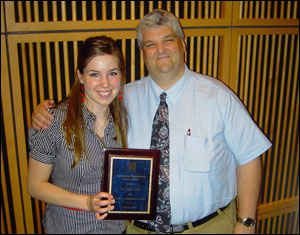 Since coming to Missouri, Bolls has served as a mentor for more than 10 undergraduate students. Among other accomplishments, five of these students have presented original research at meetings of the ICA and the Society of Psychophysiological Research. These meeting have taken students to such international destinations as Dresden, Germany; Vancouver, Canada; and Lisbon, Portugal.
While Bolls earned his doctoral degree in 1999 from Indiana University in Bloomington, it was as an undergraduate at Montana State University that he received his first taste of conducting research.
"My commitment to undergraduate research is a reflection of how blessed I was to have mentors that took me under their wing when I was an undergraduate and critically engaged me in communication scholarship," Bolls said. "The opportunity to present my research at an academic conference as an undergraduate student opened doors for me that led to this career that I love so much. I absolutely love seeing our journalism students have similar opportunities."
Updated: December 1, 2020
Related Stories
Expand All
Collapse All
---