Keith Greenwood
Associate Professor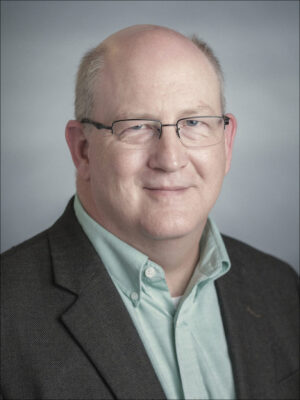 Download High-Resolution Photo
106 Lee Hills Hall
Missouri School of Journalism
Columbia, MO 65211-1200
KEITH GREENWOOD is an associate professor at the Missouri School of Journalism. He teaches courses in photojournalism history, photography's role in society and multimedia applications for photojournalism. His research interests include photojournalism history and the influences that determine depictions of subjects in photographs.
Greenwood has served on the faculty at Michigan State University and the University of Oklahoma. He has received a top-paper award from Association for Education in Journalism and Mass Communication. Greenwood was a webmaster of the AEJMC Visual Communication division website and currently serves in that capacity for the History division.
Greenwood earned a bachelor's degree in mass communication from Northeast Missouri State University (now Truman State University). He worked in radio and as a freelance photographer during and following his undergraduate years before turning his focus primarily to photojournalism while pursuing a master's degree in journalism at Michigan State University. Greenwood completed his doctorate at the Missouri School of Journalism. He is also a member of the American Journalism Historians Association, the National Press Photographers Association, the Society of Professional Journalists and Kappa Tau Alpha, the national honor society for journalism and mass communication.
Refereed Publications
Greenwood, K., & Jenkins, J. (2013). "Visual Coverage of the Syrian Rebellion in U.S. News and Public Affairs Magazines." Journalism Studies, (ahead-of-print), 1-21.
Garcia, M. & Greenwood, K. (2013). "Visualizing CSR: A visual framing analysis of US multinational companies." Journal of Marketing Communications. (ahead-of-print), 1-18.
Greenwood, K. (2012). "Picturing Defiance: Visions of democracy in Iran." International Communication Gazette, 74:7, 619-635.
Greenwood, K. & Reinardy, S. (2011). "Self-trained and self-motivated: Newspaper photojournalists strive for quality during technological challenges." Visual Communication Quarterly, 18:3, 155-166.
Greenwood, K. (2011). "Digital Photo Archives Lose Value as Record of Community History." Newspaper Research Journal, 32:3, 82-96.
Greenwood, K. & Smith, C. Z. (2009). "Conventionalization in Feature Photography: A Study of Winning Photographs in the Pictures of the Year International Competition," Journalism Practice, 3(2), 140-161.
Greenwood, K. & Smith, C. Z. (2007). "How the World Looks to Us: International News in Award-Winning Photographs from the Pictures of the Year, 1943-2003," Journalism Practice, 1:1, 82-101.
Updated: July 26, 2019